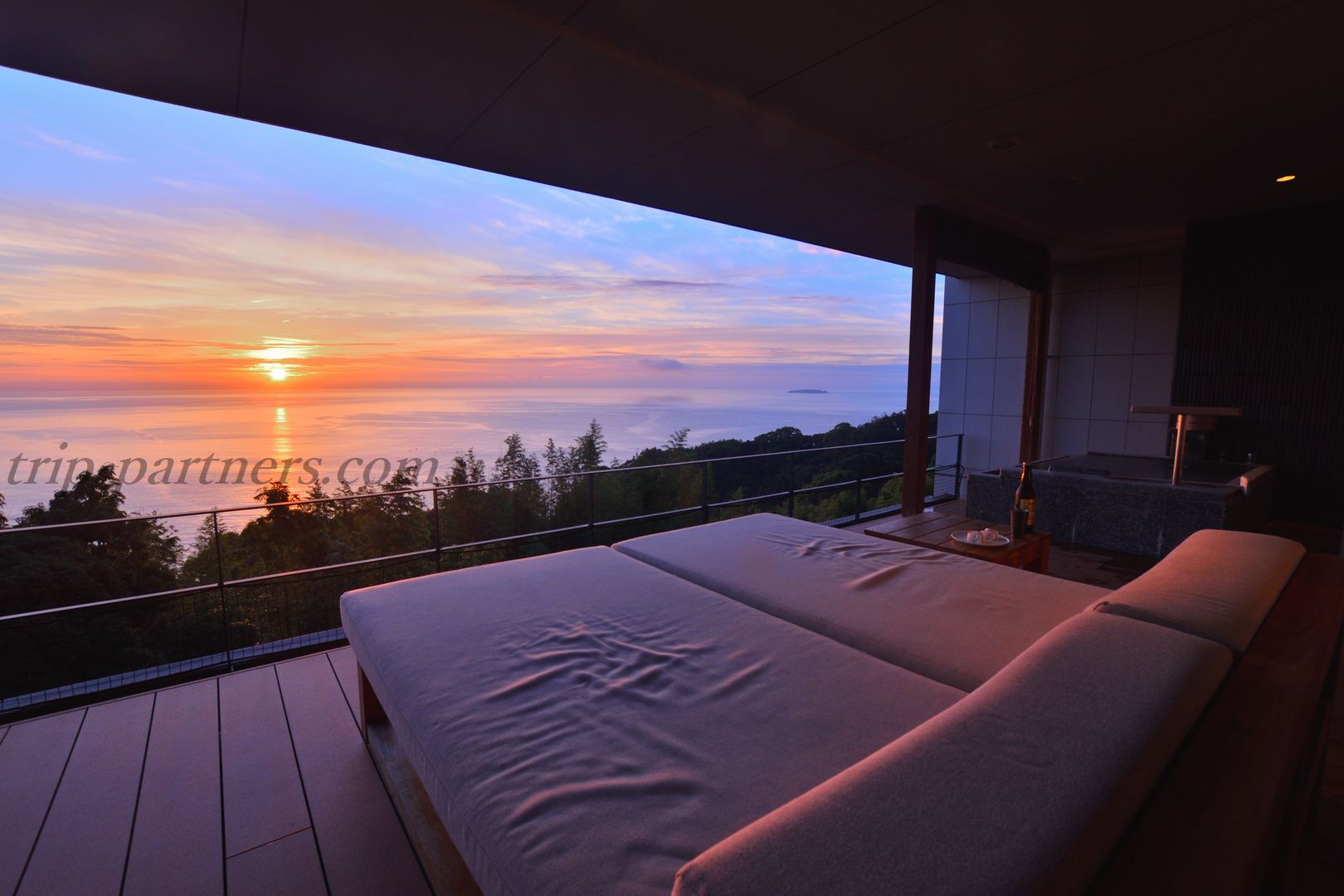 ATAMI Atamiは全25部屋で、There are 13 rooms in the new building, "Moon Road".。All rooms are suites with an open-air bath、And since the rooms are arranged facing east, you can worship the rising sun from Sagami Bay from all the rooms.。
There are 6 types of ATAMI room types
Ocean view superior
Ocean view suite
Ocean View Premium Moon Road
Ocean View Suite Moon Road
Ocean view penthouse cloud waves
Ocean View Penthouse Moon Road
Among them, "Ocean View Penthouse Cloud Wave" and "Ocean View Penthouse Tsuki no Michi" are special specifications with only one room each.。Especially the latter is because there is a teppanyaki space in the room、Meals will be teppanyaki in the room。Well, it costs more than 300,000 yen per night ...
今回私が宿泊したのはその雲の波の次のランクである「オーシャンビュースイート月の道」です。I really liked Japanese food、Tsuki no Michi guests are all iron plate dishes、前日宿泊したAtami Fufuと連続で鉄板焼きをいただくことになってしまいました 🙂
Living room and bedroom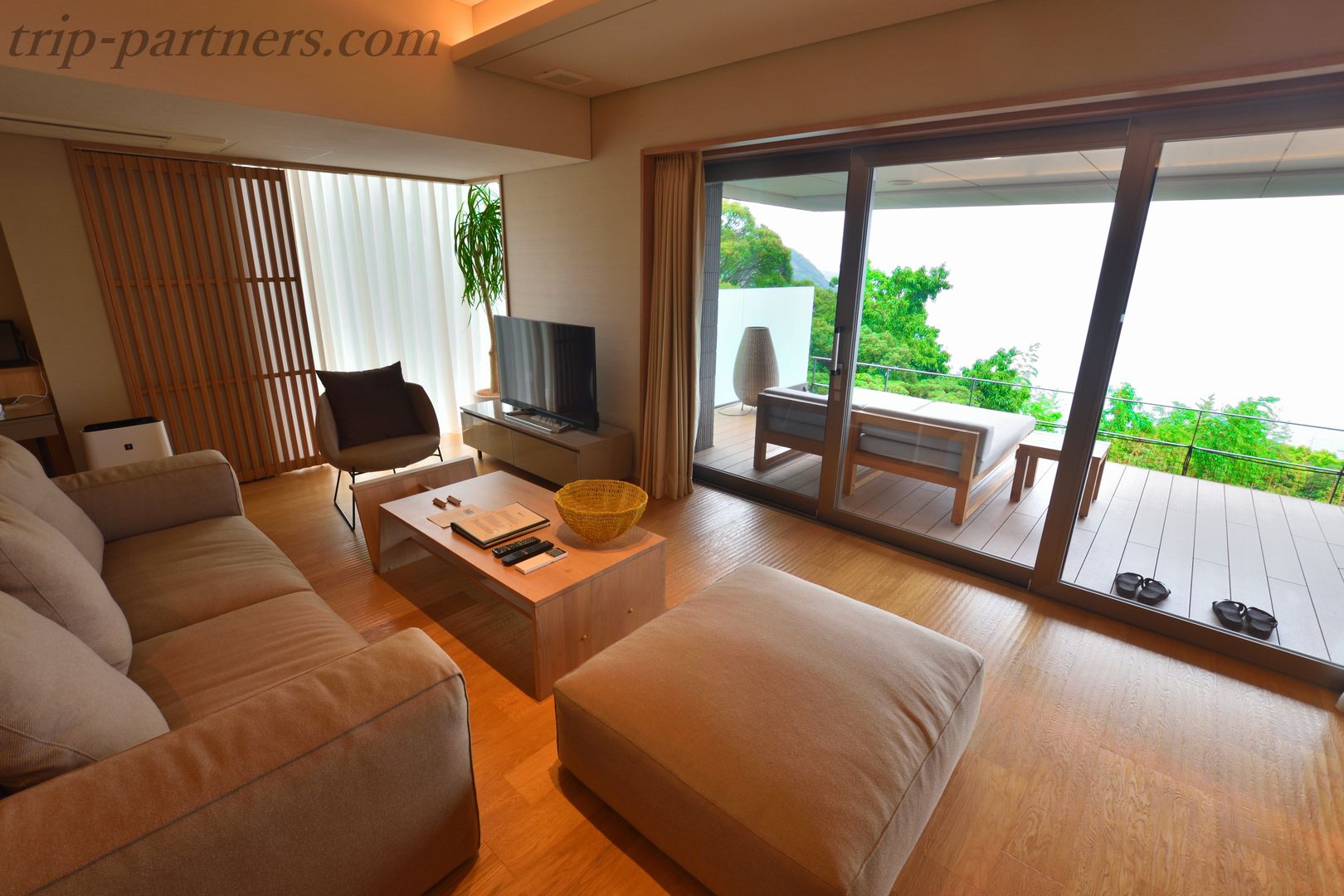 The room is entirely east facing and very bright。The size of the room is 78m2Is enough、The rooms are not divided and are continuous, so it feels even bigger.。By the way, a suite in a suite means "a series".、That's exactly the suite room 😆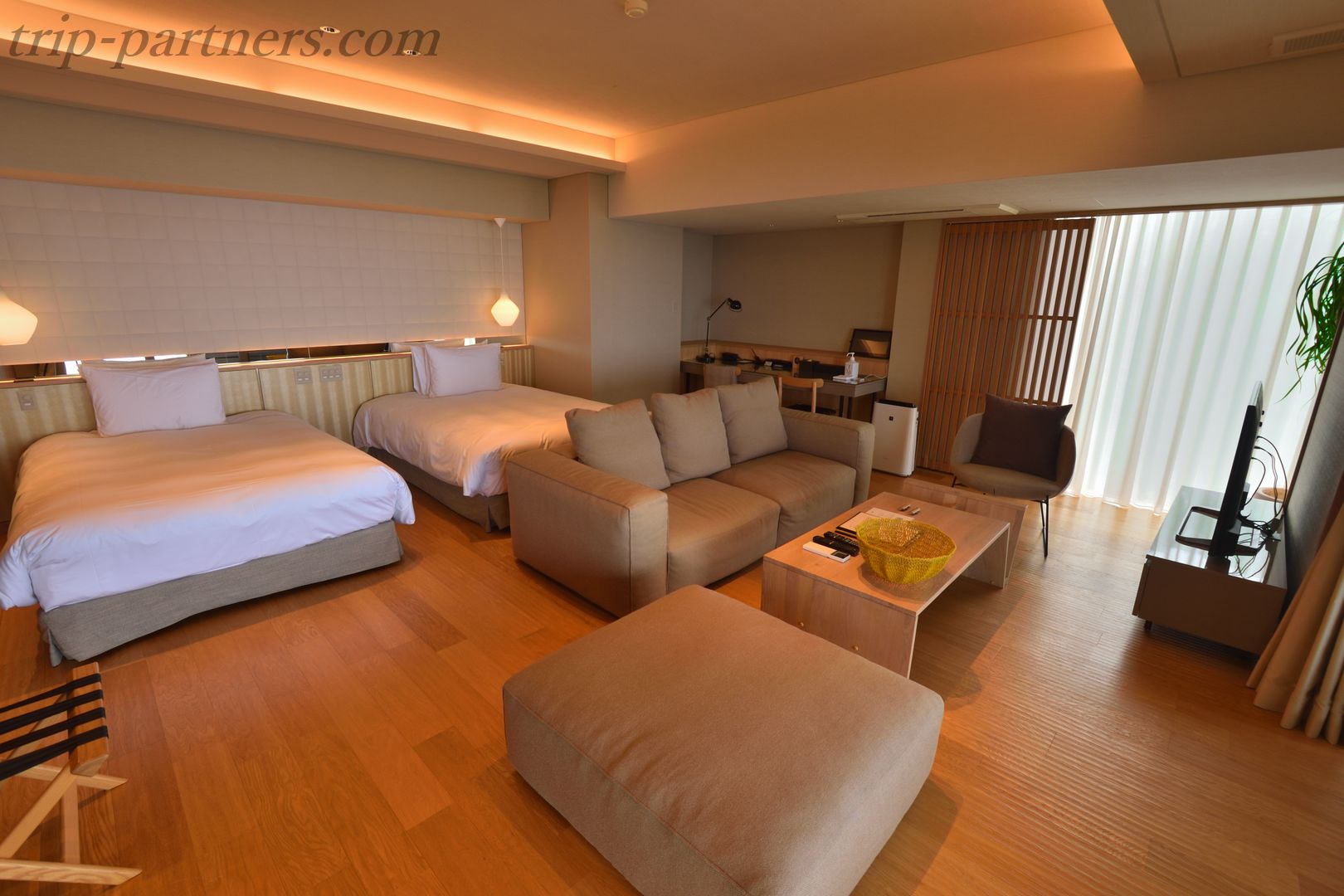 Living room and bedroom。Wide enough for two people。There is a mysterious healing BGM in the room、Its identity was a CD, even though it was a recorder under the TV.。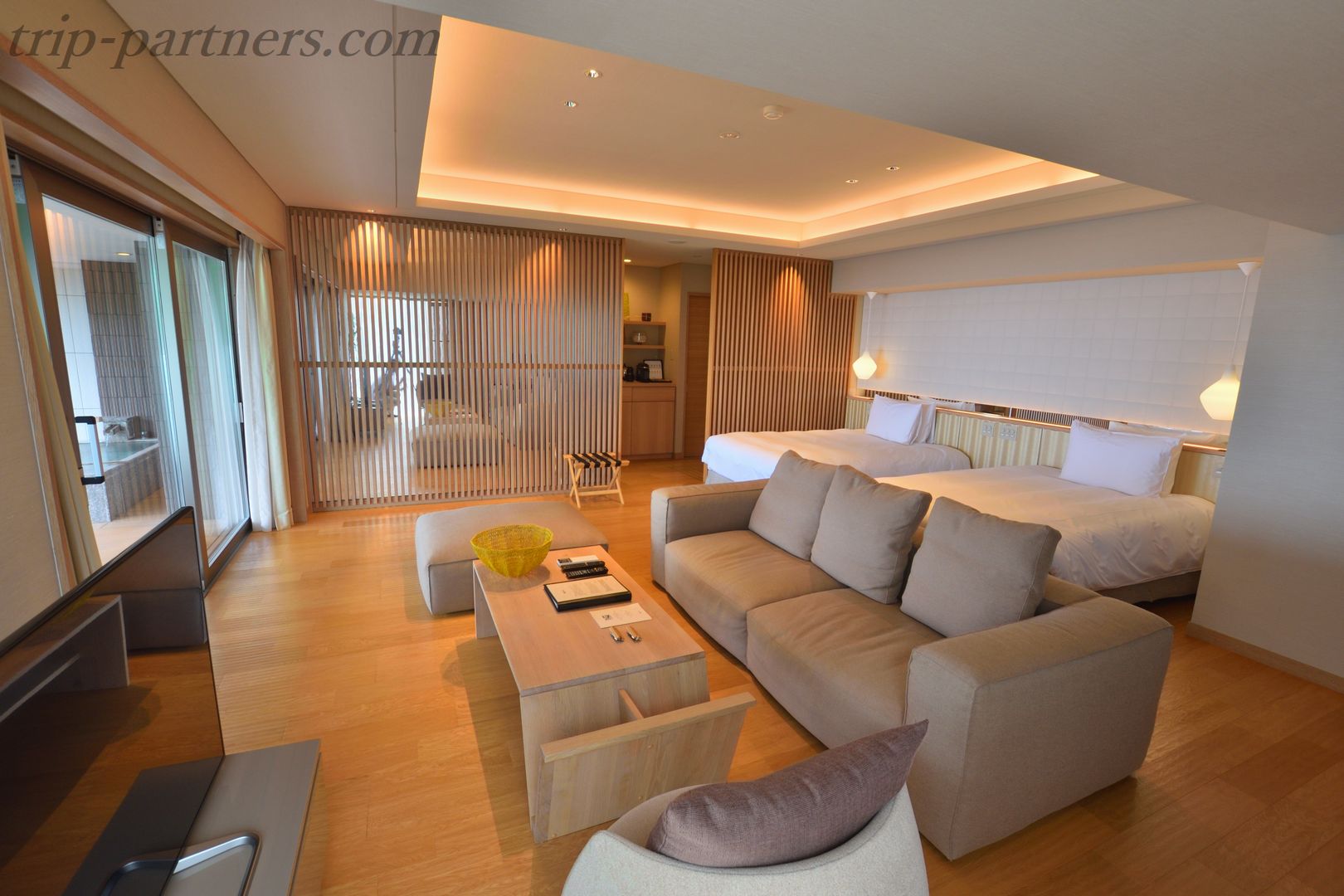 Looking from the back of the room, it looks like this。The open-air bath is a little visible on the left.。常にお湯が出続けているので24時間いつでも入ることができます 🙂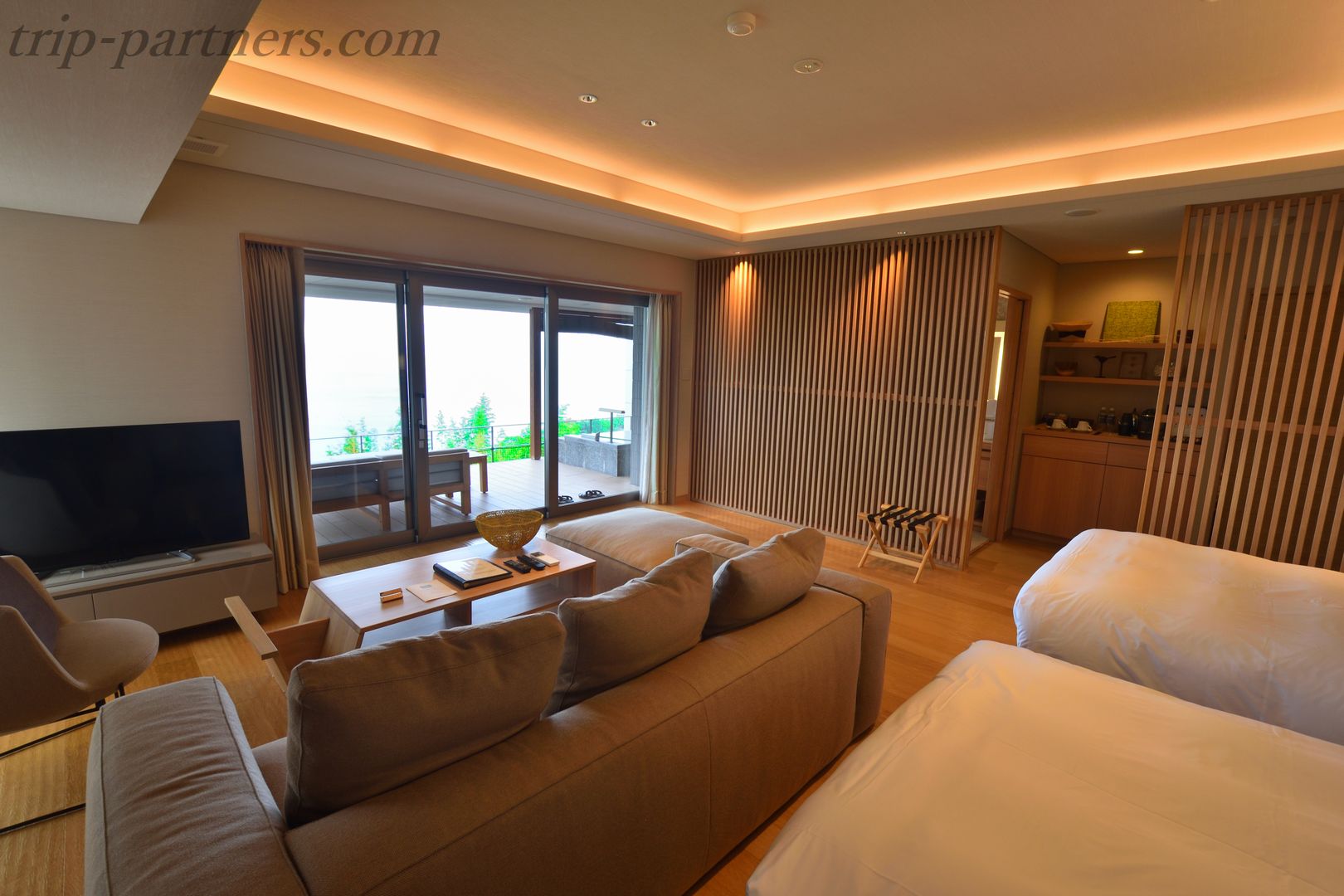 Just in case, from this angle。ちょうどベッドに寝転ぶとこんな風に部屋が見える。The room is very clean。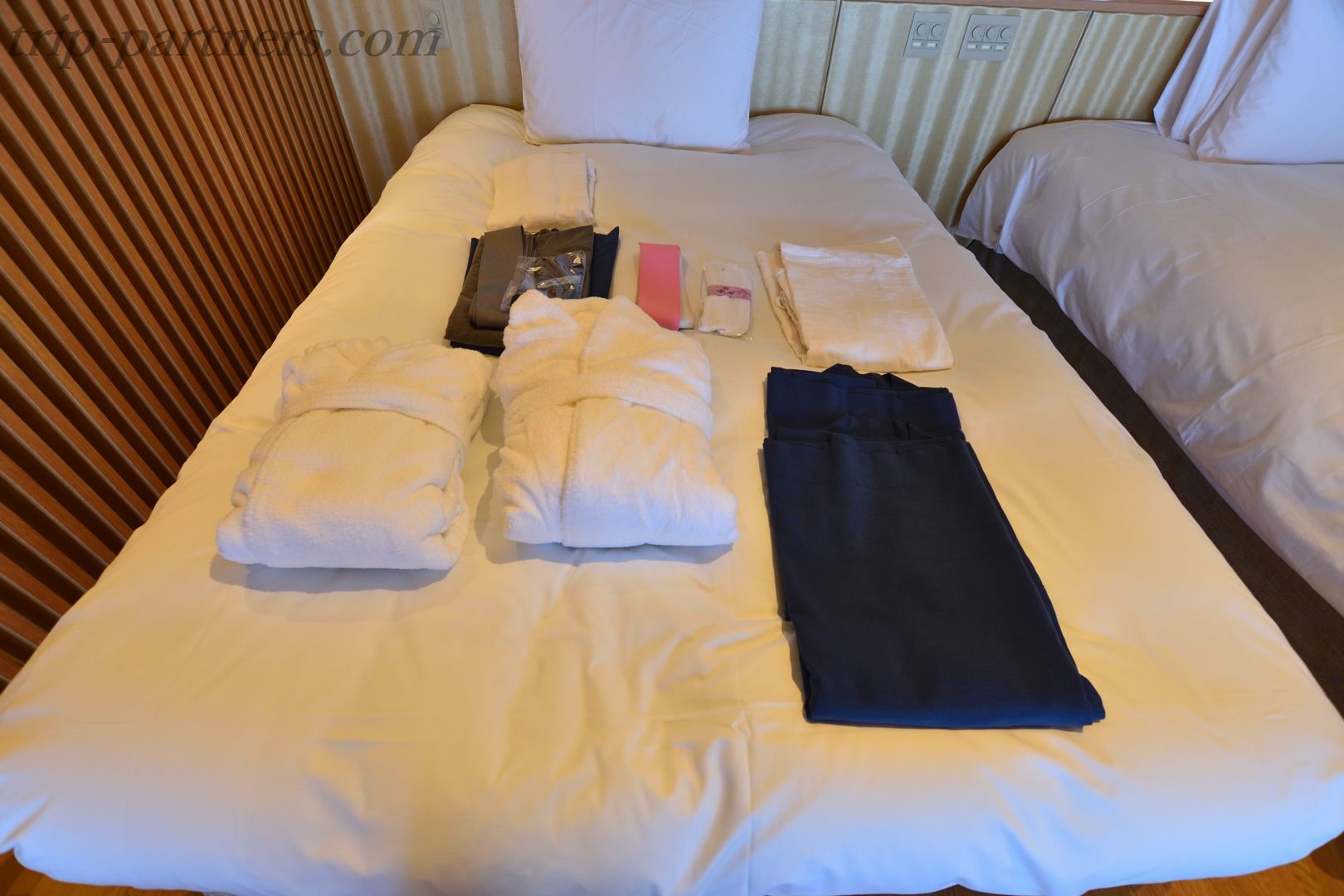 Yukata in each room、Dan Qian、Nightwear、Bathrobes are provided。浴衣は写真を撮る前に着られてしまっていたのでそれ以外のもののみ。ナイトウェアがあるのは高級旅館ならでわですねー。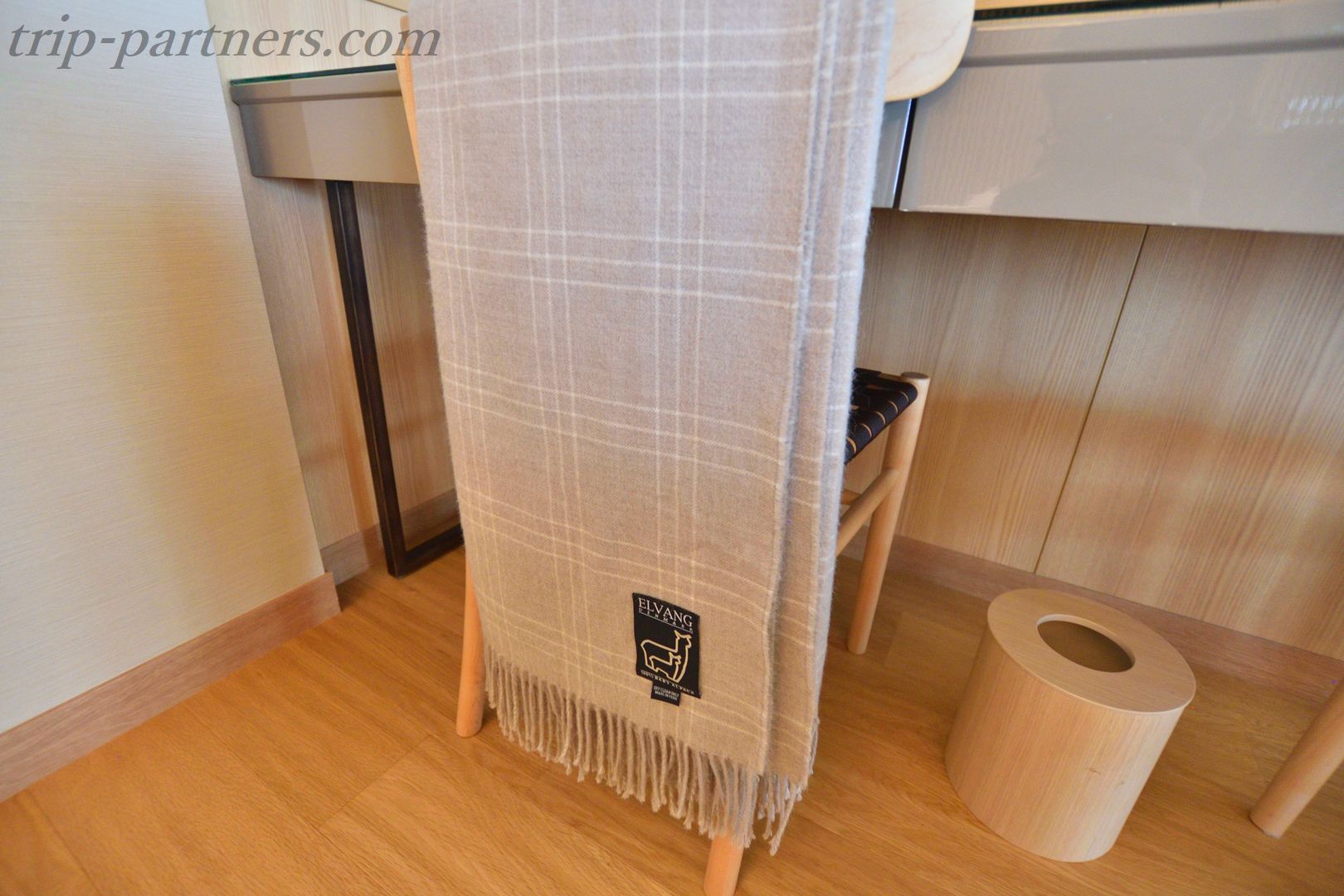 Made in Peru Alpaca Stole。Atami Fufu's Comfort Suite was cashmere, so I upgraded it! Well, maybe the equipment in the room will change depending on the rank of the room.。ということはペントハウス月の道ではビクーニャになったりするのかも 😆
Minibar & Refrigerator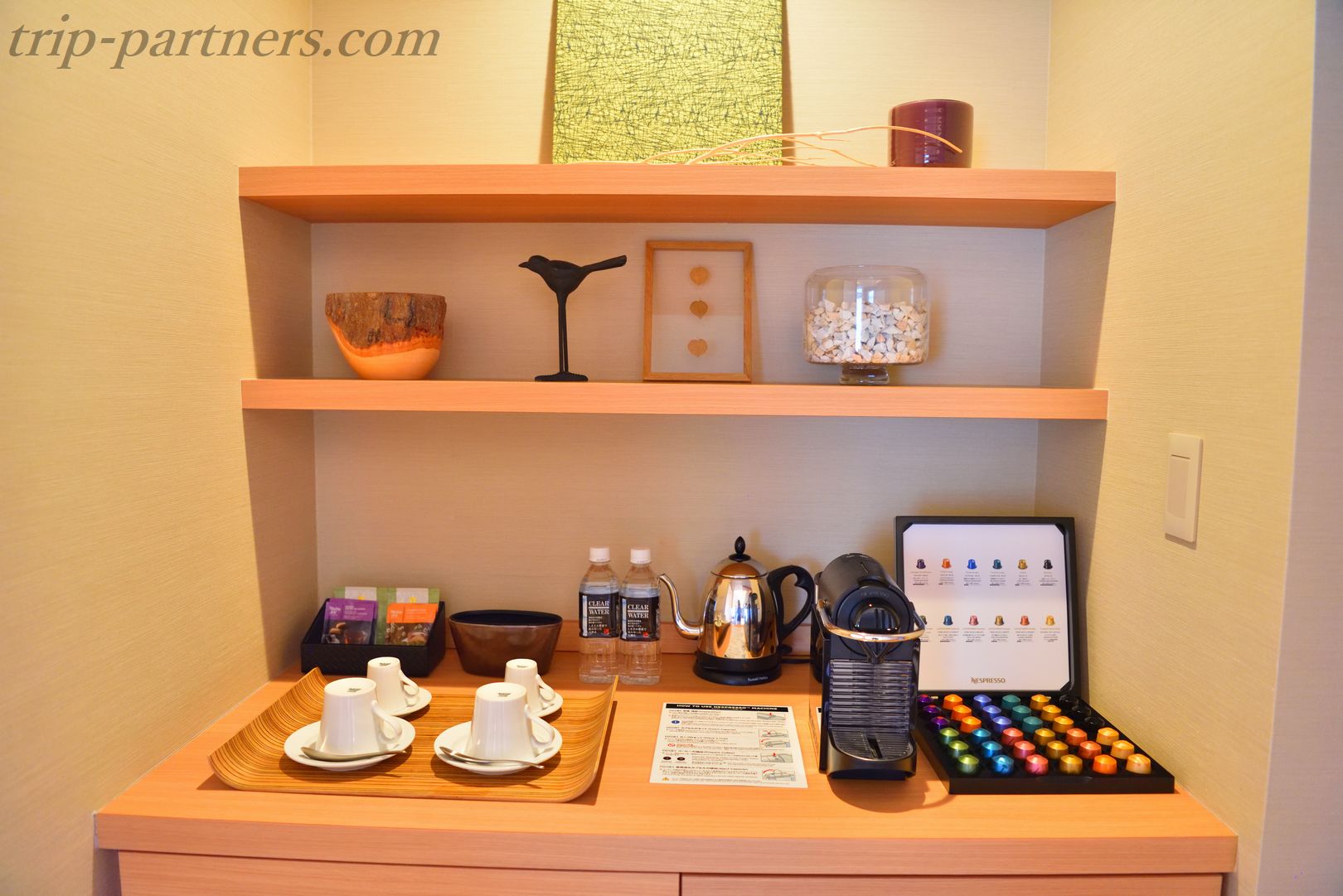 This is the minibar。もちろん全てフリードリンクで全部無料…… というか宿泊代に含まれているだけなんですけどね。
When you finish using the coffee cups, put them in the luggage delivery box at the entrance and you can exchange them for new ones.。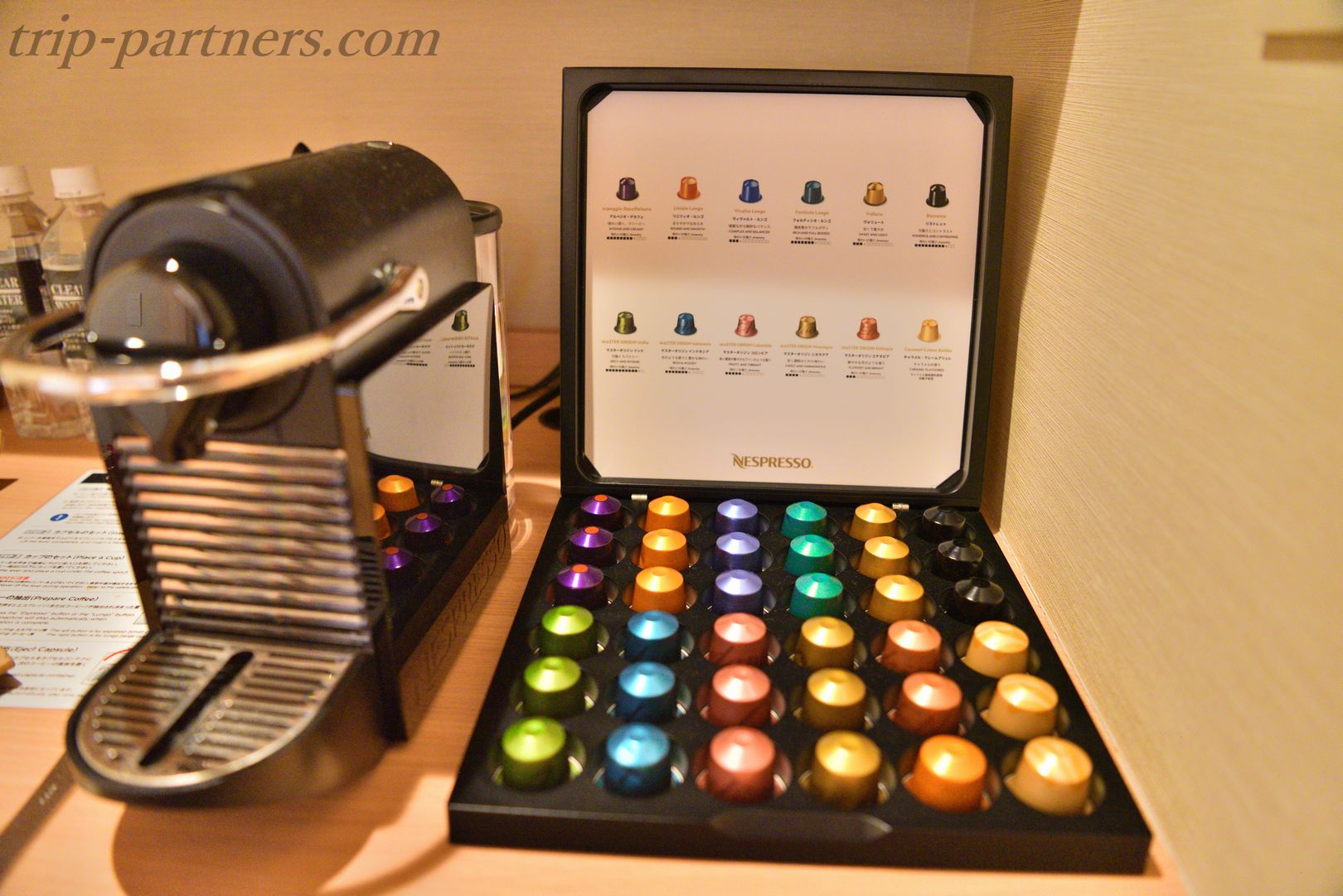 Please try these 12 types, 3 each, for a total of 36 Nespresso machines! Never drink up(Lol)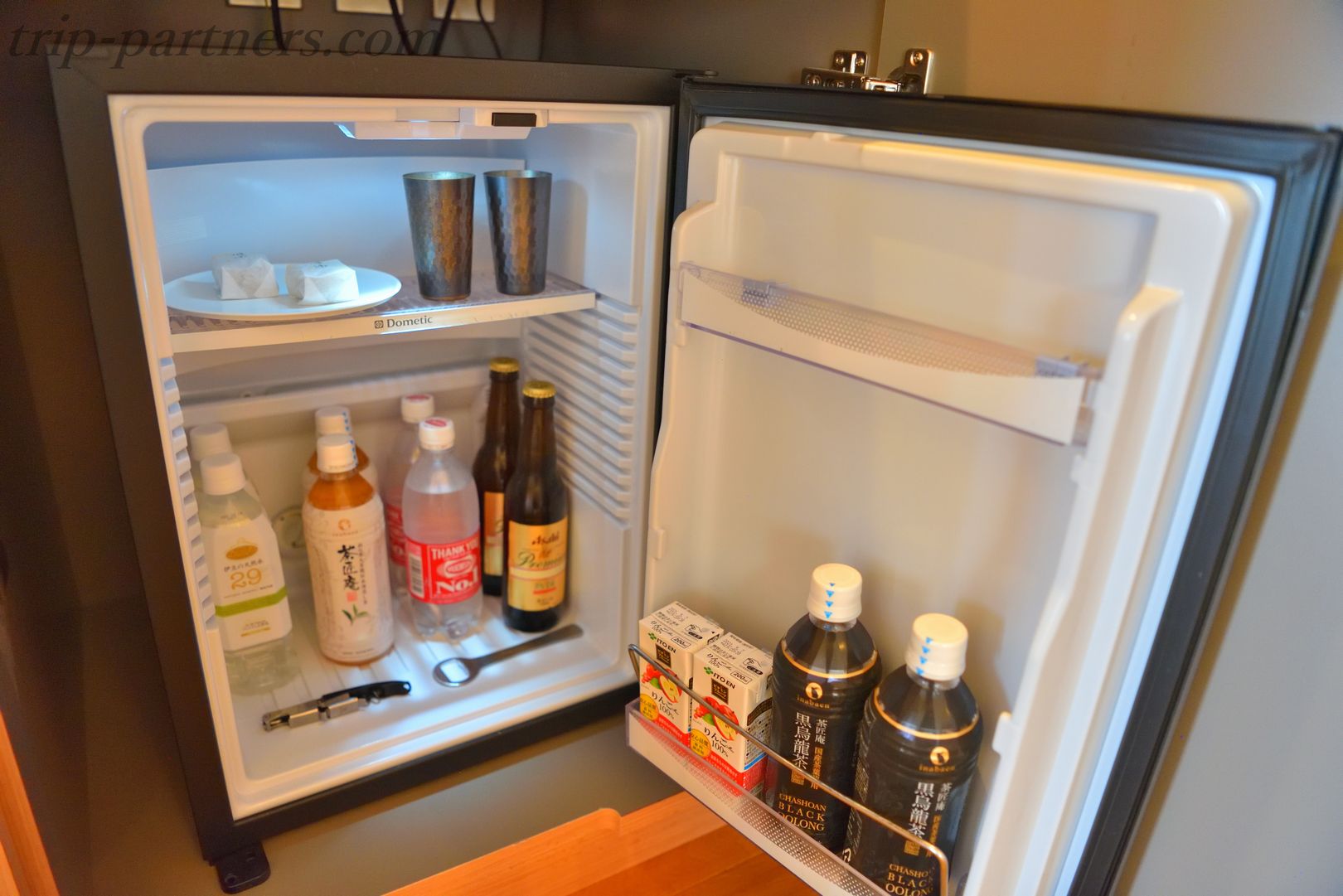 Take-free in the refrigerator。Tea confectionery is also chilled。so、What impressed me with this ATAMI was this cup。Because it is a stainless steel cup that is easy to get cold、It goes great with beer! It seems like ...。I don't like beer so much so I had a cup of tea with a chilled cup 😆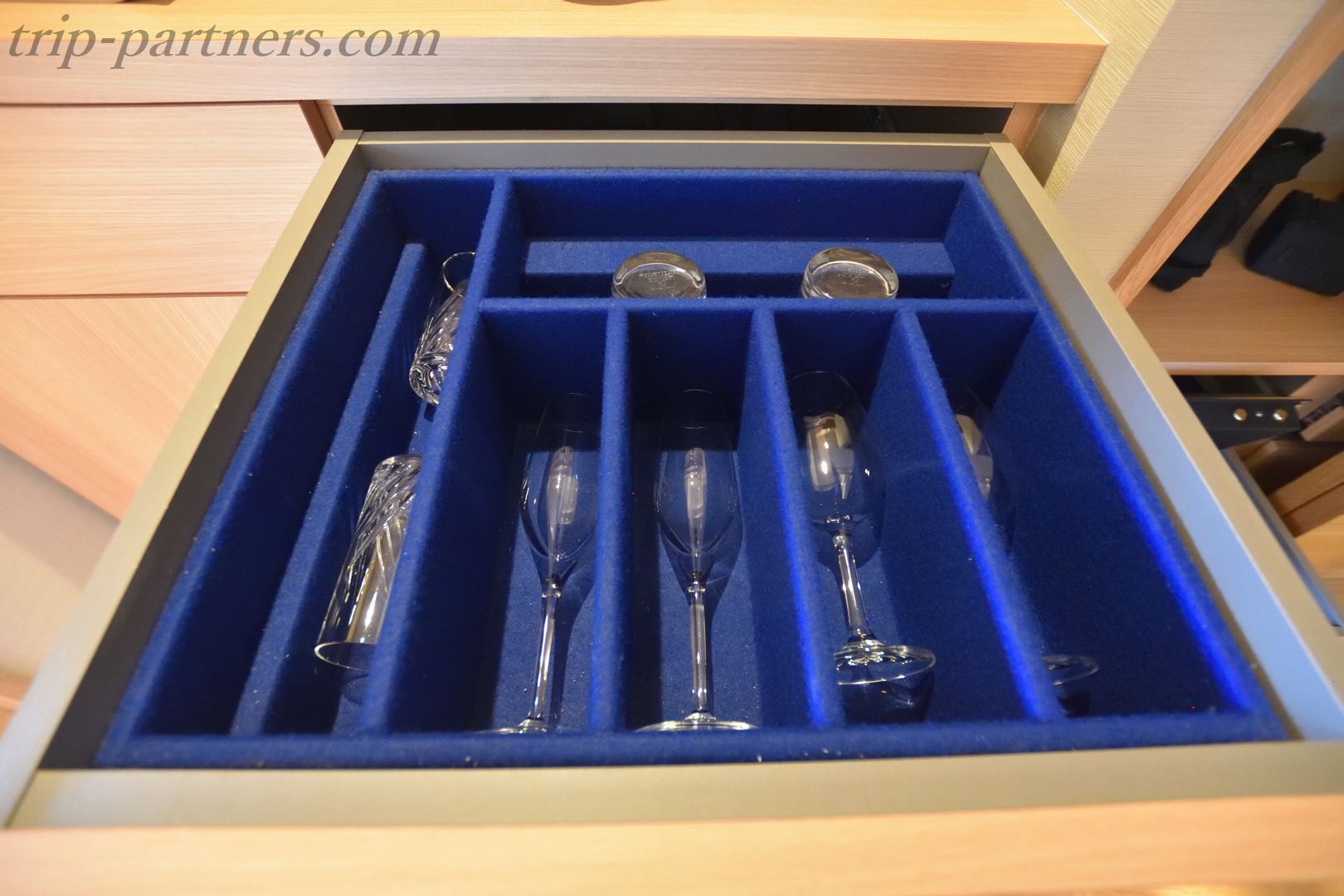 There are only 4 coffee cups, but there are a lot of glasses。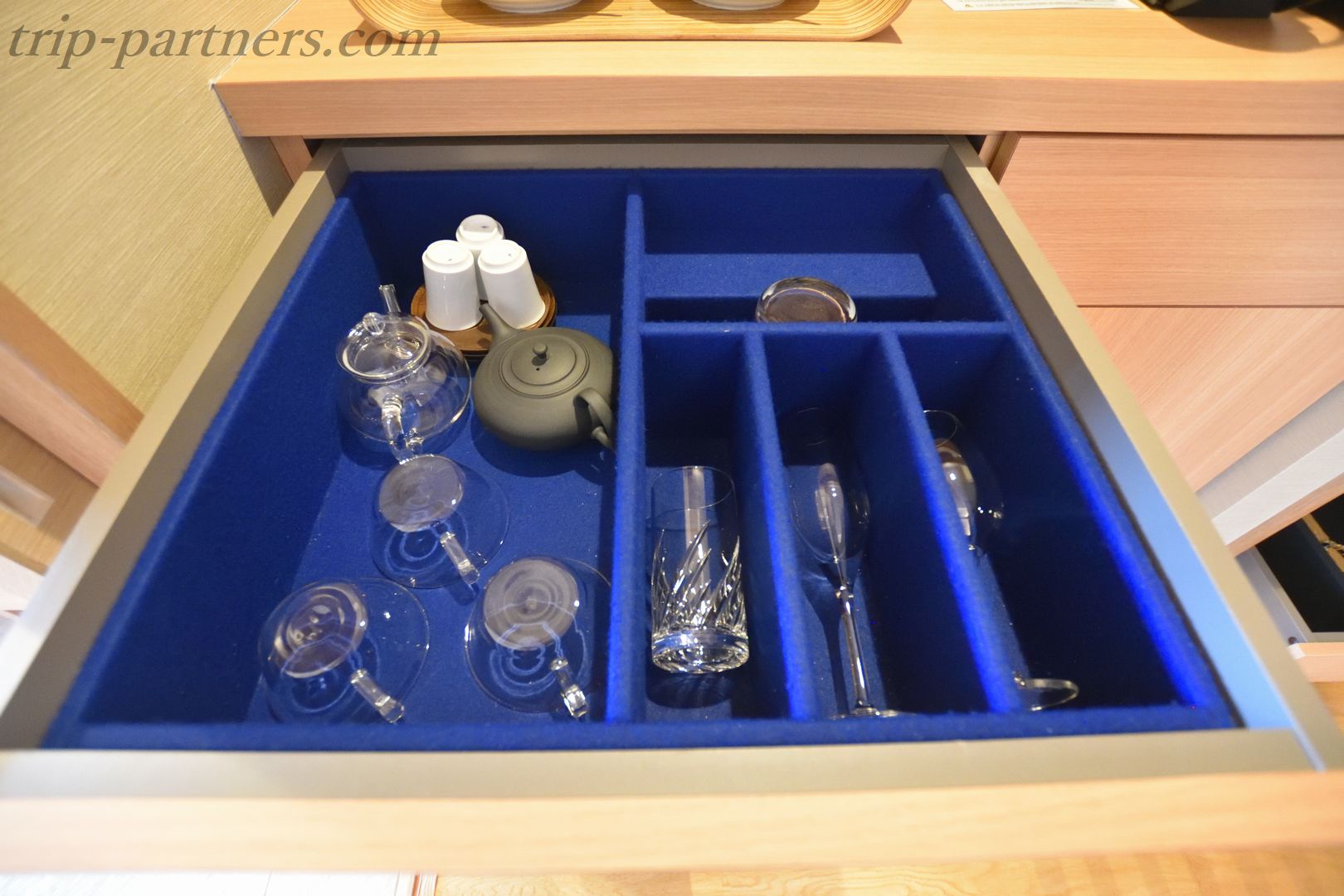 Here too ... It's already treated like a part of the room decorations.
Powder room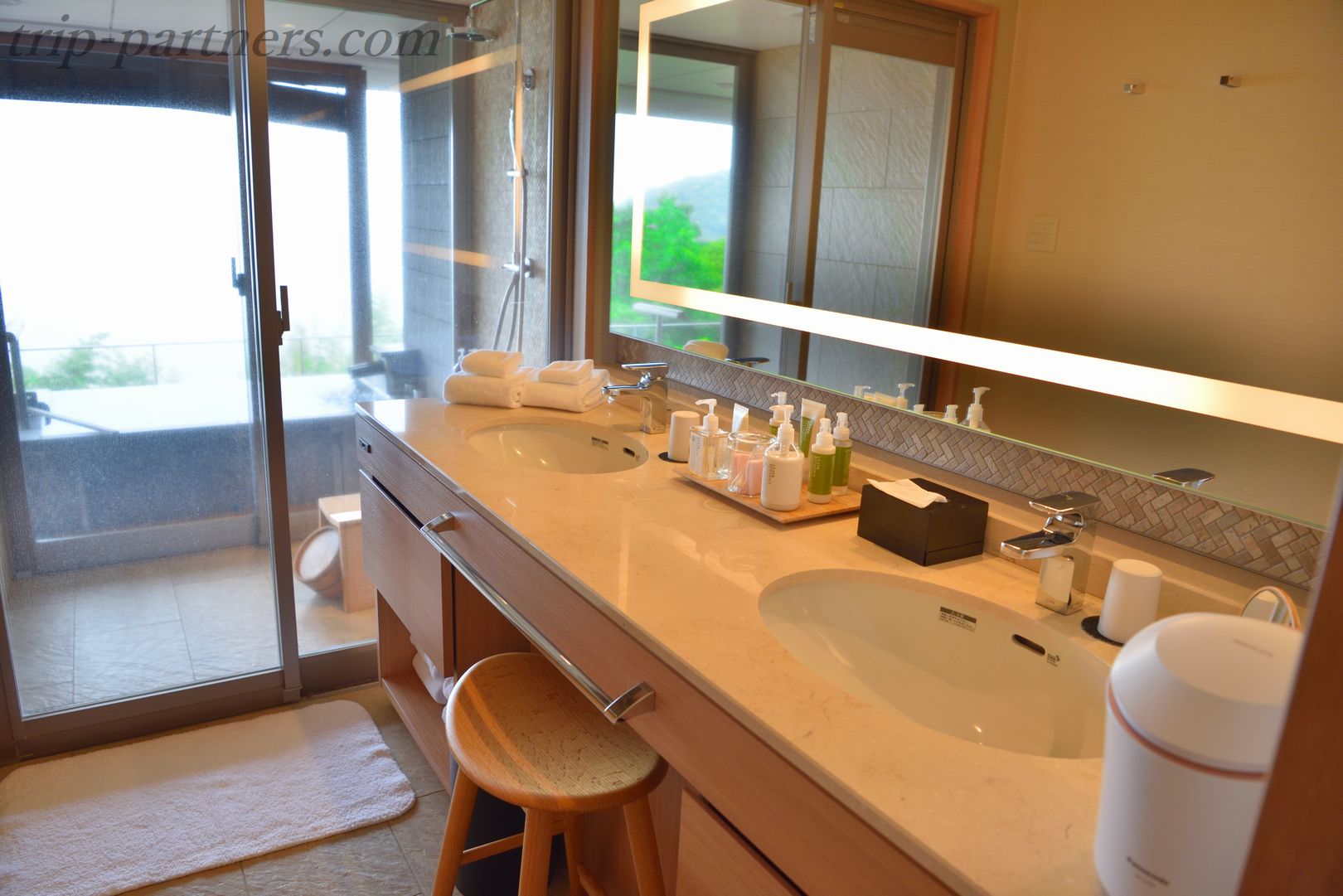 This is the powder room。The shower room is right next door、The back is an open-air bath。3 sets of bath towels and 3 sets of face towels are provided。But、If you put the used one in the luggage delivery box at the entrance, the butler will exchange it for a new one, so let's use it 😆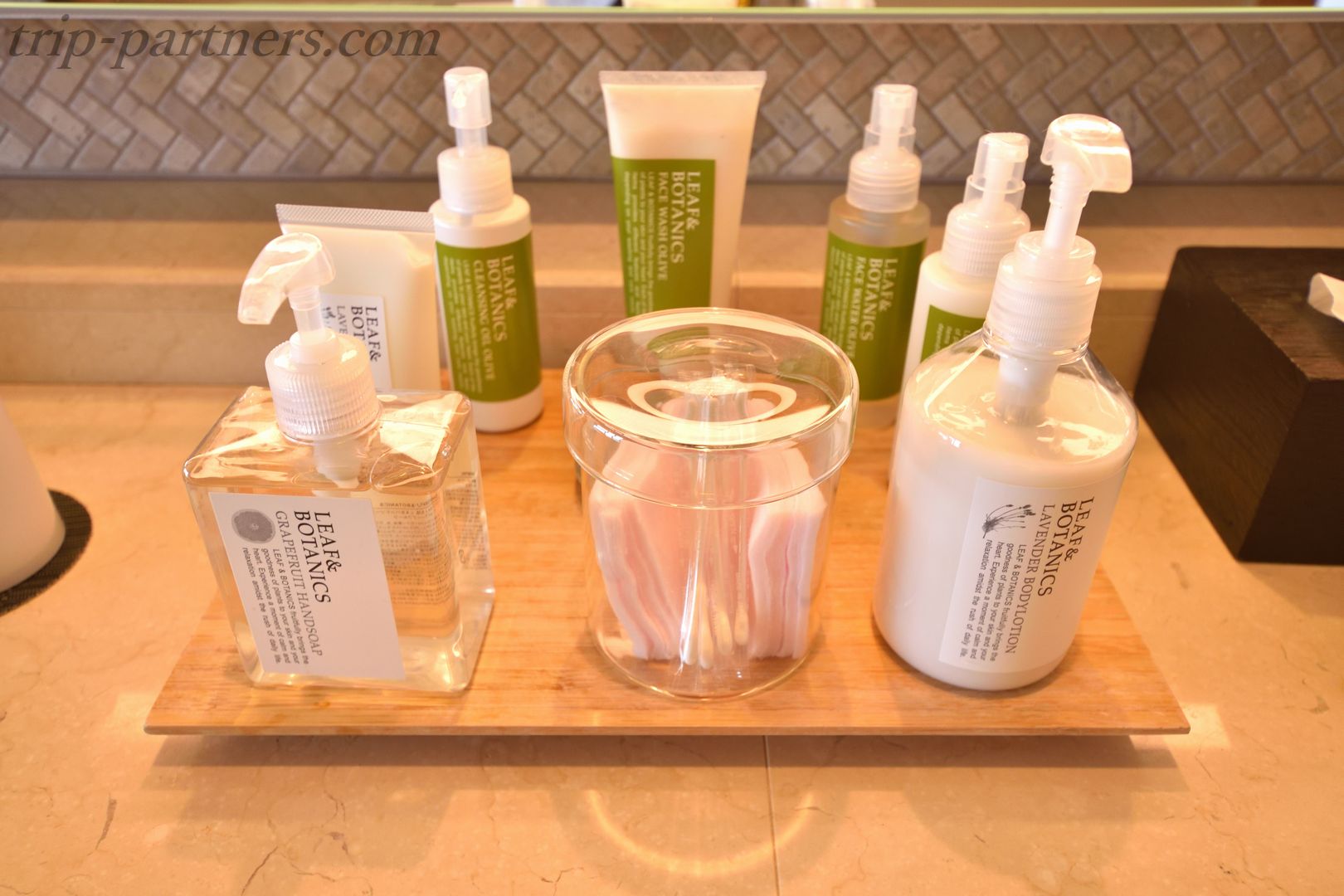 Amenity is very substantial。Moreover, lotion、Lotion、Everything up to face washing is an organic collection。I like additive-free organic、If you want another brand (L'Occitane, Paula, etc.), please contact Butler and they will bring it to you.。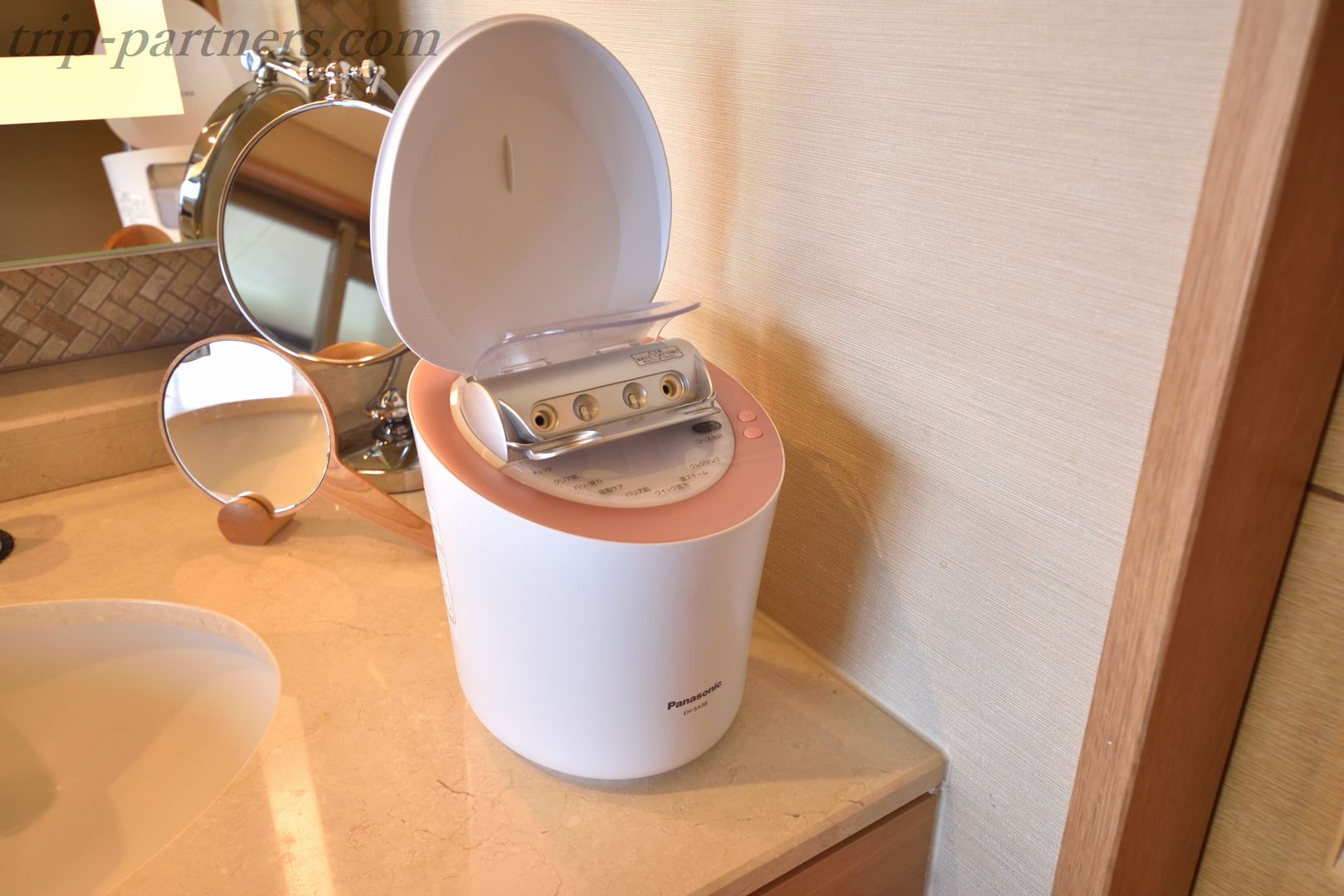 This is a face steamer for a face humidifier。Made by Panasonic。せっかくなので風呂あがりには必ず使わせていただきました!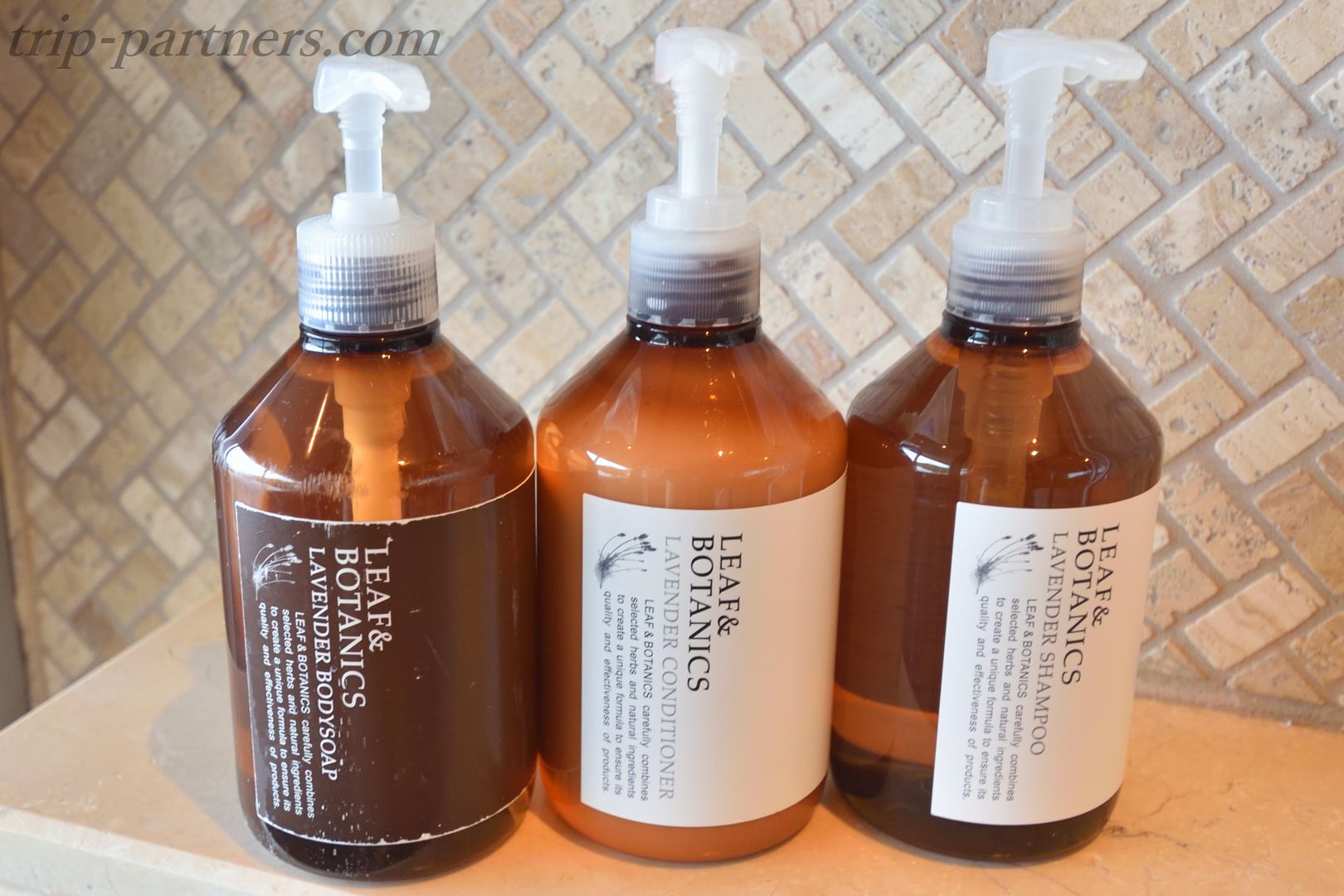 Shower room body soap、shampoo、Conditioner is also organic。I'm happy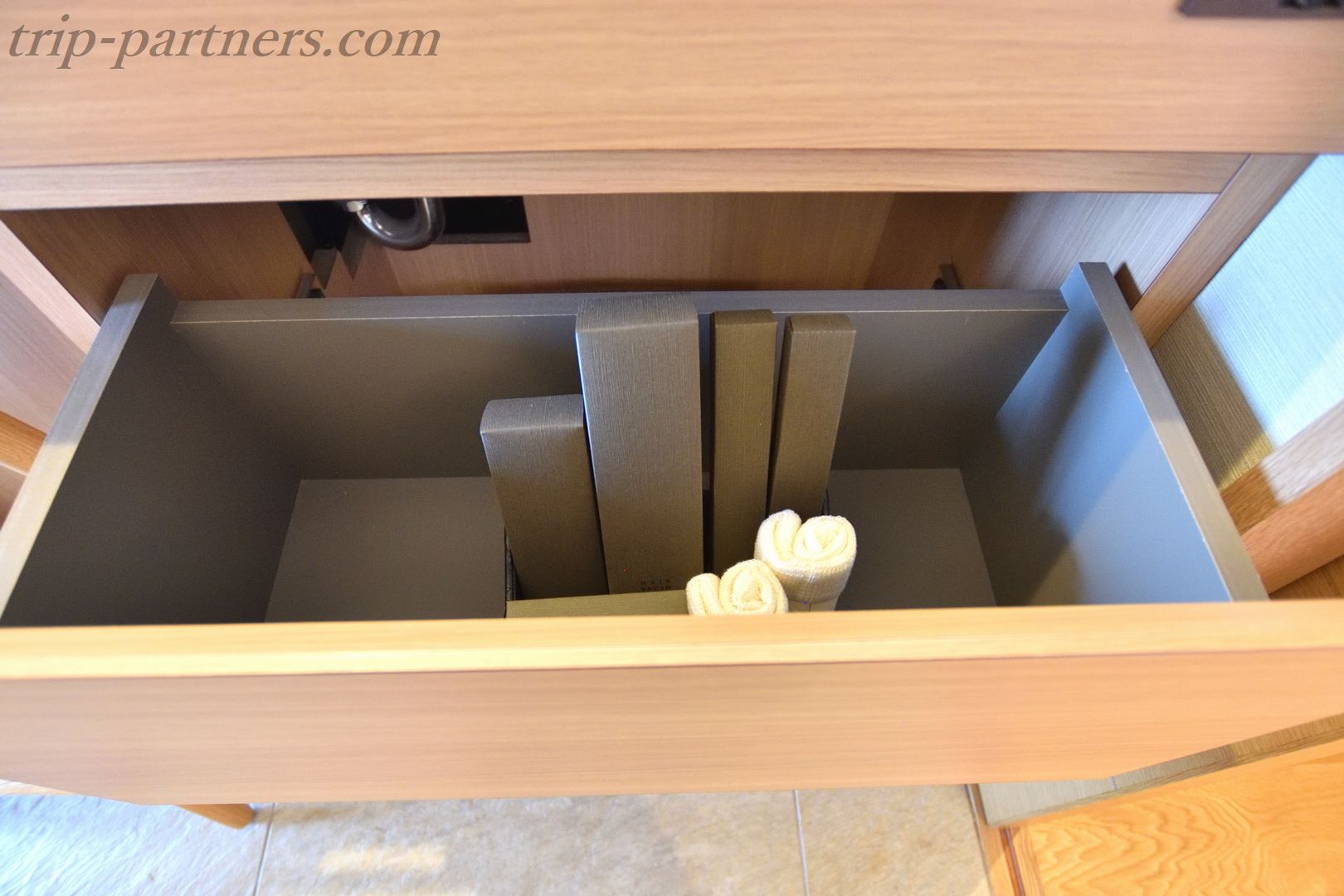 brush、toothbrush、Shaver is packed。Body towels are not in the public bath、この通り部屋には用意されています。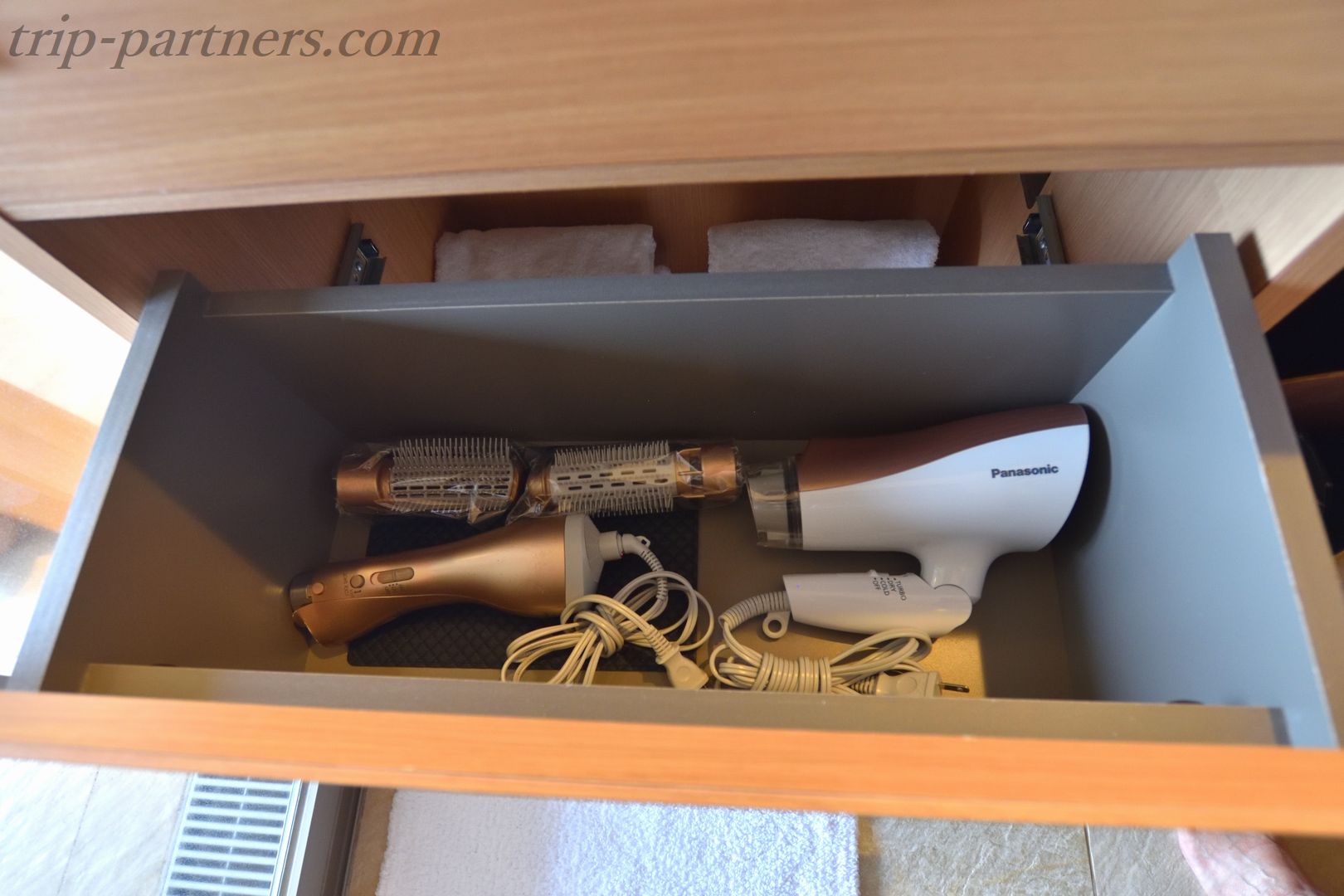 Hairdryer、Curl dryer、It's the same as Atami Fufu that there is a hair iron。
Ocean view guest room open-air bath & balcony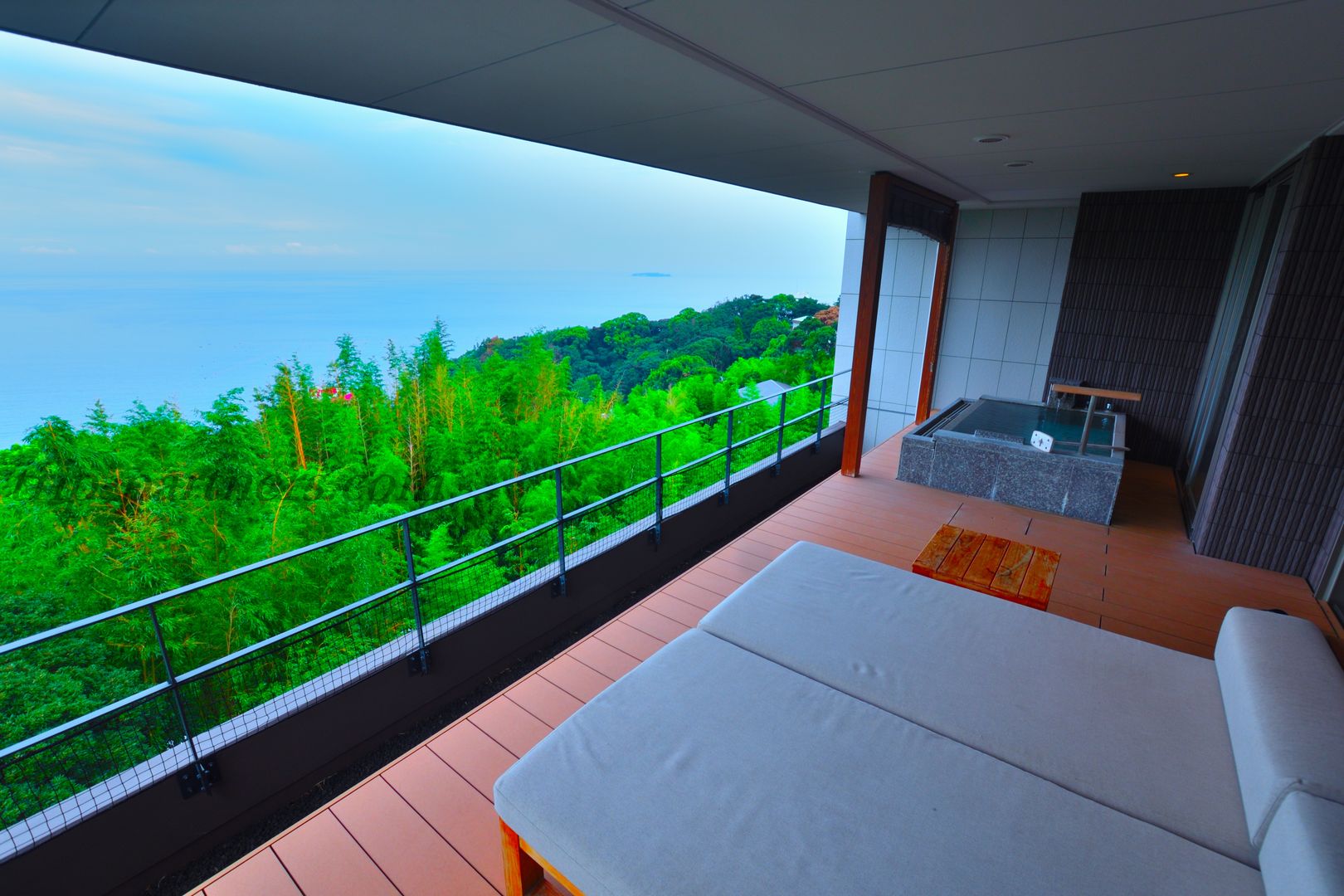 Balcony overlooking Sagami Bay。The foot side of this bed is just east, so the sunrise is set to be visible in front.。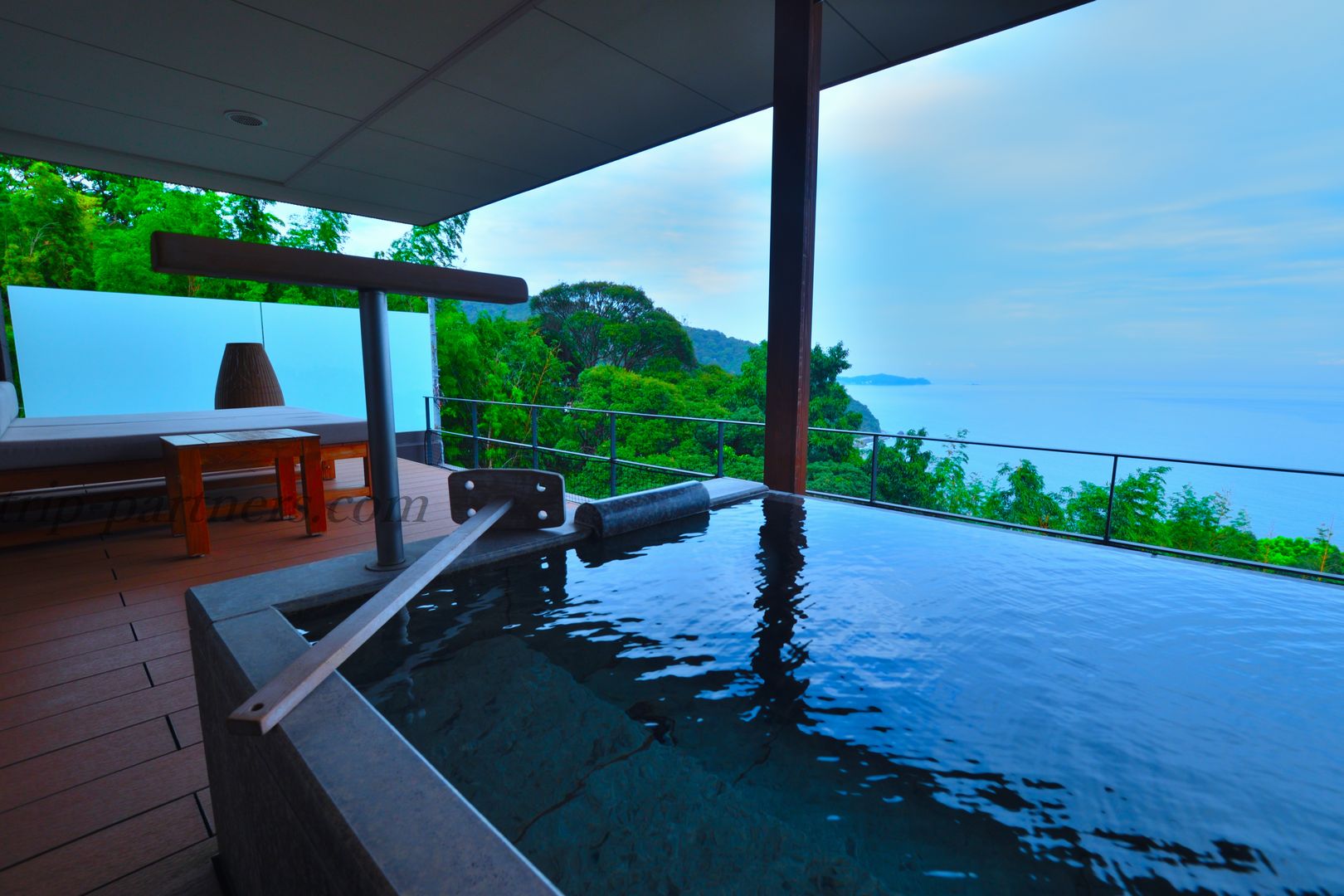 You can see this kind of scenery from the open-air bath。Adjustable hot water。You can feel the most luxurious!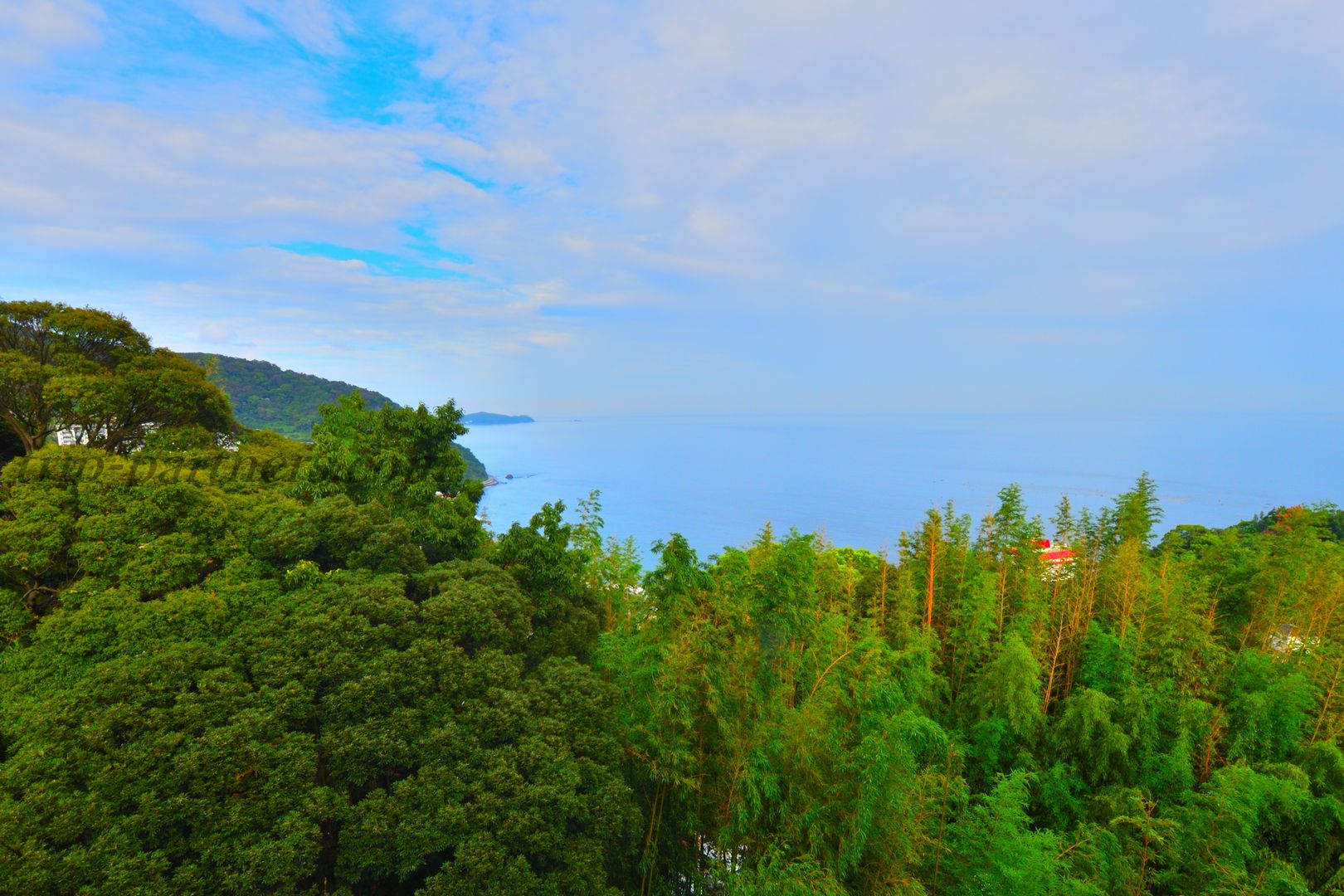 The green is well maintained so as not to block the ocean view。おそらく周りの土地もこの旅館の所有となっていて、I think they are reaping regularly.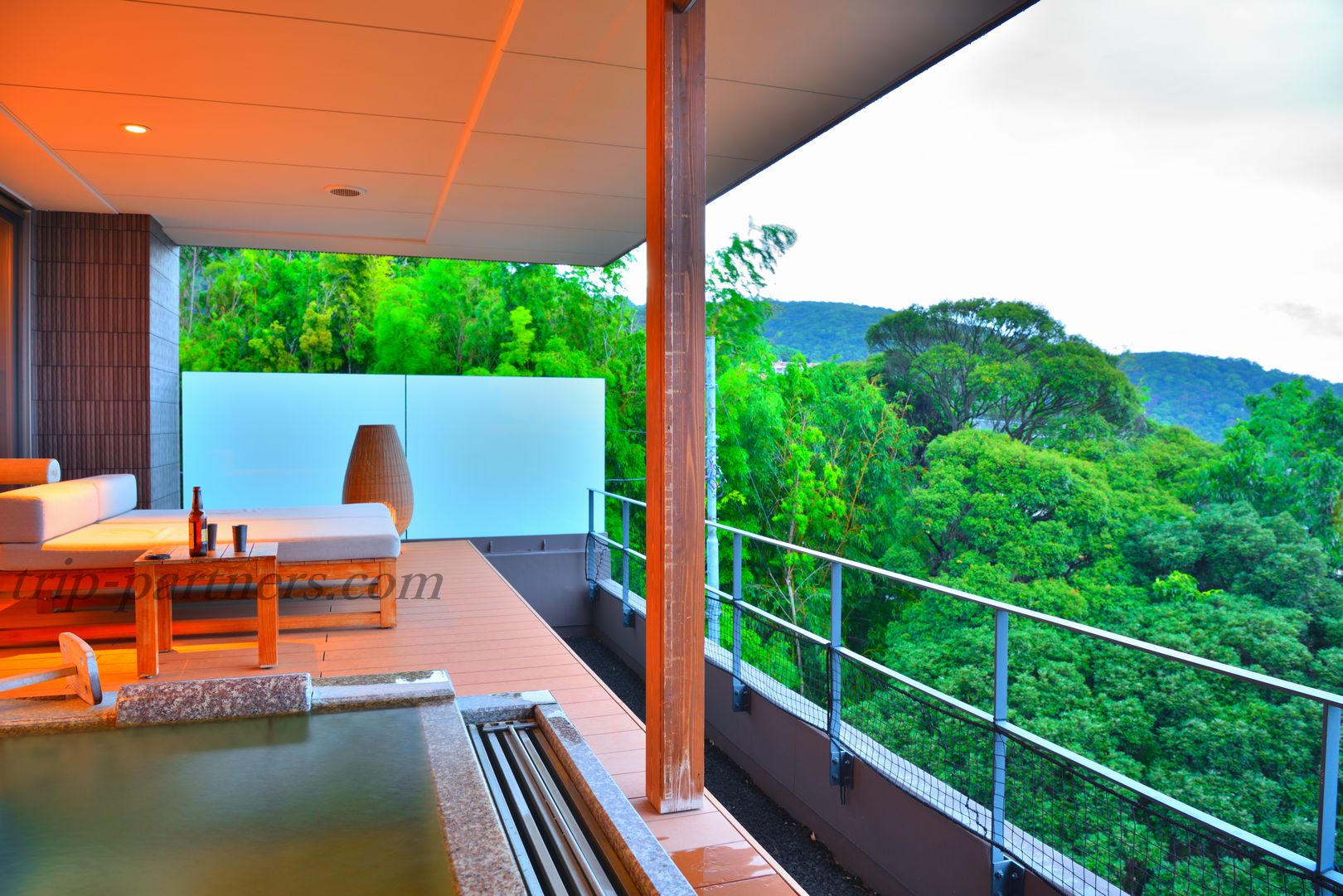 It's best to bring things from the fridge to the balcony 🙂
Dawn seen from the guest room open-air bath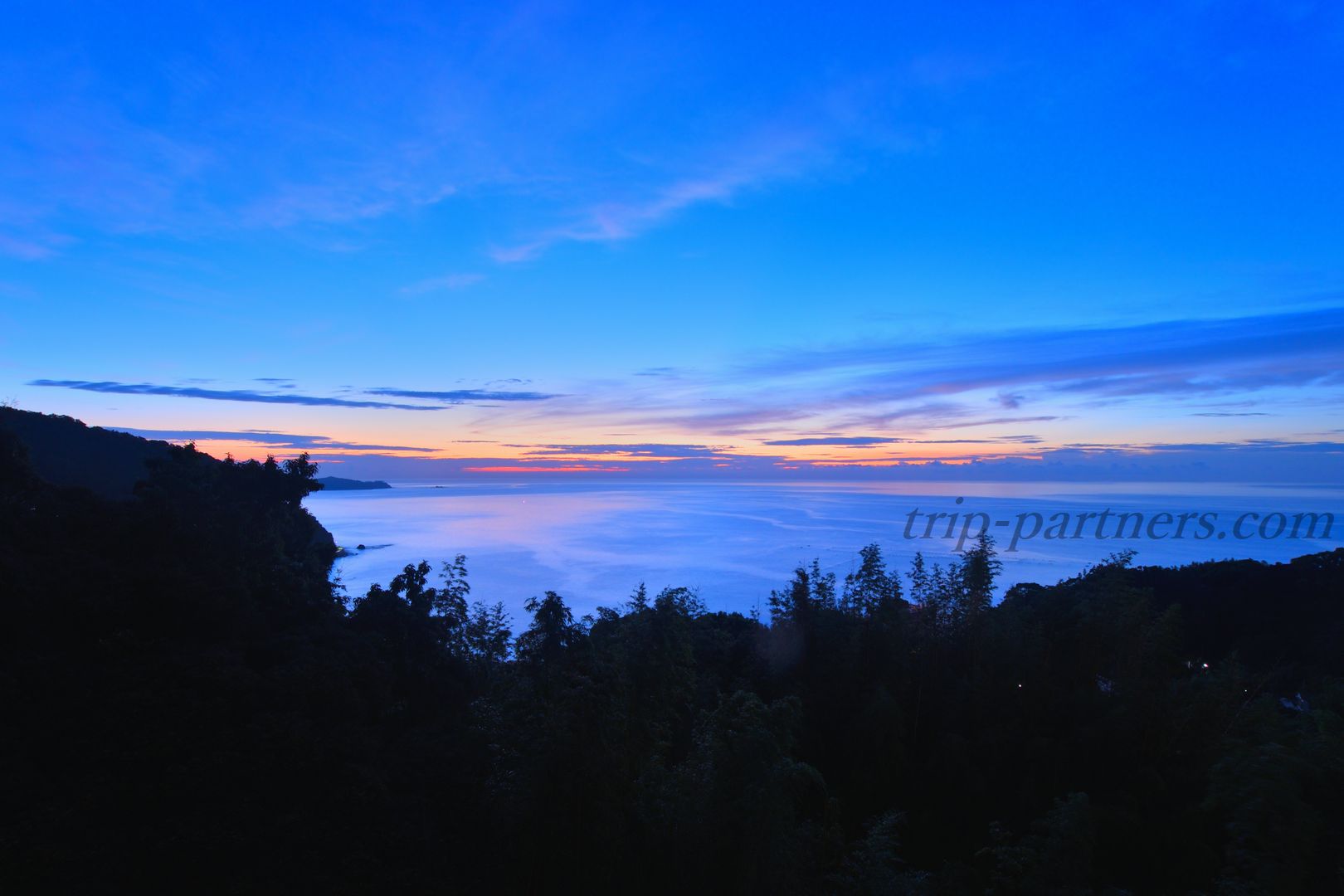 If you stay at ATAMI Atami, you should definitely see the sunrise。So this day is 5:00get up。It's about time for the sun to come out of the horizon。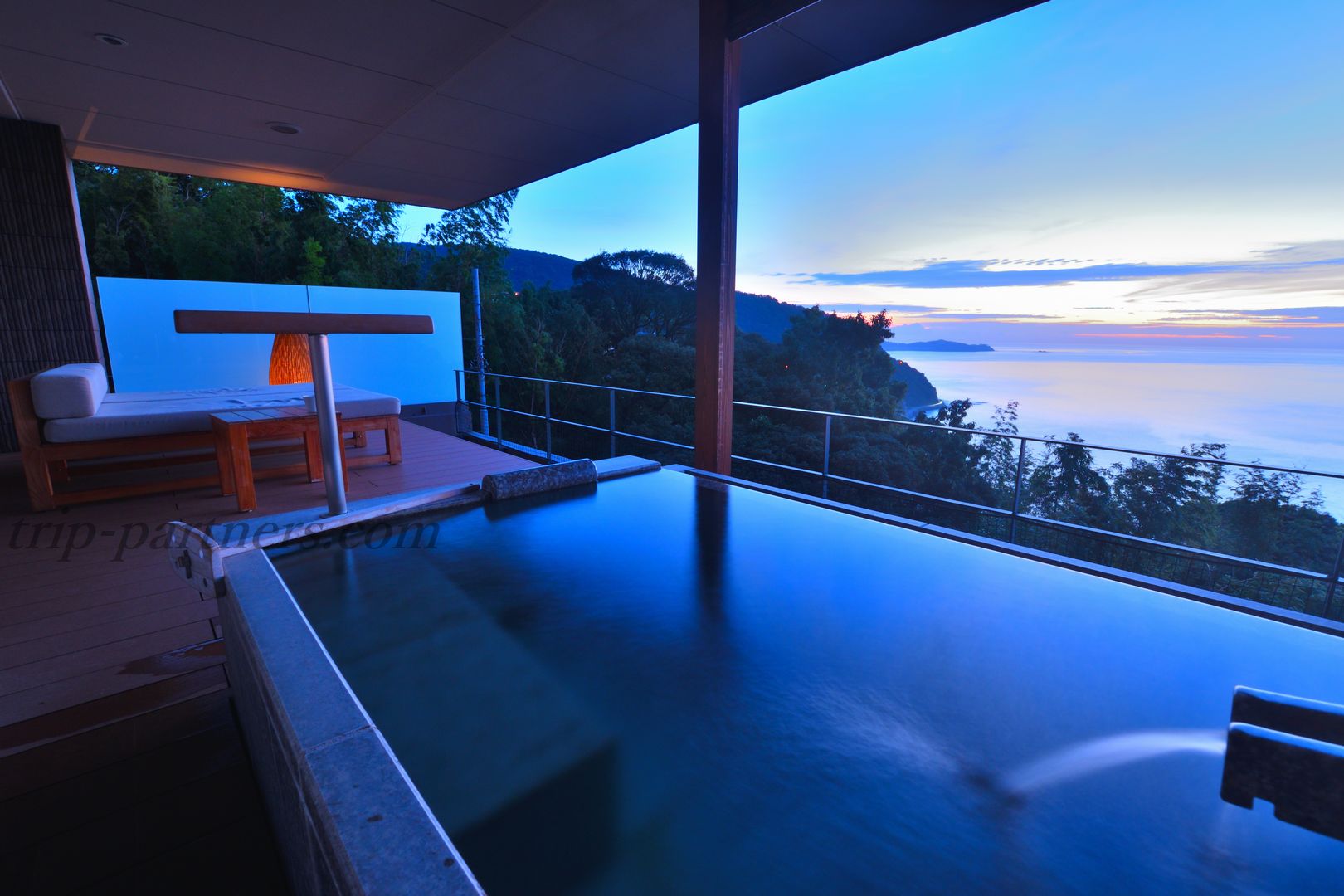 折角なので朝風呂に入りつつ水平線から顔を出す太陽を待ちます。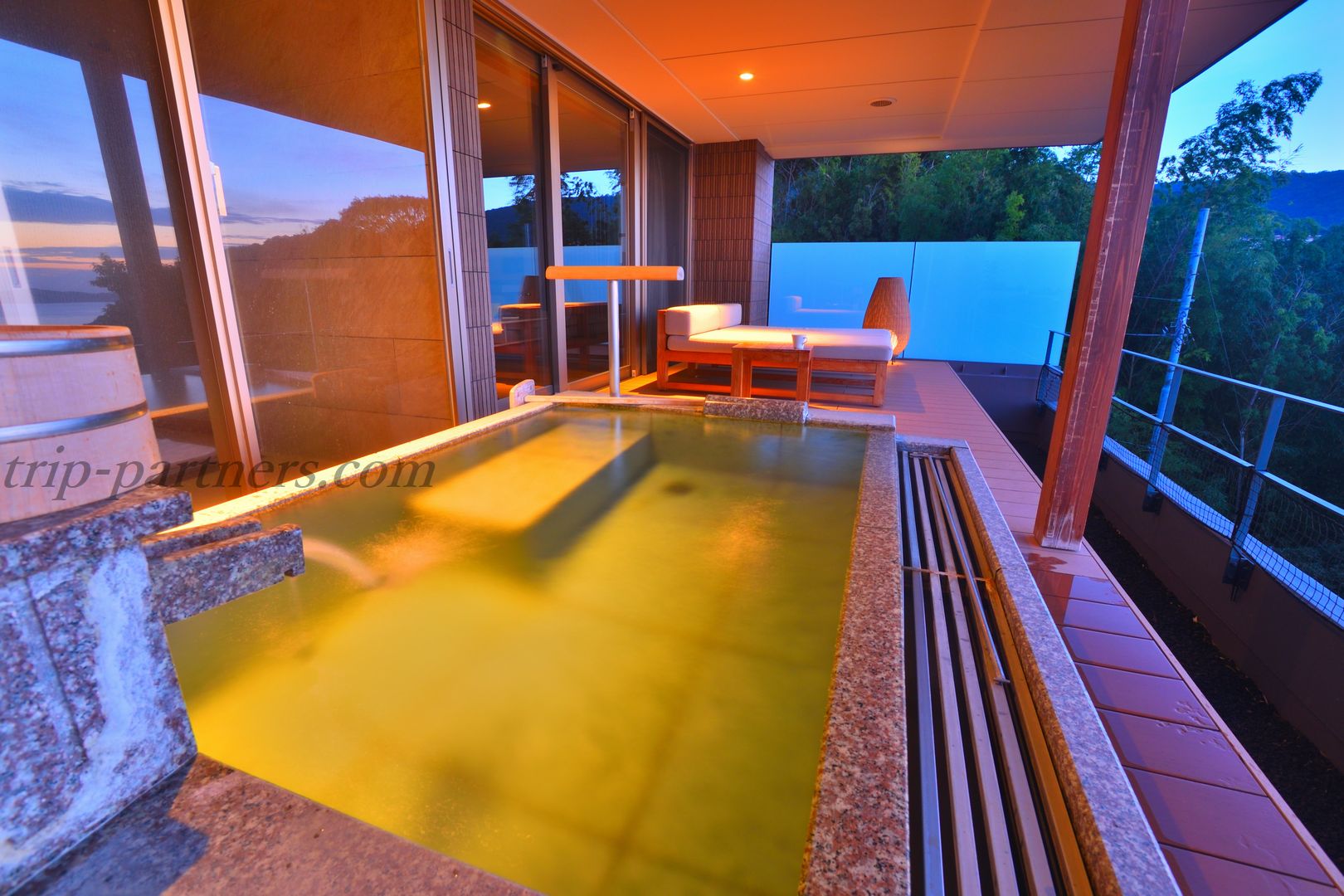 少し暗かったので外の明かりをON。こちらからだと部屋のガラスに反射した水平線がみえて素晴らしい❕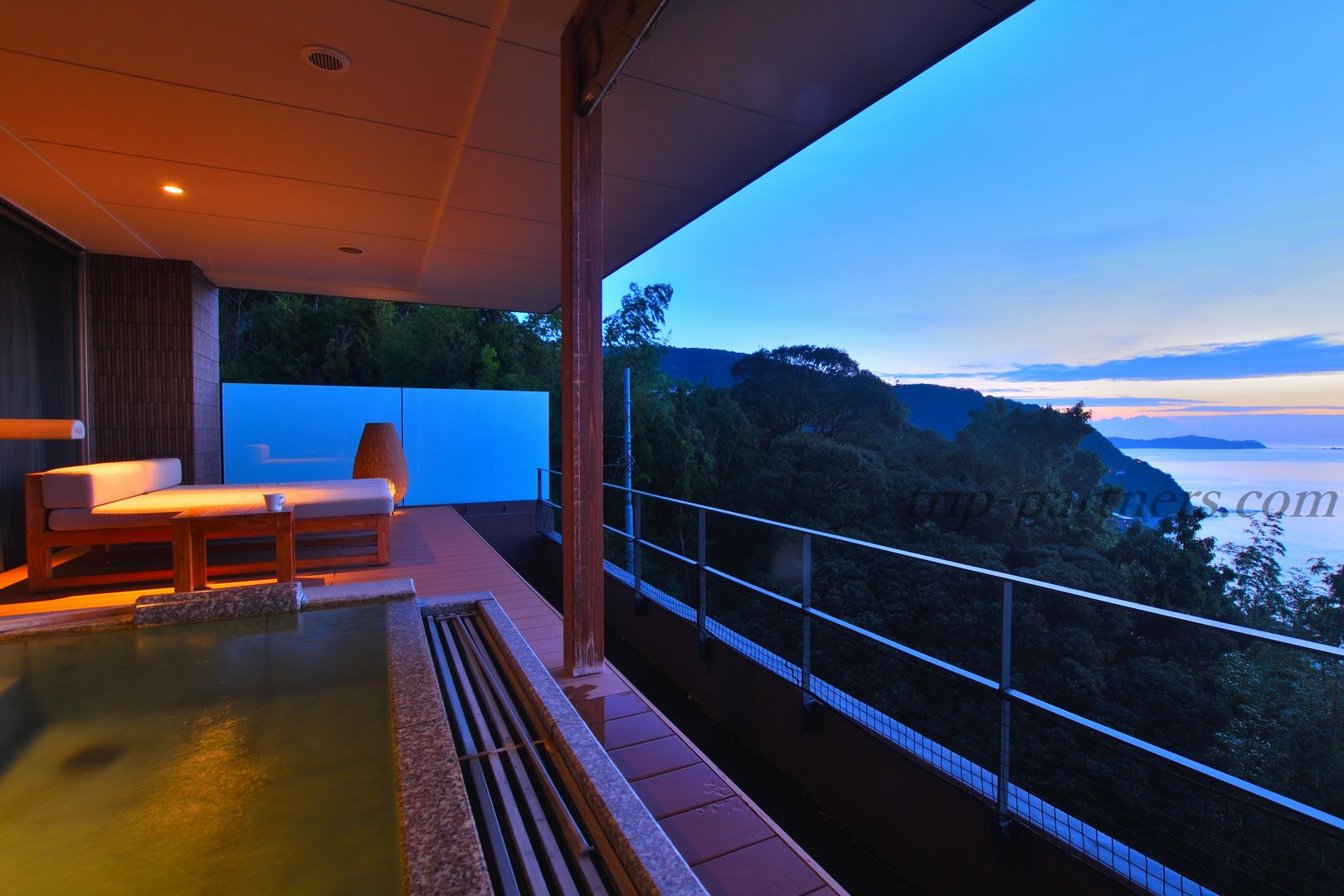 今日は曇りだと聞いていたのに晴れていてよかった 🙂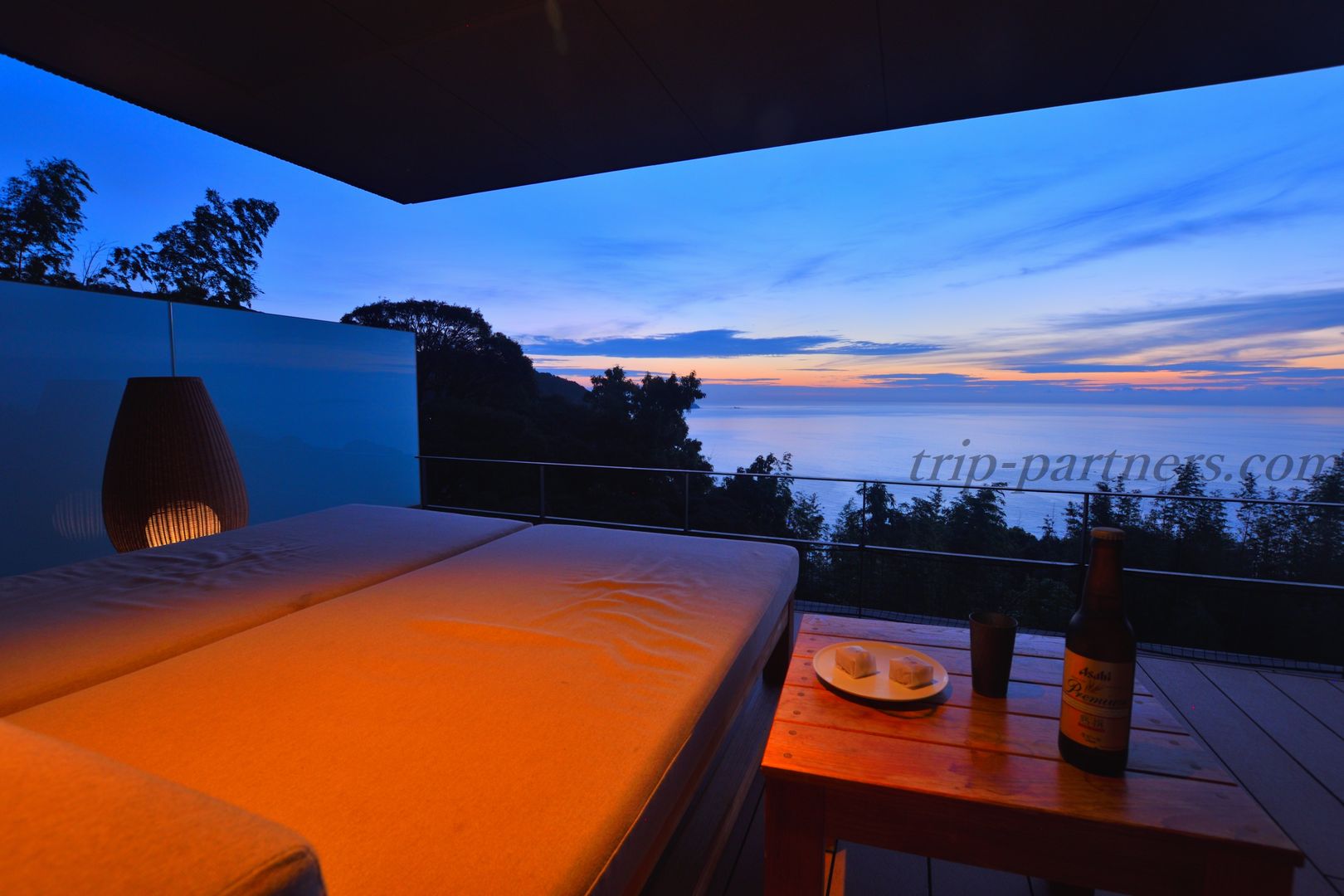 そろそろ太陽が顔を出しそうなのでバルコニーのベッドにて休憩。優雅にビールとお菓子を食べられる極上のひととき~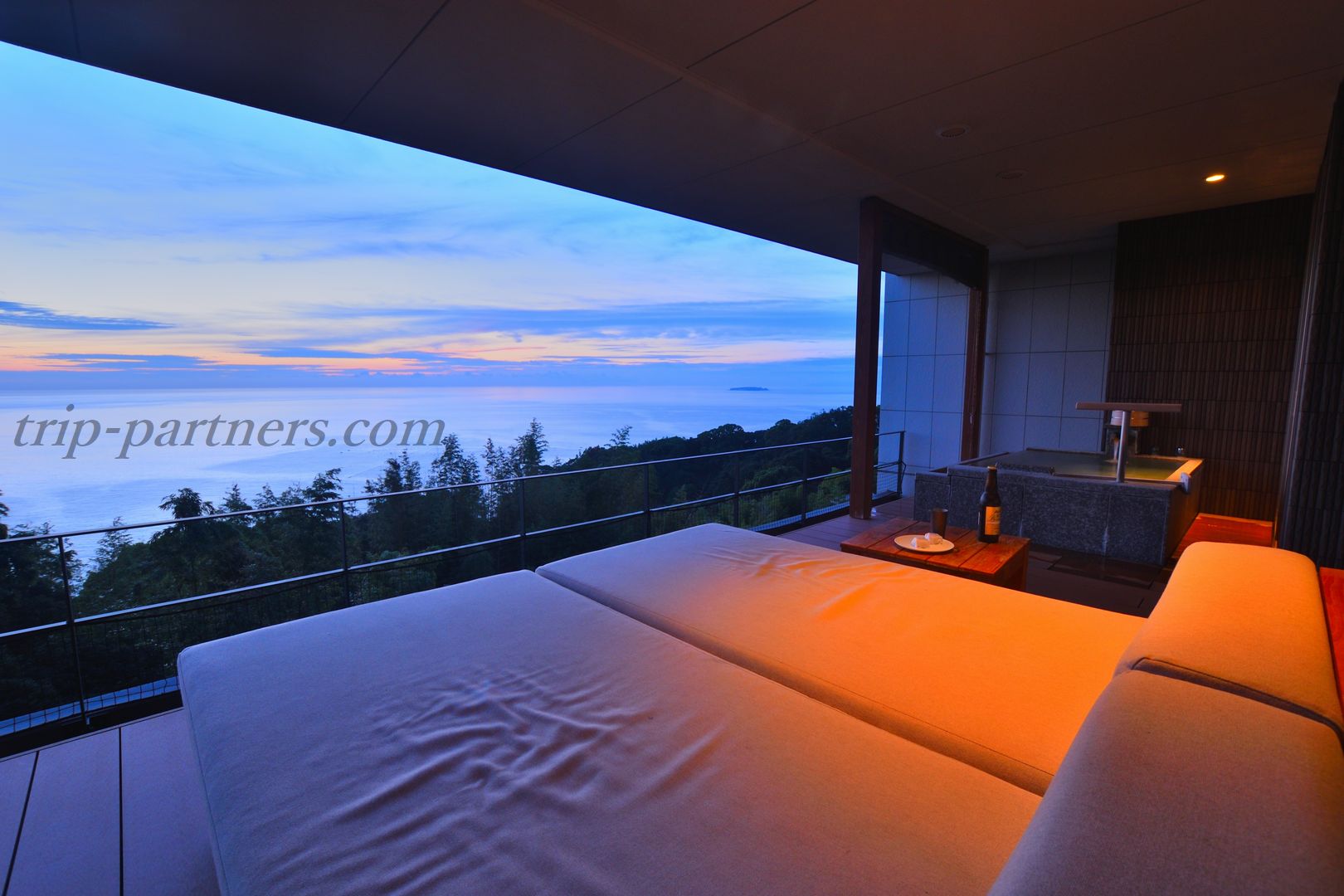 随分と明るくなってきた。
オーシャンビュースイートルームからみる相模湾の朝焼け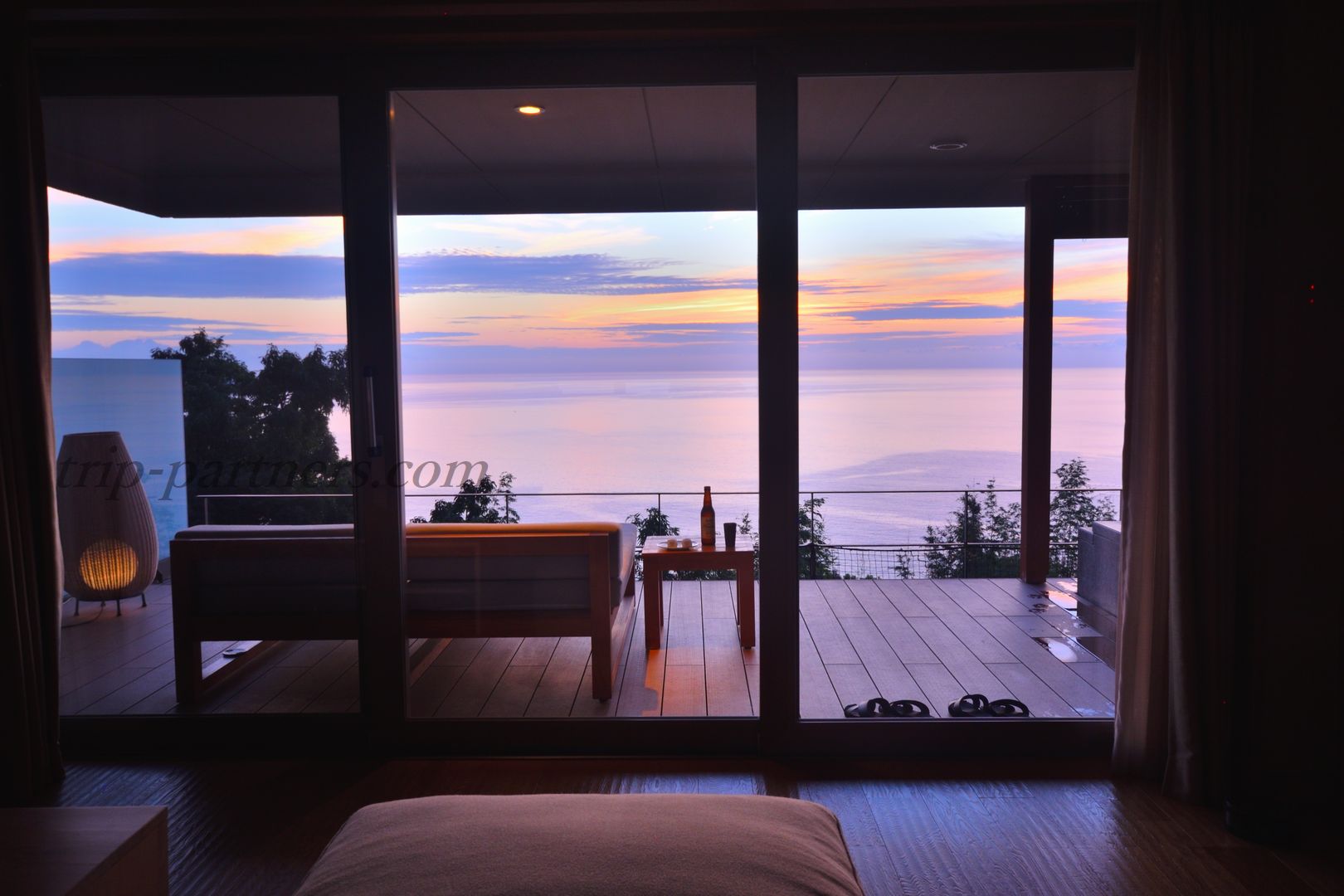 部屋から眺める相模湾の朝焼けも最高。こういう眺めが見られるのは熱海の旅館の中でも数少ない。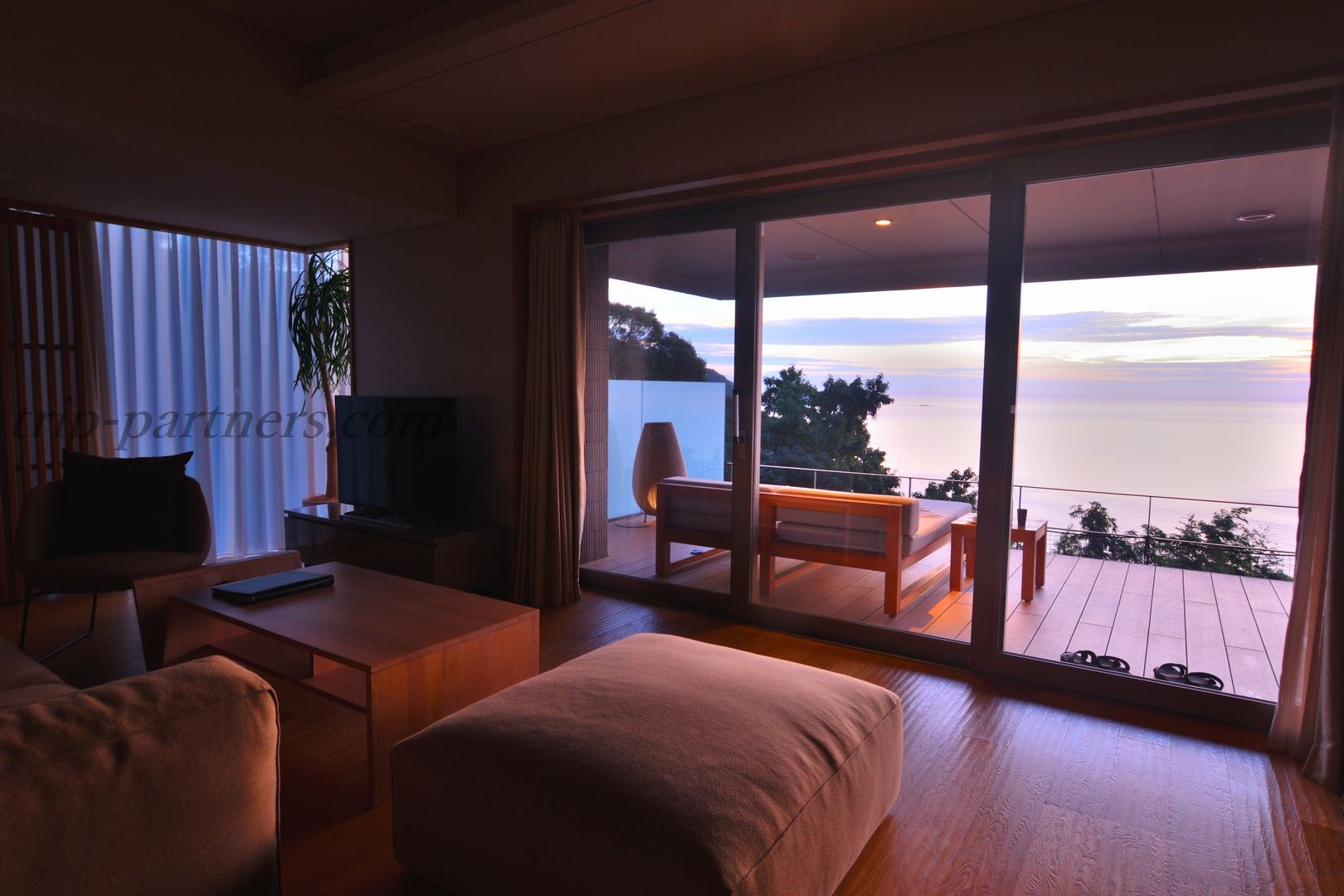 少し違う角度から。もう部屋の中も朝日に照らされて明るくなってきました。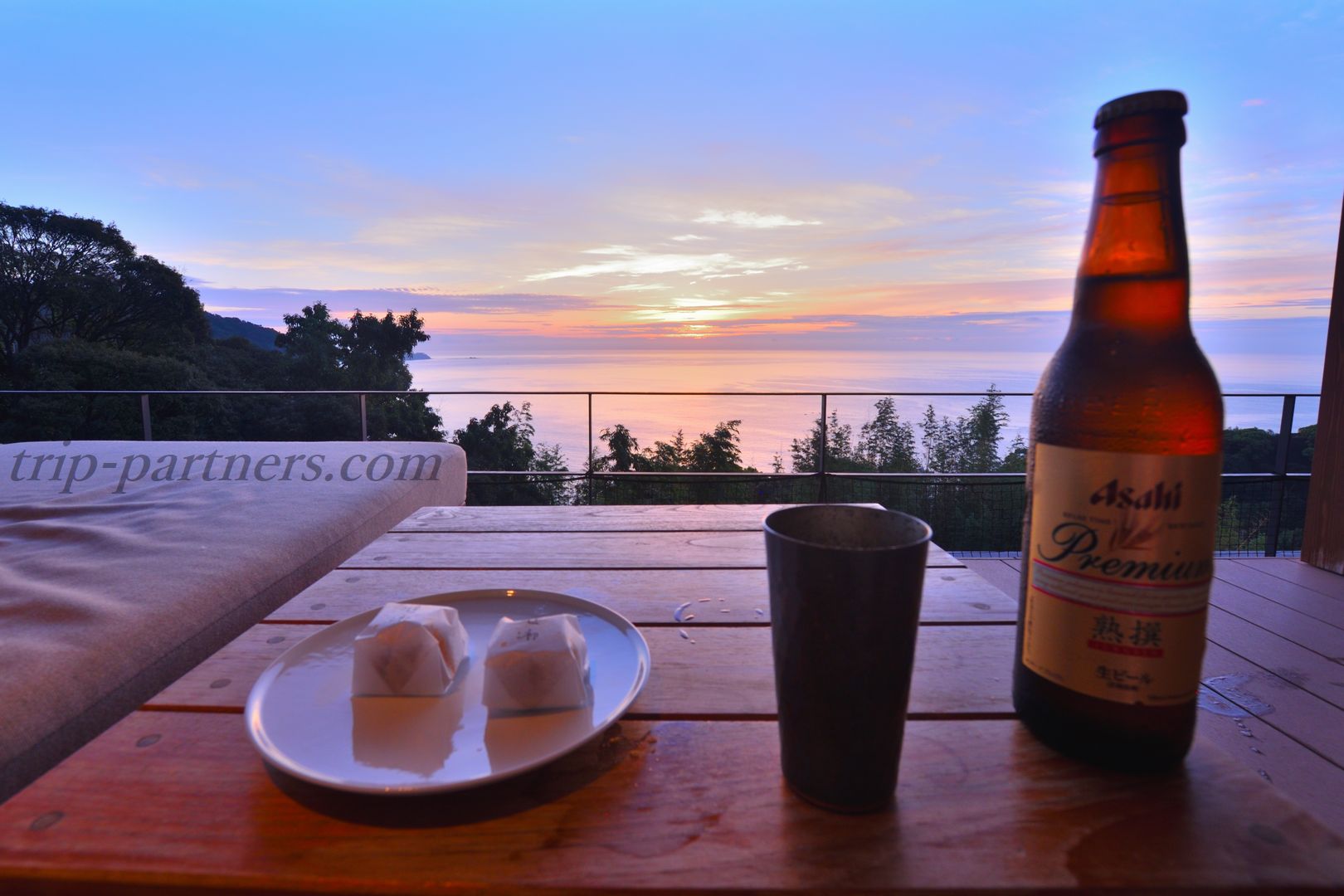 Now、小腹が空いてきたのでお菓子を食べながら日の出を待ちましょう。
ようやく待ちに待った日の出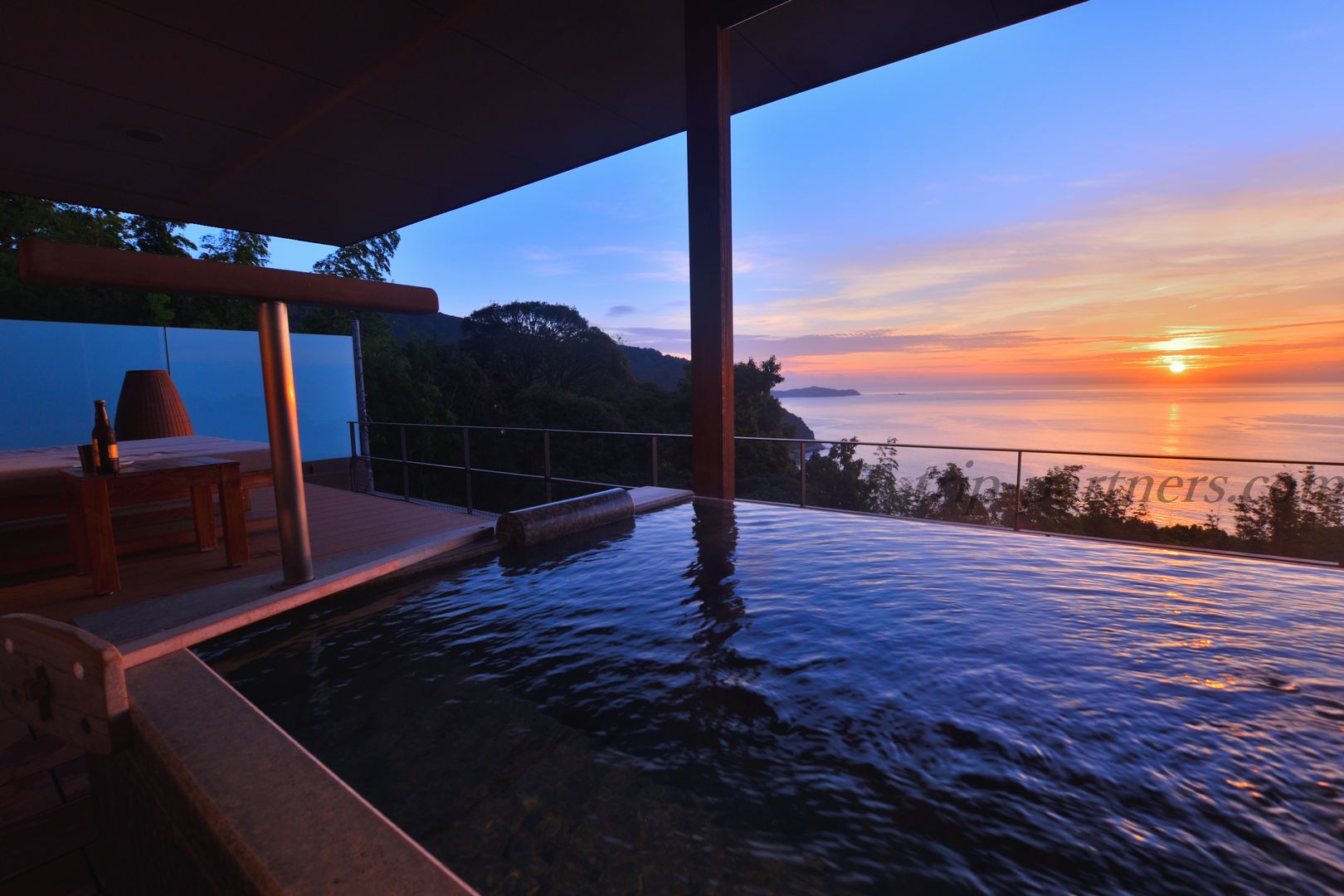 風呂に入っているときにちょうど日が昇ってきました。露天風呂に入りながらの朝日ってのは見たことはあるけど、ここまで優雅な気分で眺めたのは初体験ですね 🙂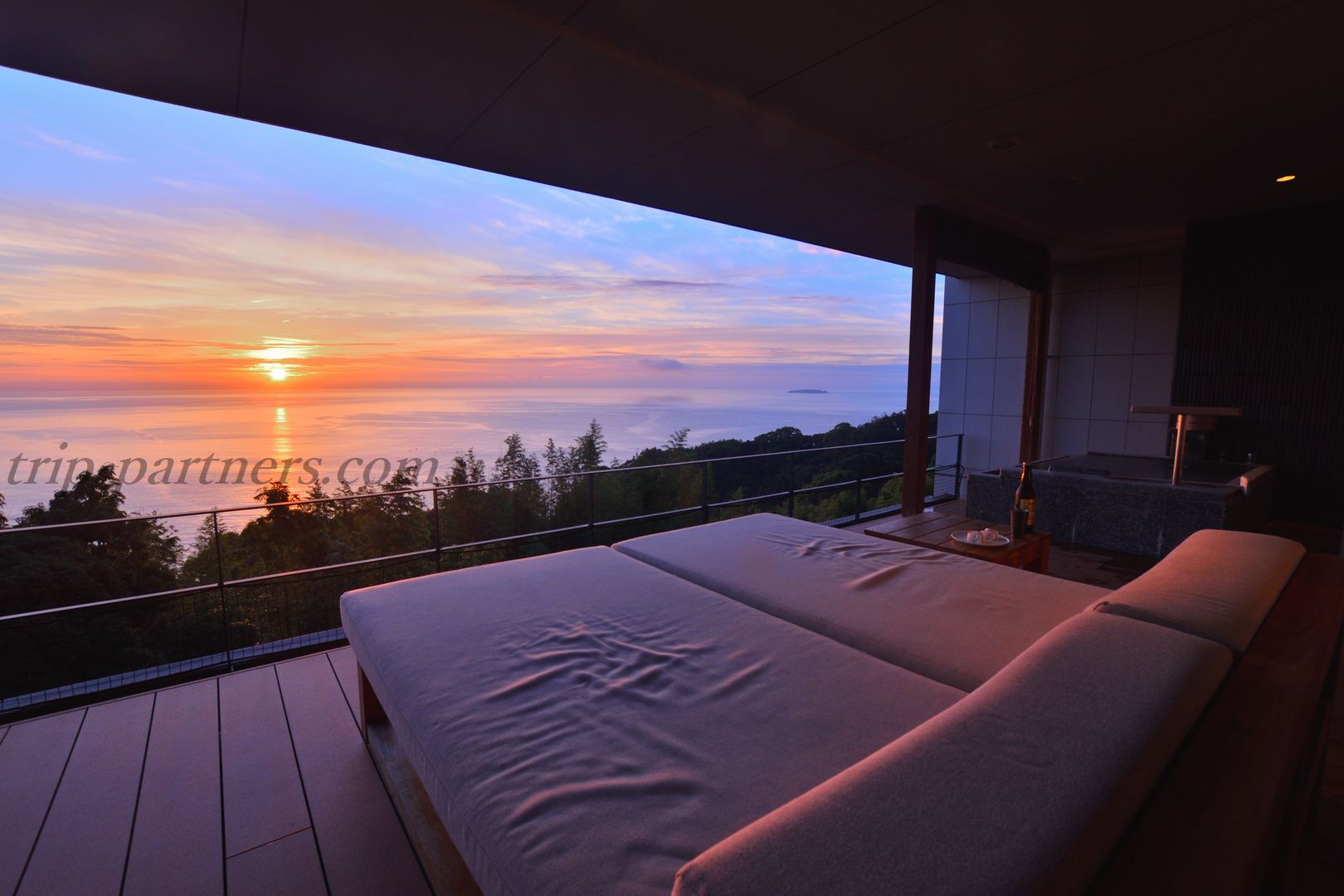 超贅沢な気分。相模湾の日の出を独占した気持ち~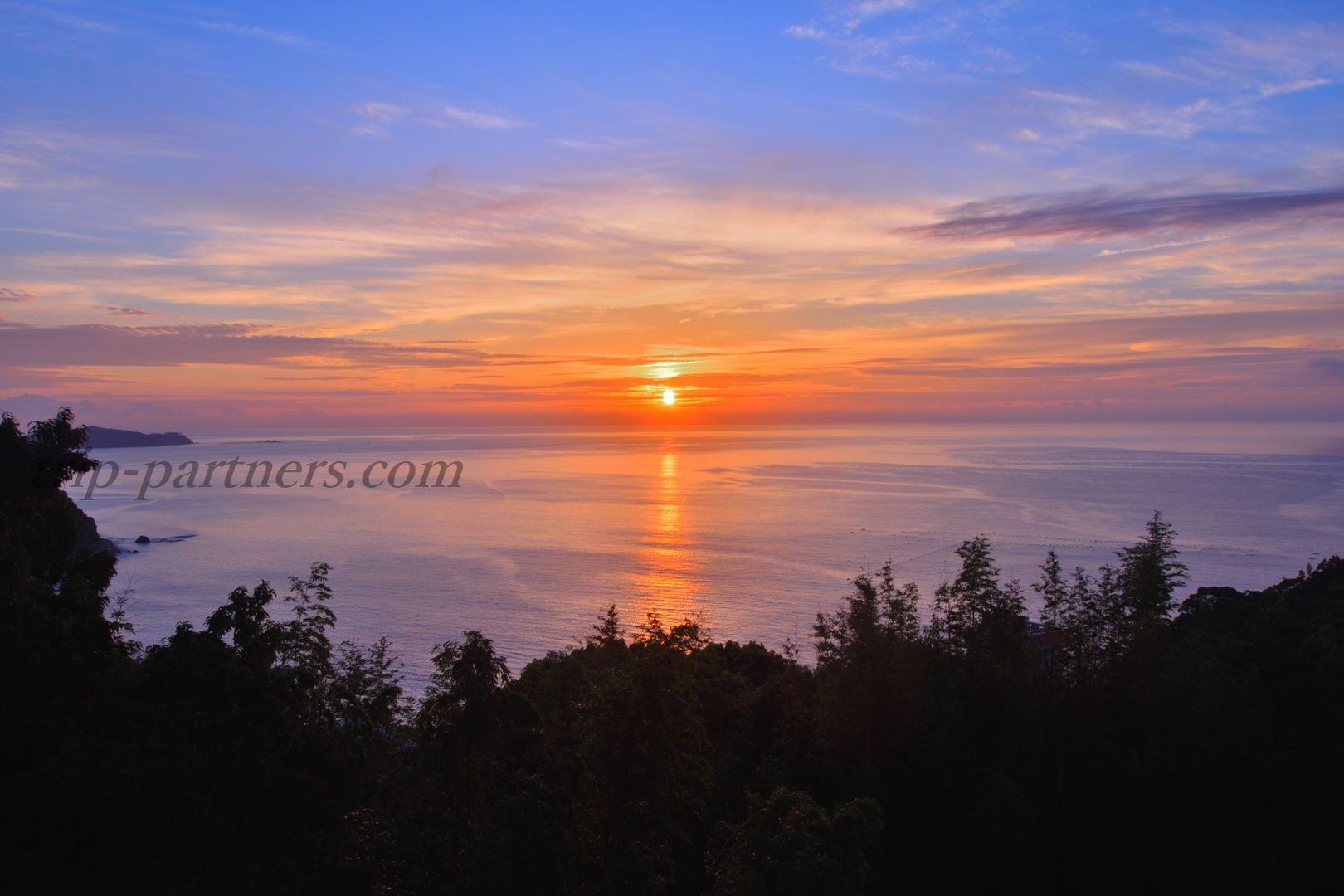 😆
再度部屋から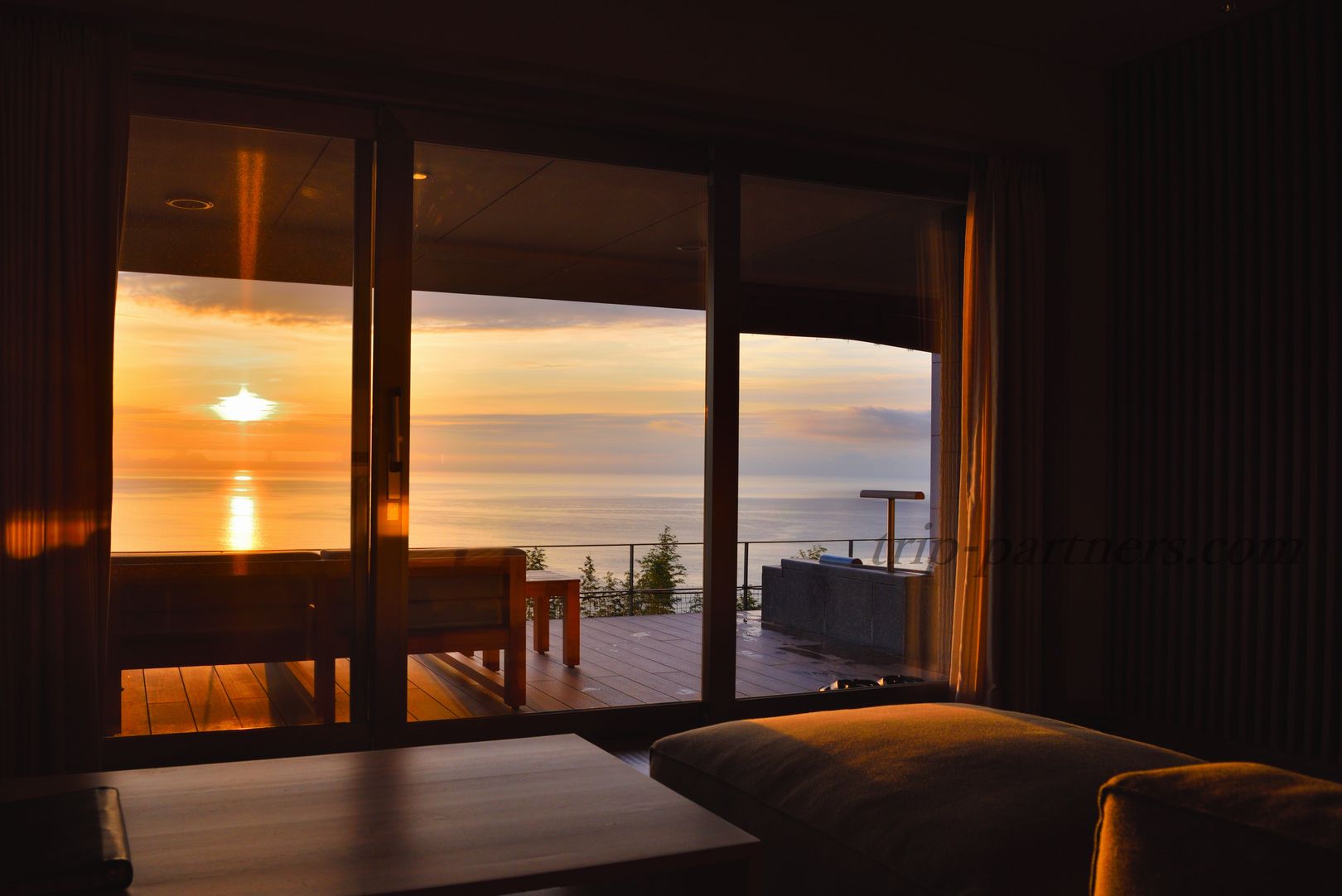 もう結構日は上がりました。すでに時刻は6:00頃。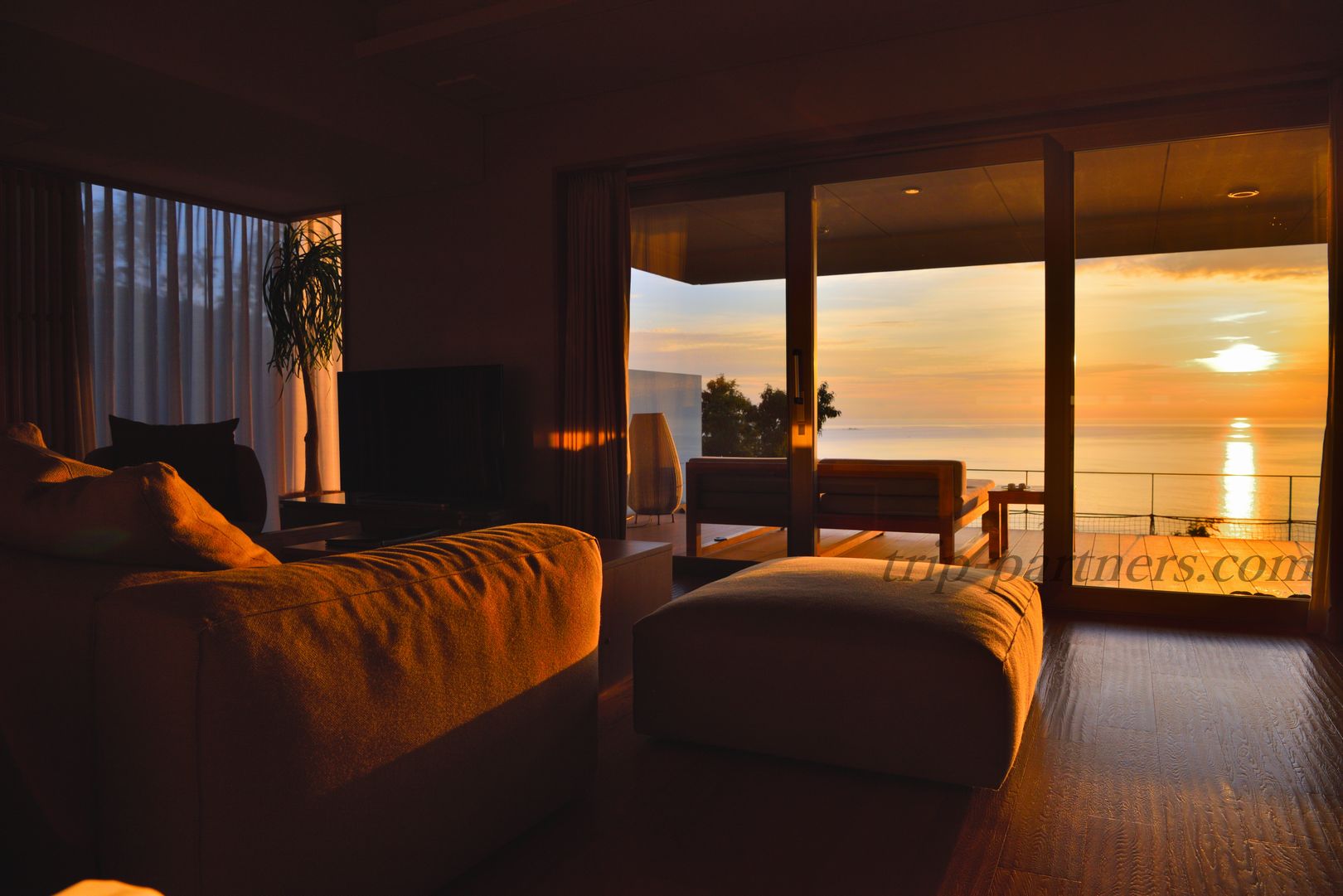 そろそろ紺碧テラスがオープンするので向かいましょうか。屋上の紺碧テラスからの日の出は前回の記事「High-class luxury inn "ATAMI Sekaie" ① ~ Facility introduction ~」で紹介した通り!
これにて部屋紹介は終了。次回は食事の回です!