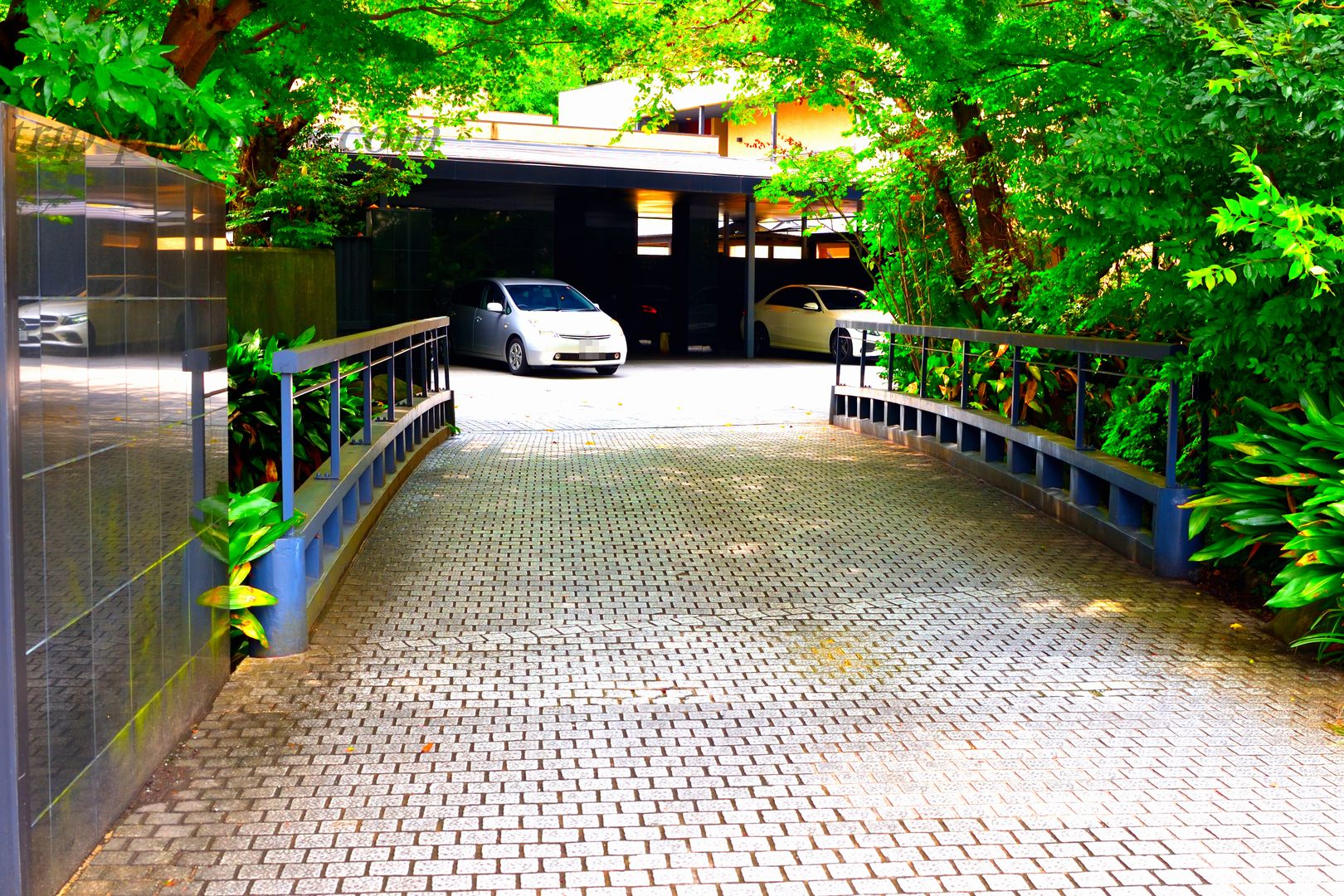 Because the coronavirus cannot go abroad and there is little demand for articles on overseas travel、From this time, I will introduce domestic inns for a while.。At this time, use GoTo Travel to local、In particular, I would like to introduce you to luxury inns and hotels in Izu.。
First of all、All rooms have an open-air hot spring bath that flows directly from the source、Monthly meals are popular「Atami Fufu"is!
Atami Fufu place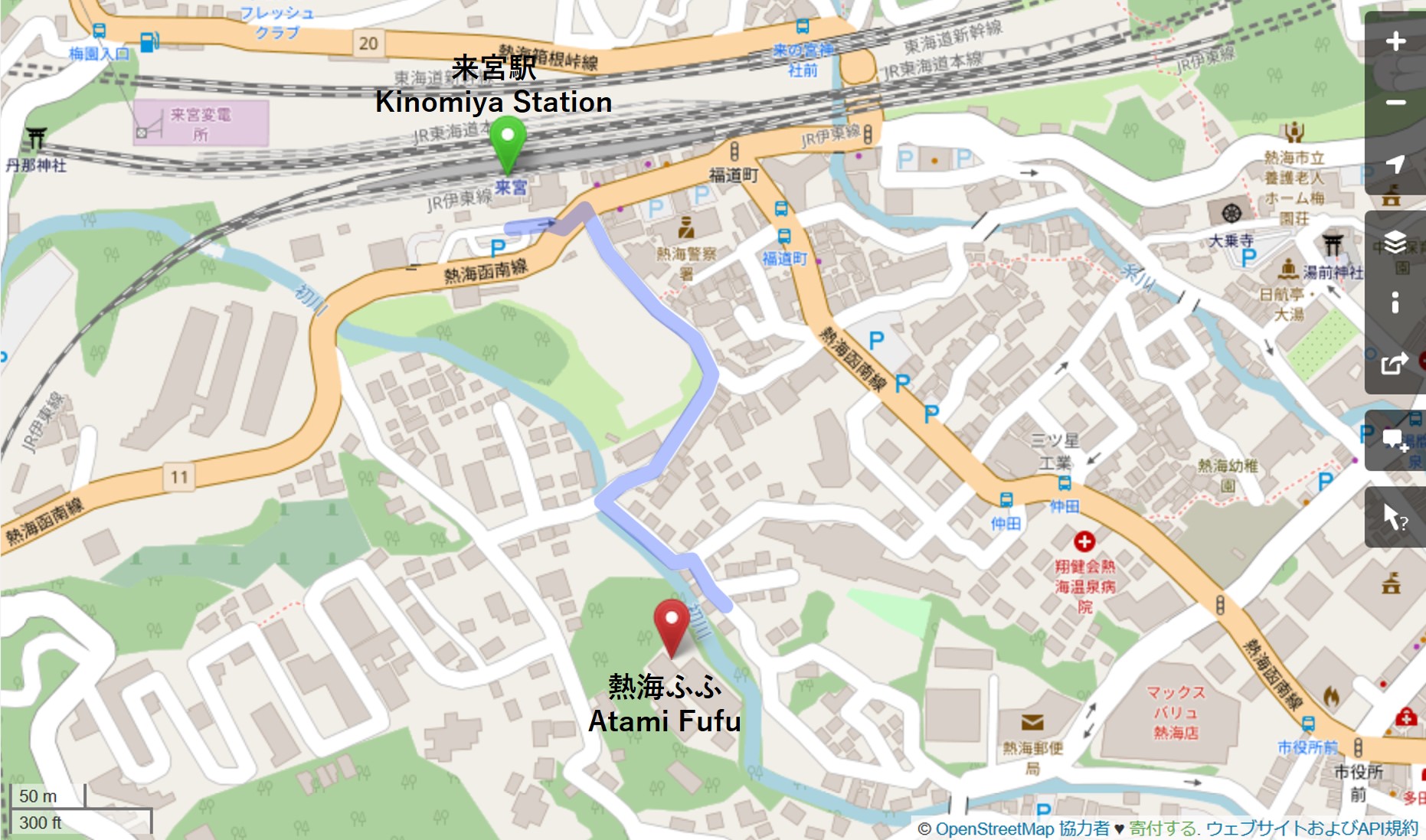 Next to Atami station、It's about 500m from Kinomiya station。If you can come by train, Kinomiya Station、There is a pick-up service from Atami station, so it's best to use it.。By the way, this Fufu group shuttle car is not a minibus like a general inn or hotel.、You will be greeted by a luxury car like Mercedes-Benz, Lexus, Nissan Fuga, Alphard 🙂
It seems that you can get a hand towel and mineral water when you pick up and drop off.、Anyway, if you arrive at the inn, you can get as much mineral water as you like.。

Atami Fufu entrance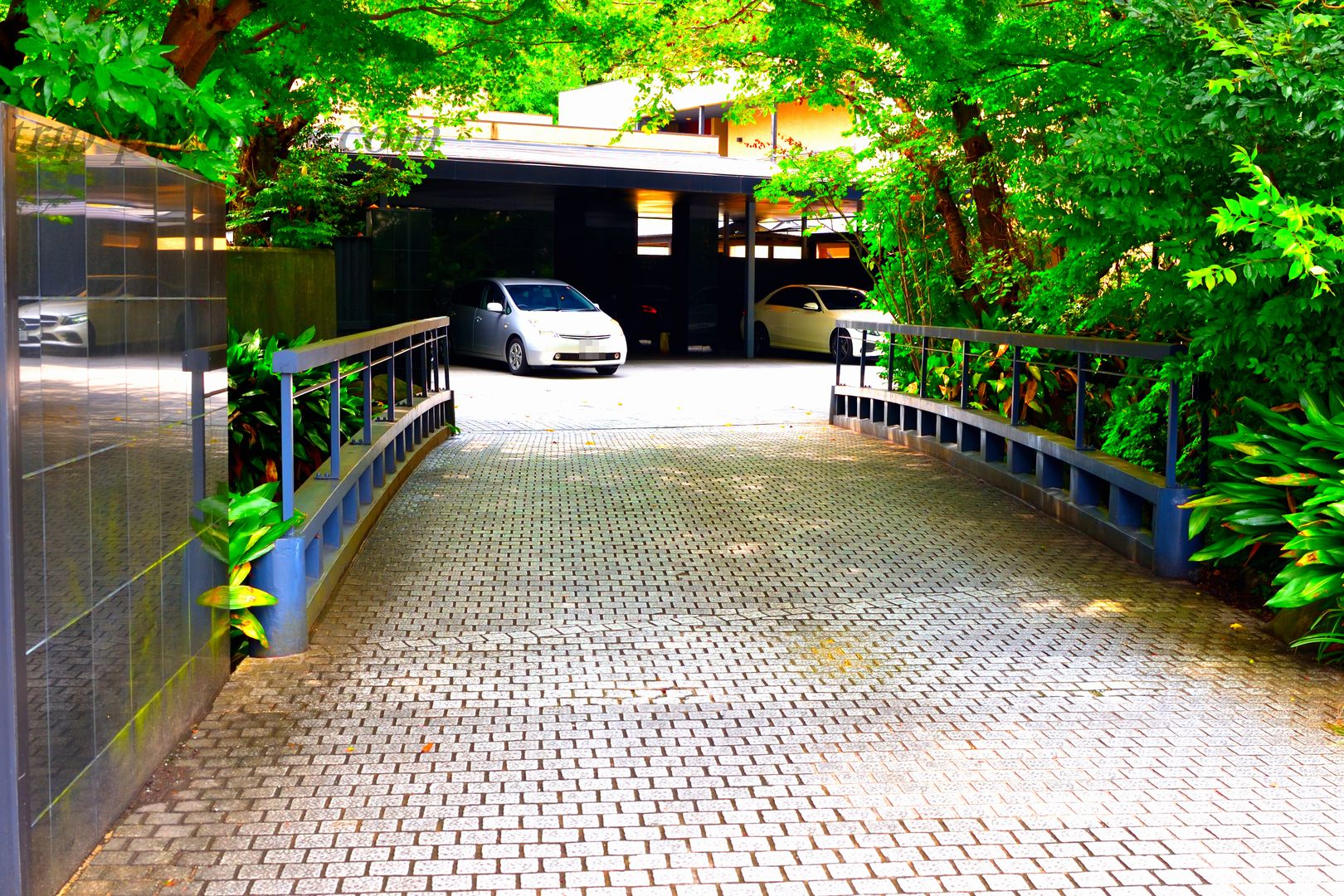 When you think of Atami, you might think of an ocean view.、Atami Fufu is a quiet and quiet location surrounded by rivers and forests.。
Cross the Hatsukawa with this green arch and enter the inn。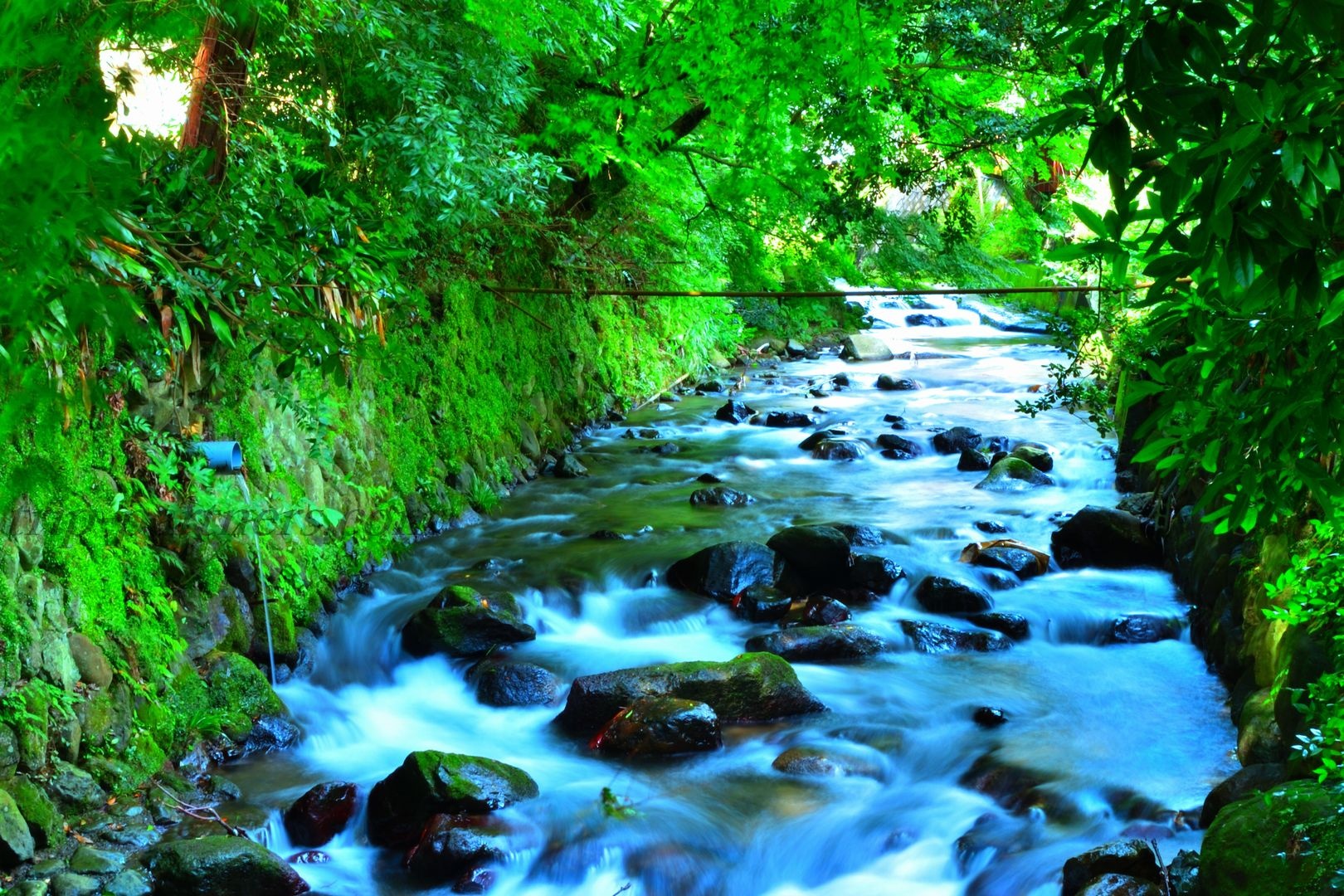 This is Hatsukawa。It's a quaint stream pouring into Sagami Bay。I've been to Atami many times before、A new discovery that there is such a place!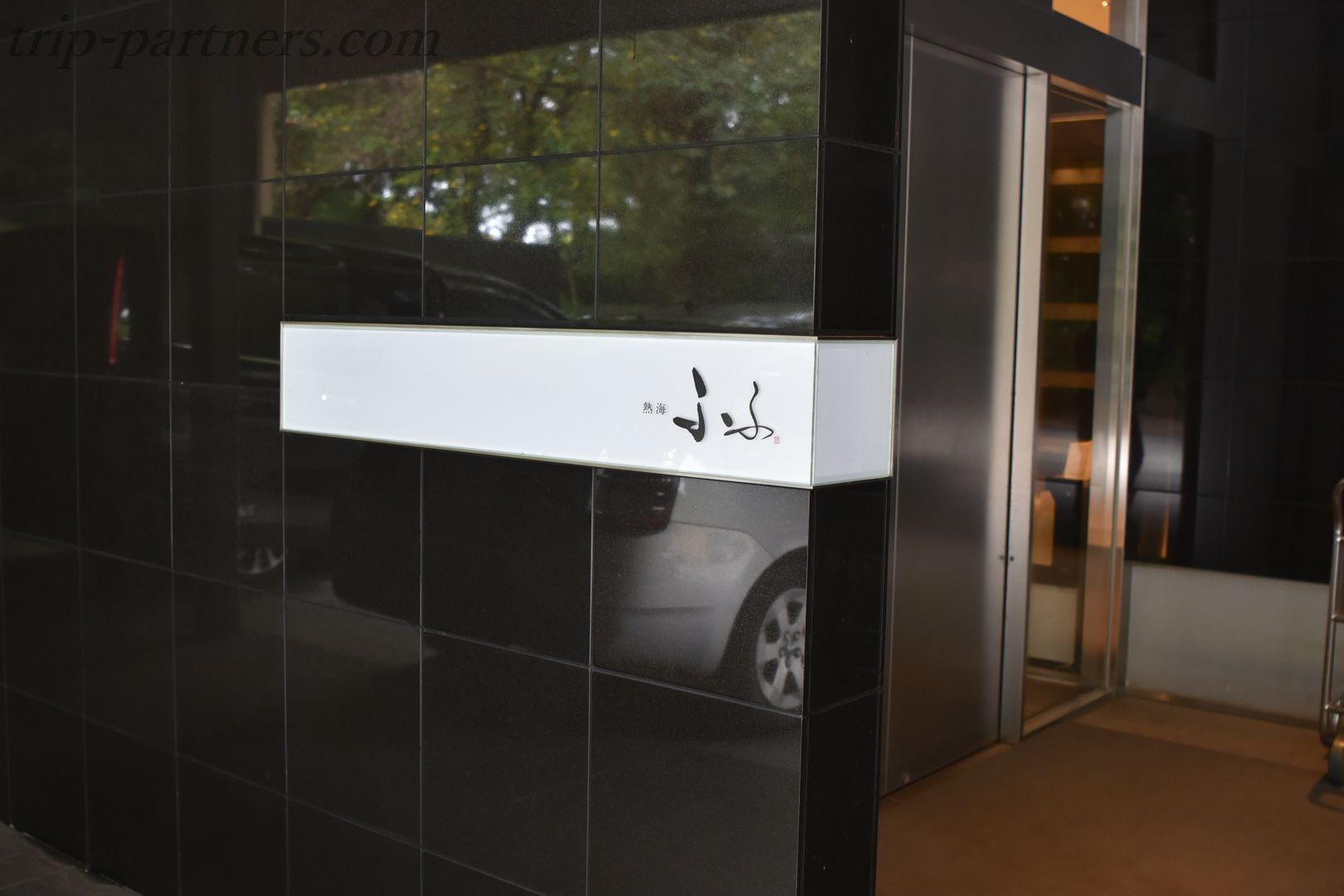 When I arrived at the inn, the people at the inn were already waiting in front of the entrance.。If you visit by car、Since it is a volleyball service, you will be given a car key。
Now、Let's enter the inn from here。
Atami Fufu Lobby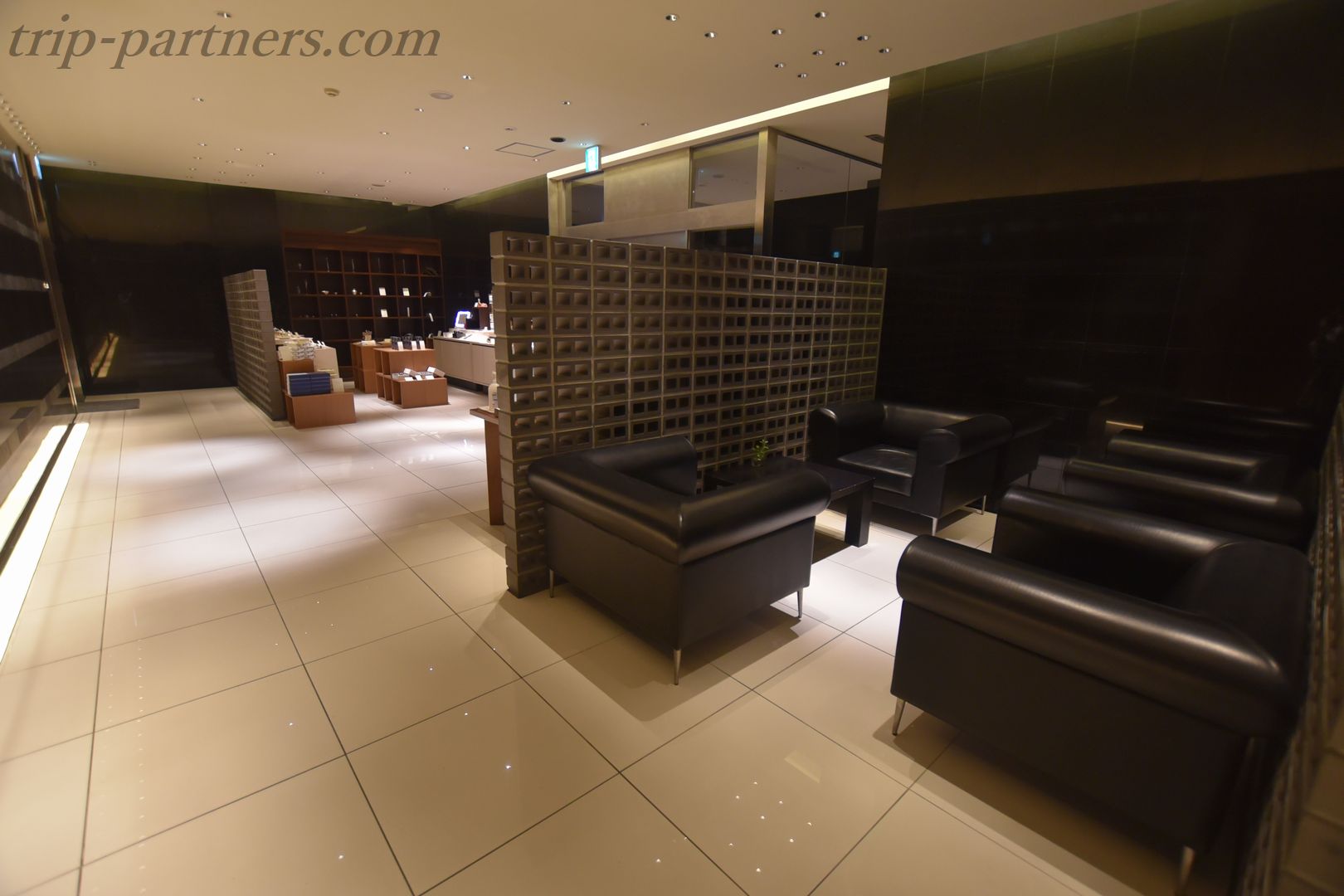 The lobby is right next to the entrance。But、Unlike ordinary inns, there is no front desk。You will pass through here and head for the room。Check-in seems to be done in the room。Certainly, if it is a large inn, I wonder if this system is more efficient for inns with a small number of rooms of 26.。
If you check in the room, you can proceed with the procedure while sitting down.、It's rational because the inn can also save labor costs at the front desk.。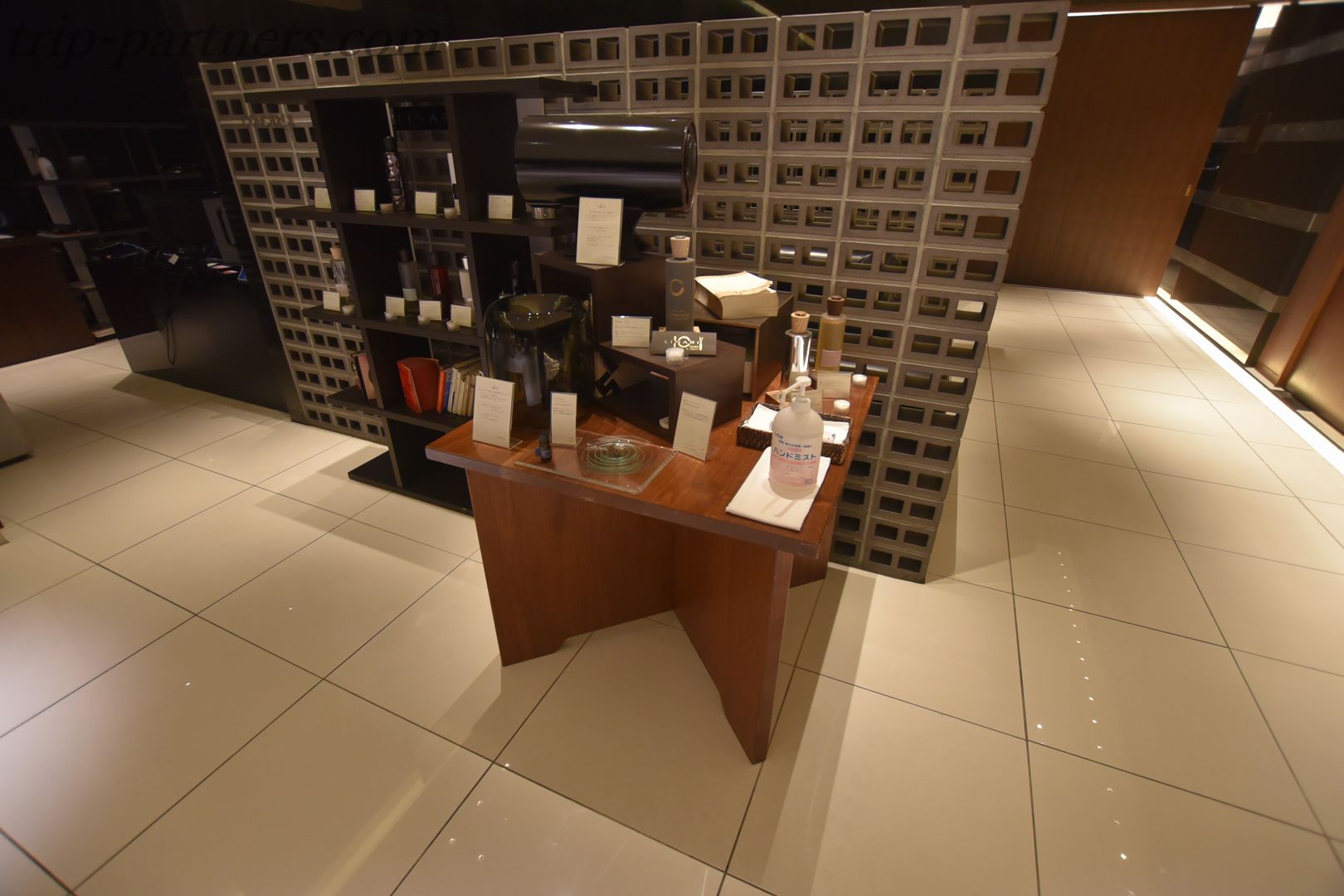 A disinfectant was also installed in the lobby as a measure against coronavirus.。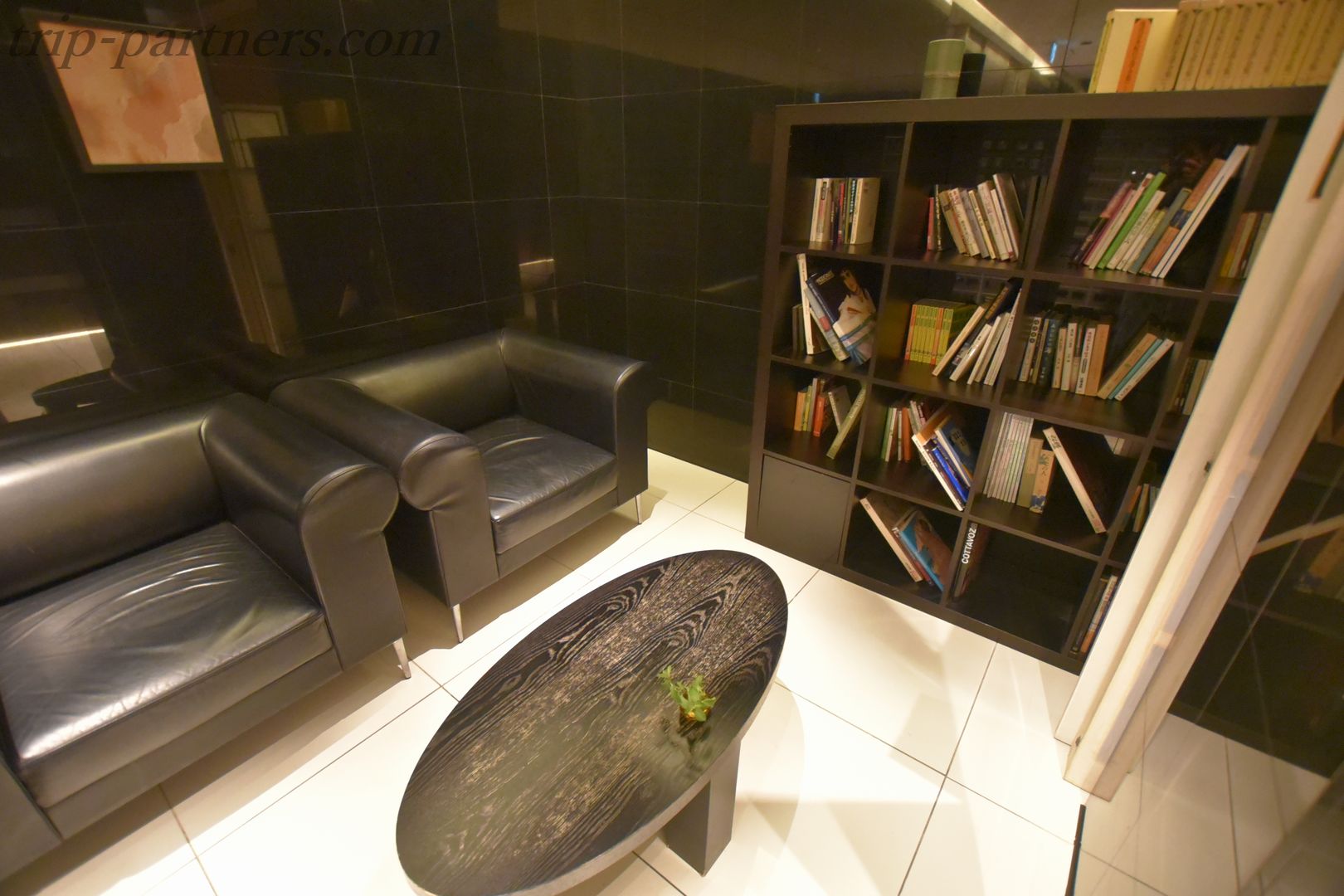 The lobby has a comfortable sofa and books。Well, I think this book is like a decoration to create an atmosphere 🙂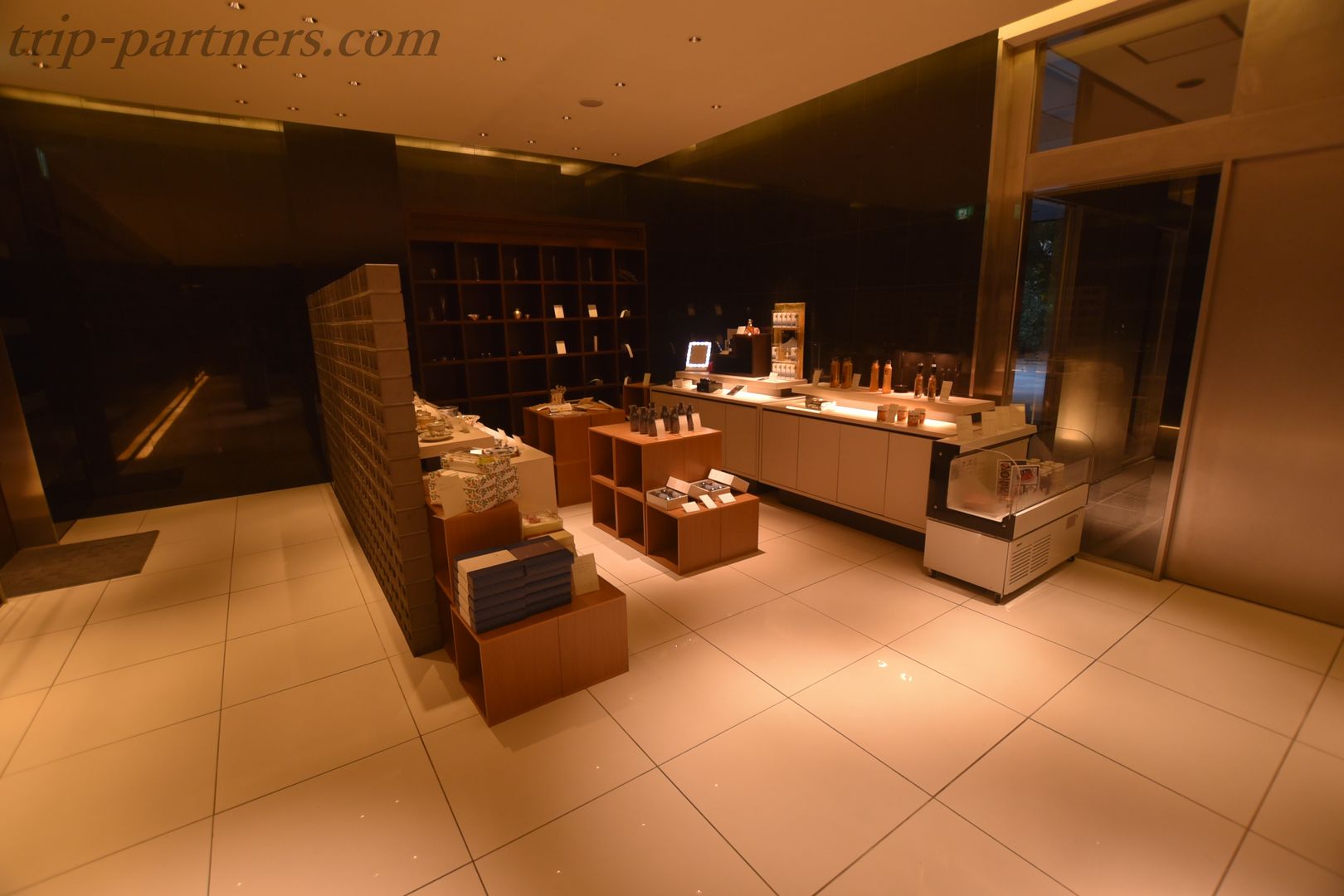 Small shop。Setta, amenities, etc. in the guest room、Sweets and pottery are on sale。I will introduce it later in the article about guest rooms.、The amenities at this ryokan are wonderfully organic。I bought shampoo and conditioner because it was a big deal.。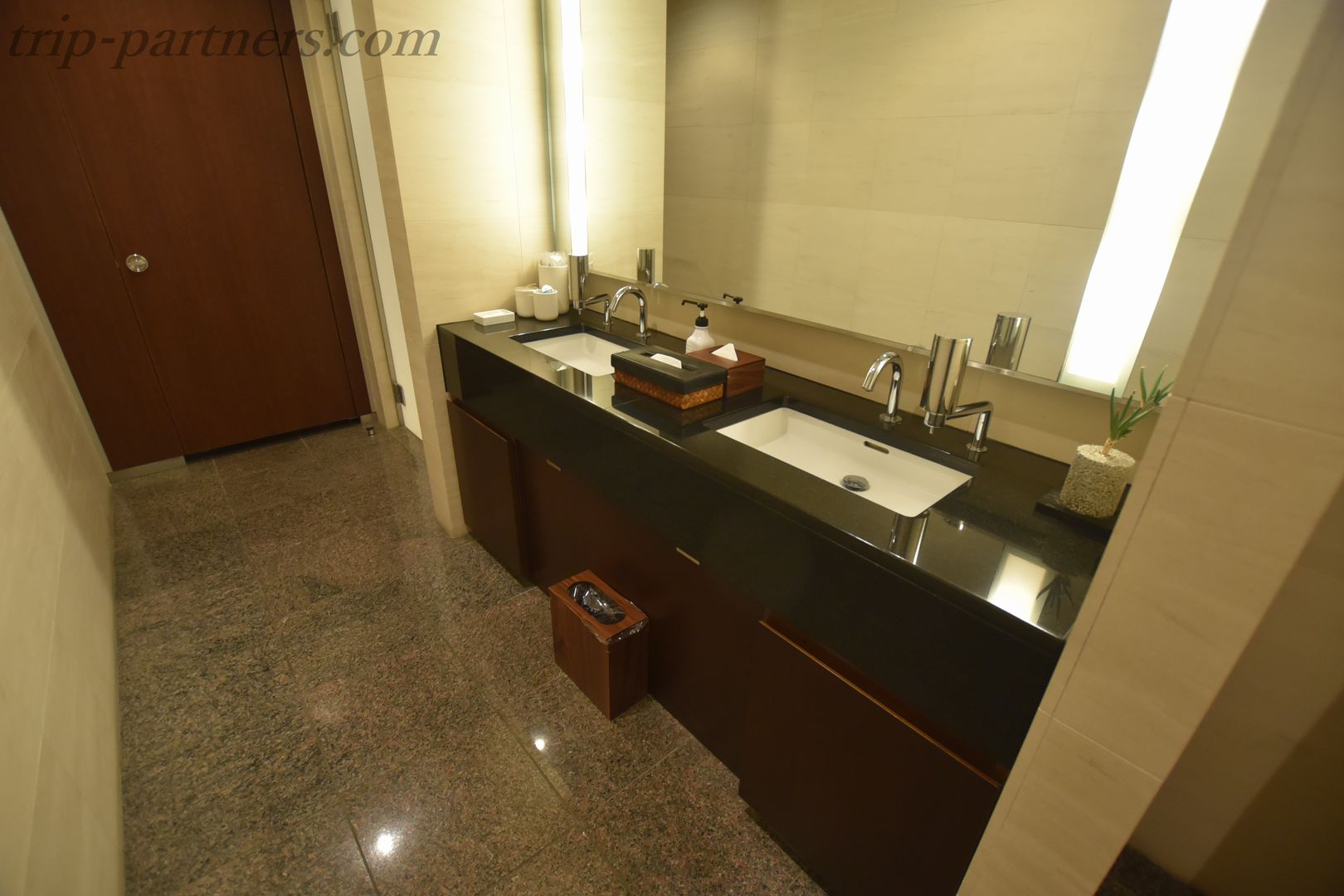 Toilet in the back of the lobby。The washroom has all the necessary amenities。It is true that there is also a toothbrush。
Go through the hall to the guest room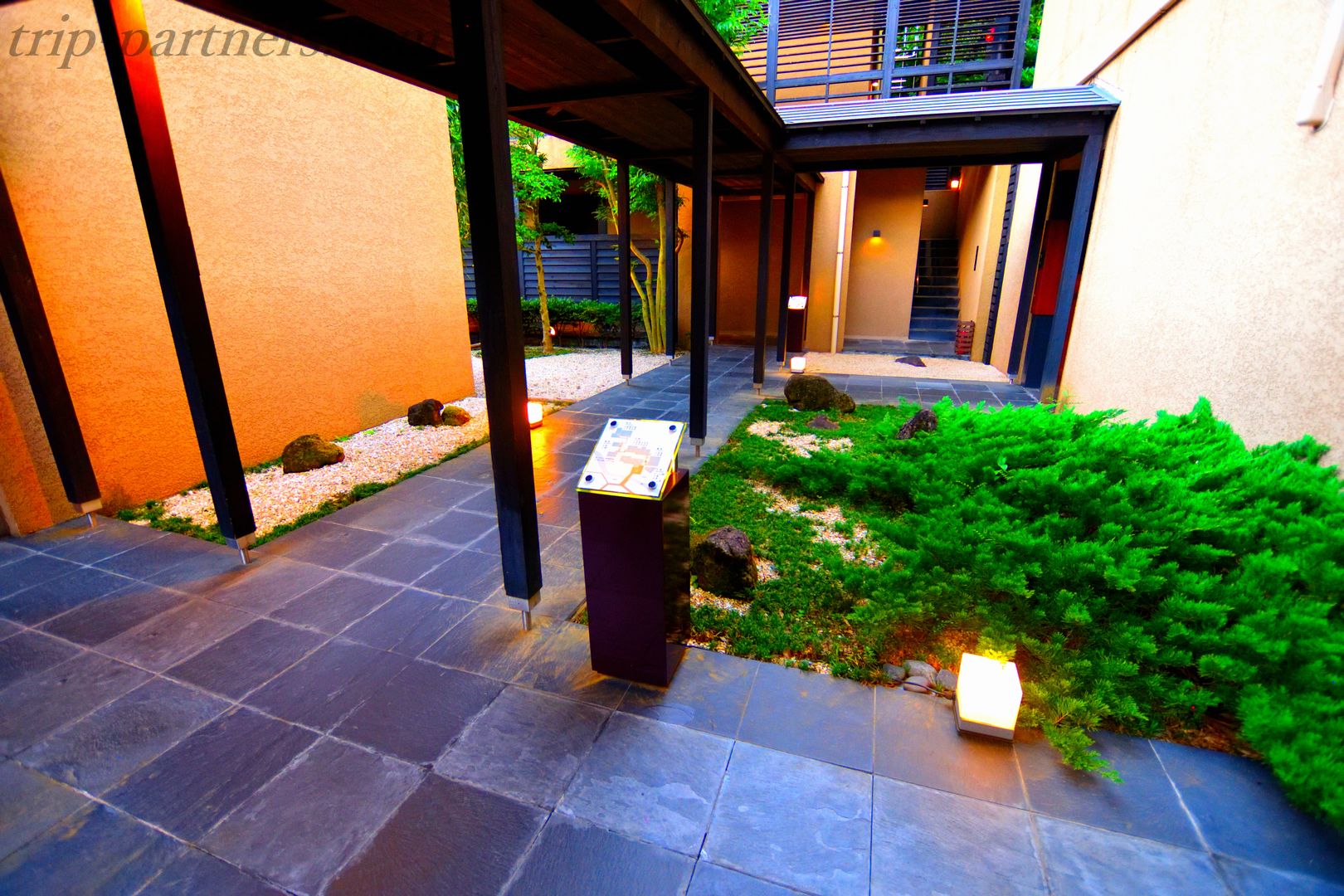 Since there are 26 rooms, I rarely meet other guests。Follow this path to your room。The room I stayed in this time was on the second floor。Well, even though it's the 2nd floor, the scenery is the same as the 1st floor because the building itself is surrounded by greenery.(Lol)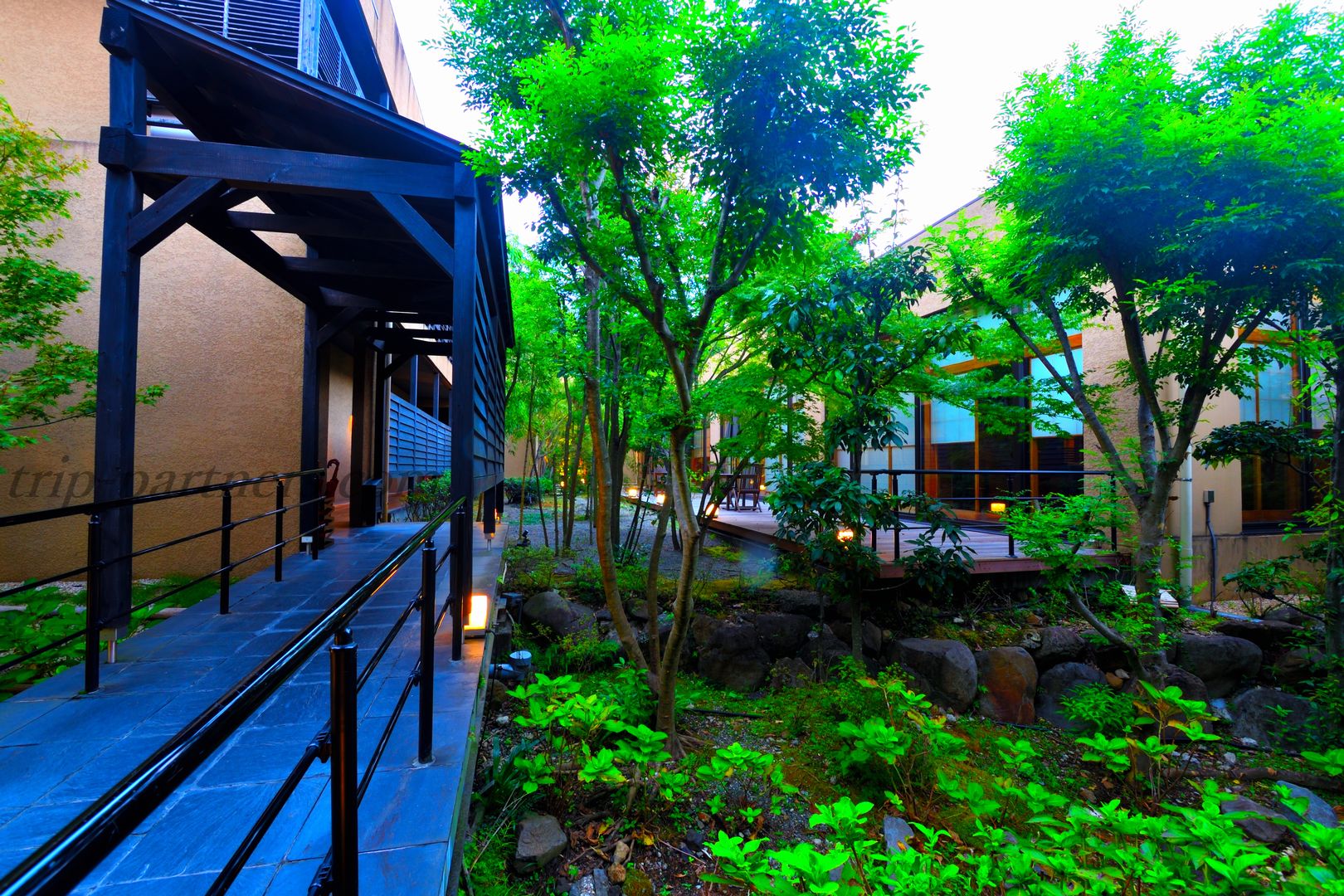 The restaurant on the right。It feels like a quiet luxury inn surrounded by deep greenery like this.。It will be lit up elegantly after the evening。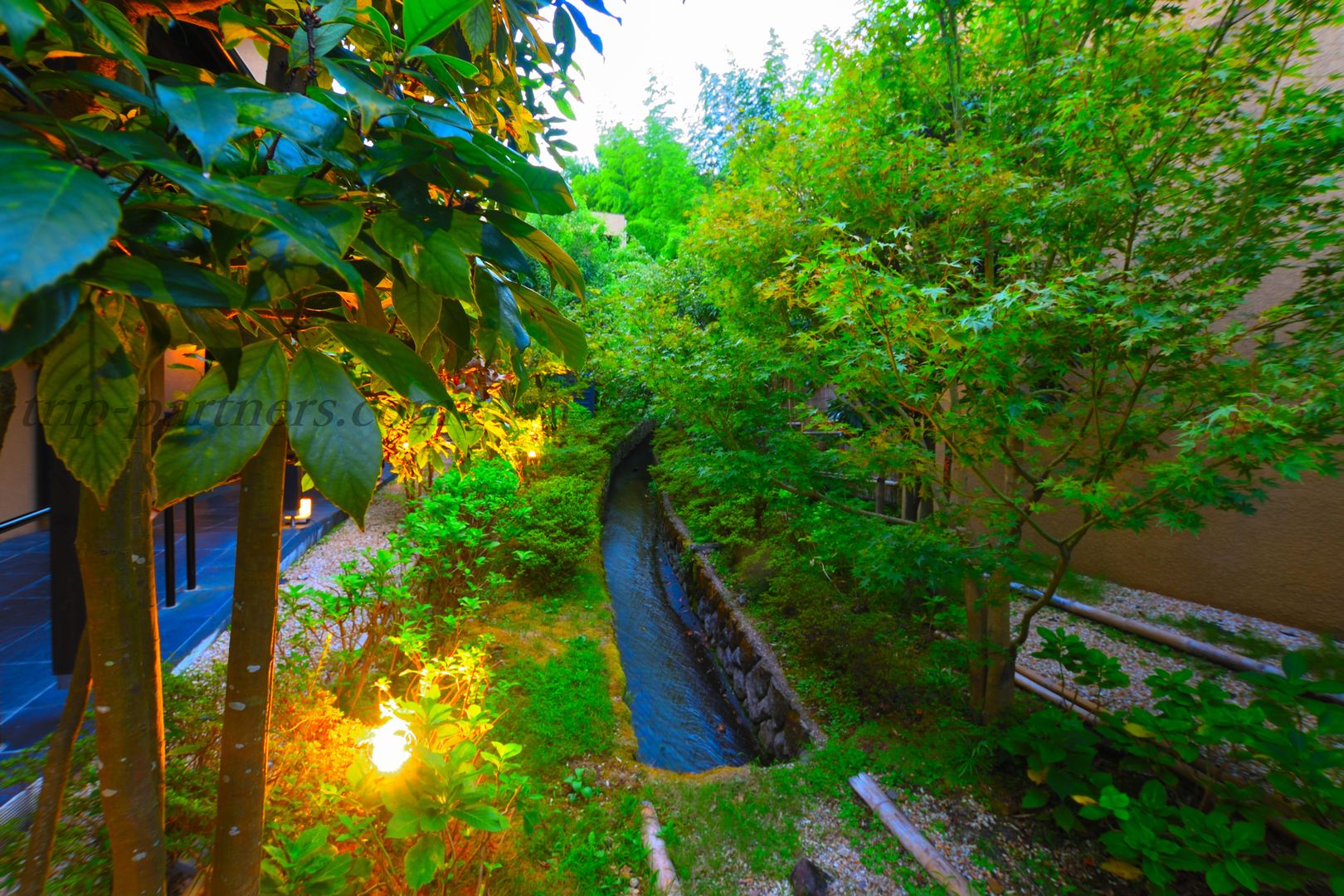 A stream flowing through the premises of the inn。There is a large communal bath and beauty treatment salon across this river.。For the time being, there seems to be a roof terrace in front of it, so let's go there。
Atami Fufu roof terrace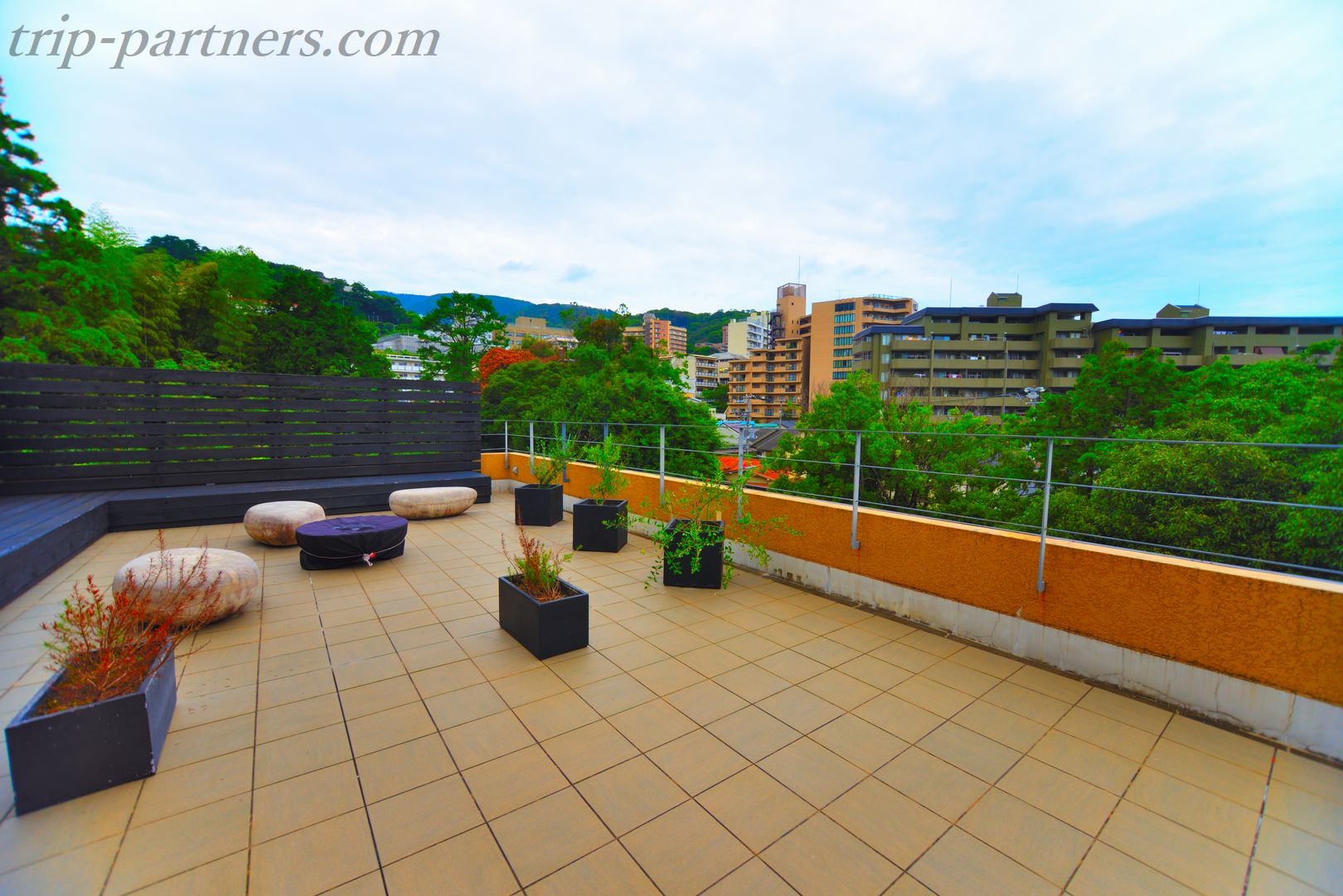 Unfortunately this day is cloudy and sometimes rainy。Therefore, the sofas that are usually prepared are stored.。It seems that you can see the sea fireworks from here on the day of the Atami fireworks display.。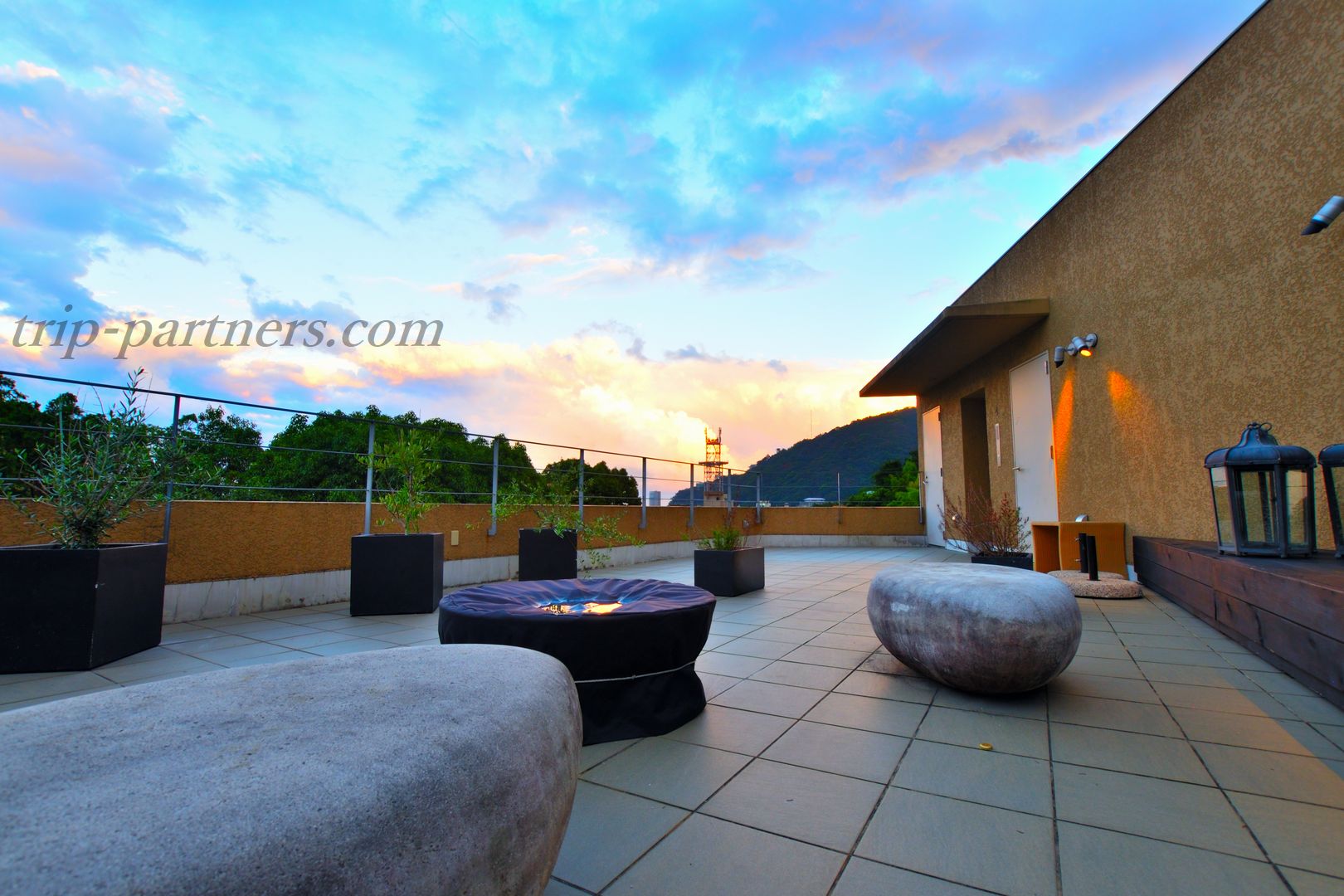 The dusk is getting closer and I can see a little clear sky。Even so, I don't meet other guests。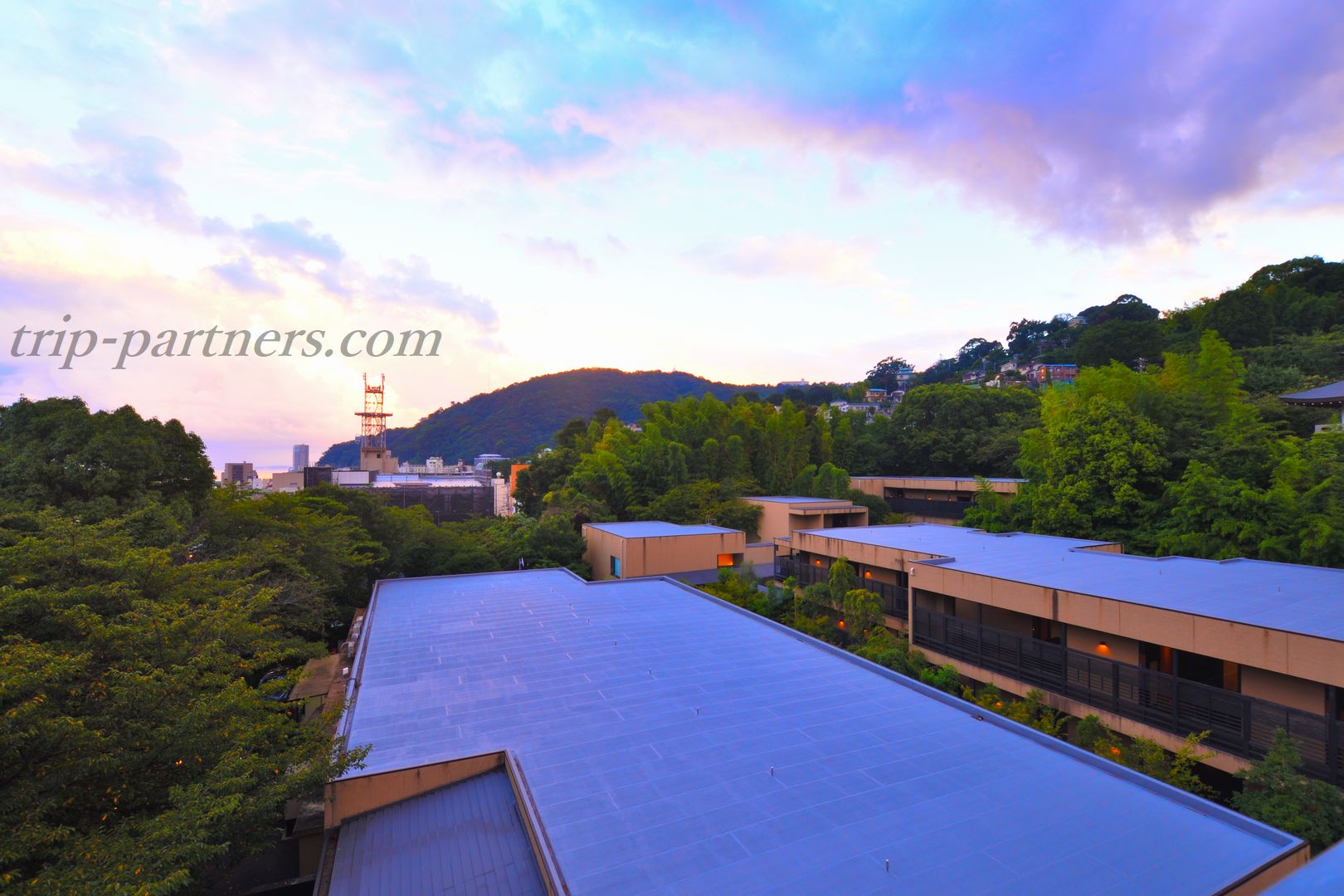 Scenery from the terrace。Looking at this, the number of guest rooms is 26、You can see that it is quite wide。Moreover, it seems that 6 new rooms will be added as ANEX in 2021, so it will be even wider.。
Watch the sun set here for a while
Atami Fufu public bath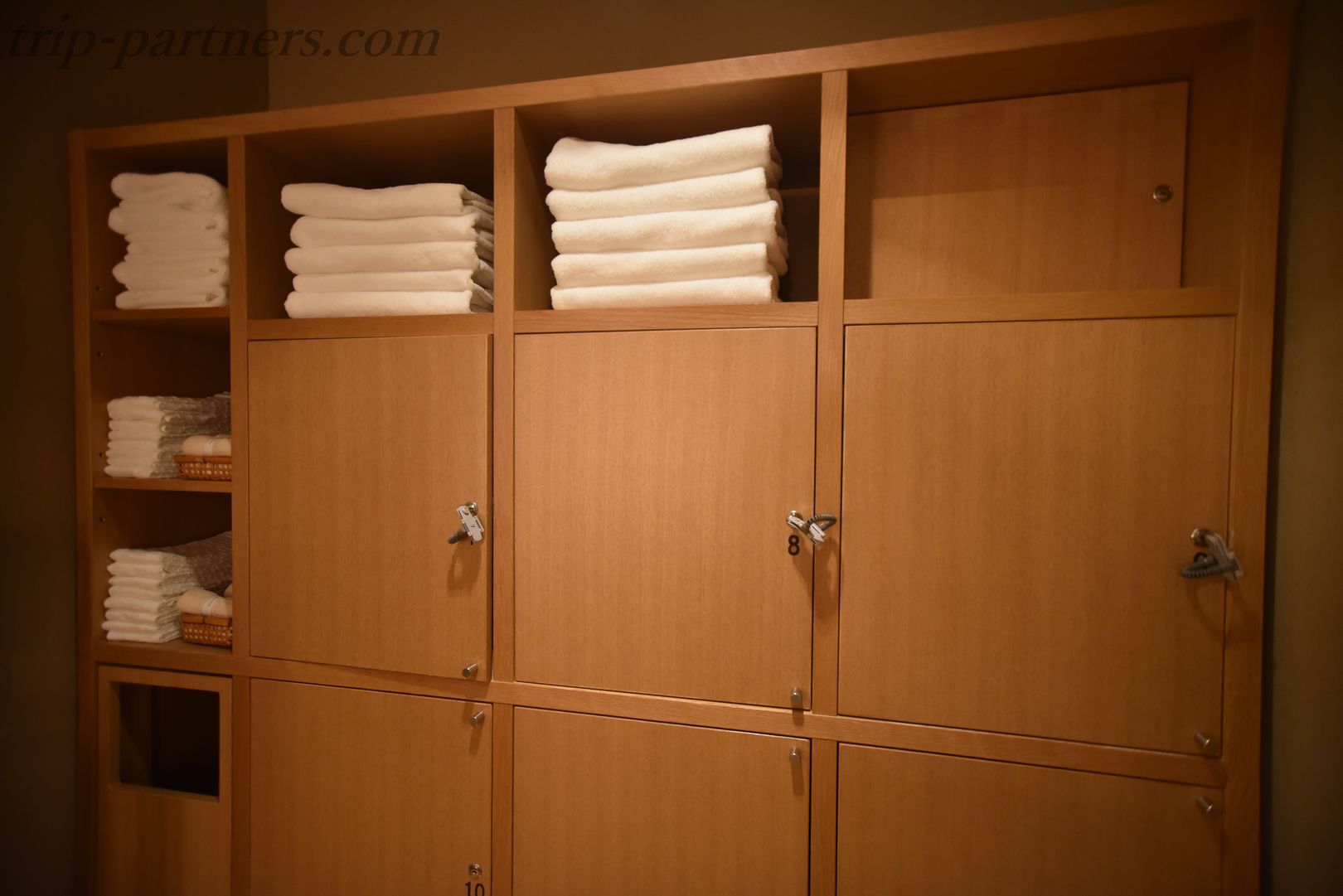 Face towel in the public bath、bath towel、Comes with a body towel。Only a luxury inn can go empty-handed and return empty-handed。If it's an inn in the normal price range, bring a wet towel from the room、I have to take it home again ... I have to do something like that.。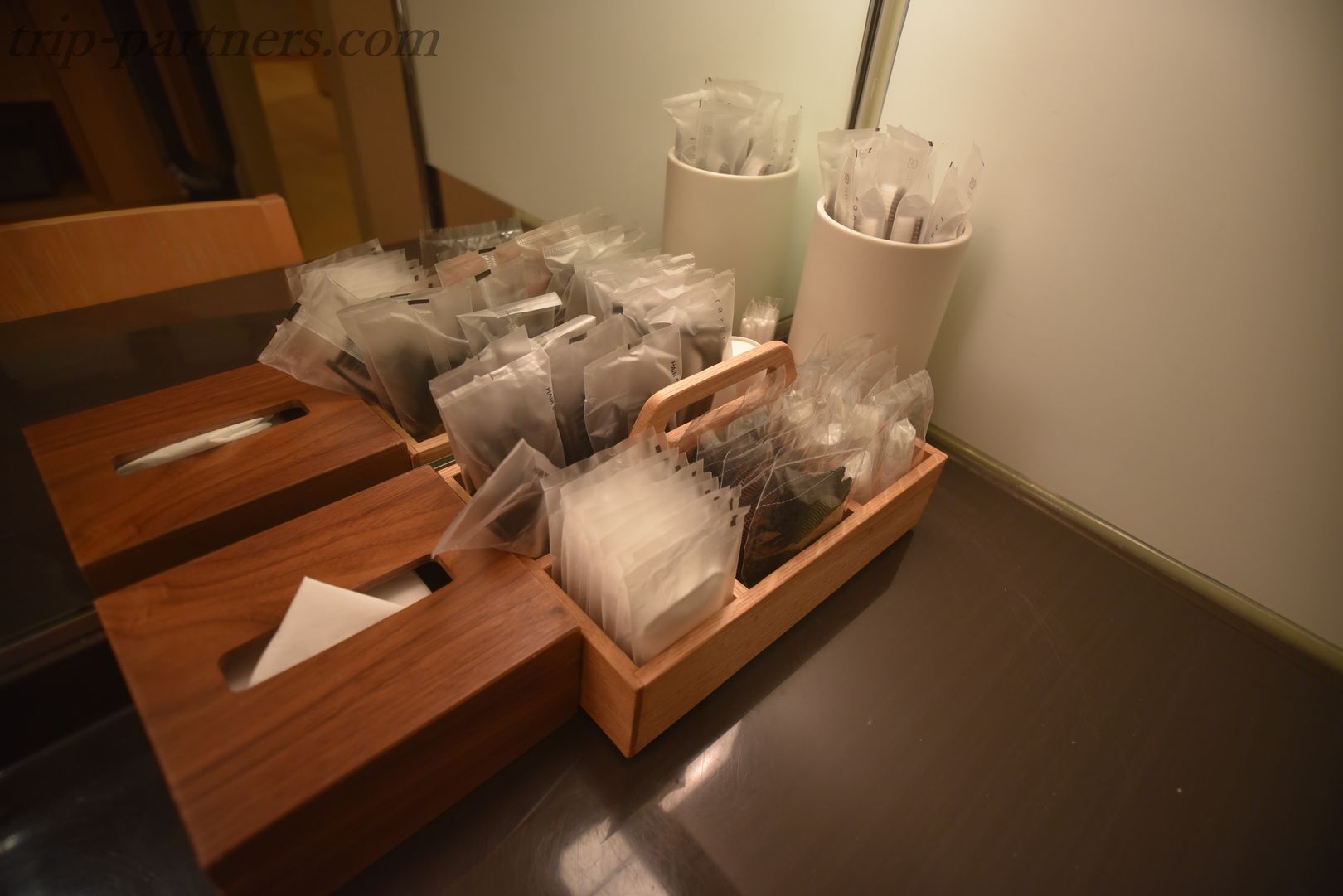 Fully equipped with amenities。Of course there is also a toothbrush。The razor here has two blades、It was a type that can not be seen in other inns that one auxiliary line is attached to the side so as not to skid.。Moreover, I felt that I was particular about the fact that it was written as Made in Japan.。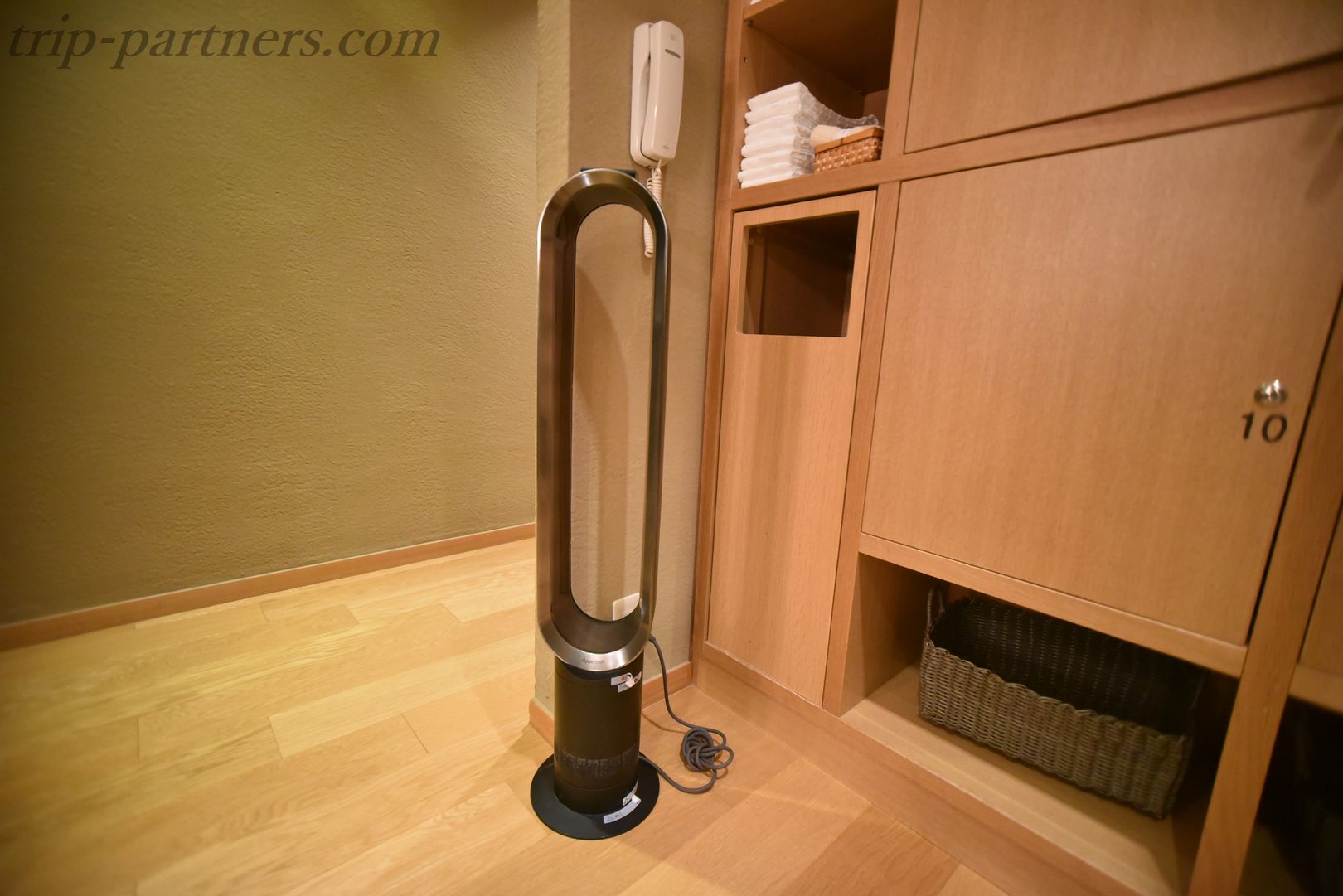 The fan is also a wingless Dyson, not a cheap winged one。It 's good to be particular about such equipment.。
Free free drinks and free sorbet in the public bath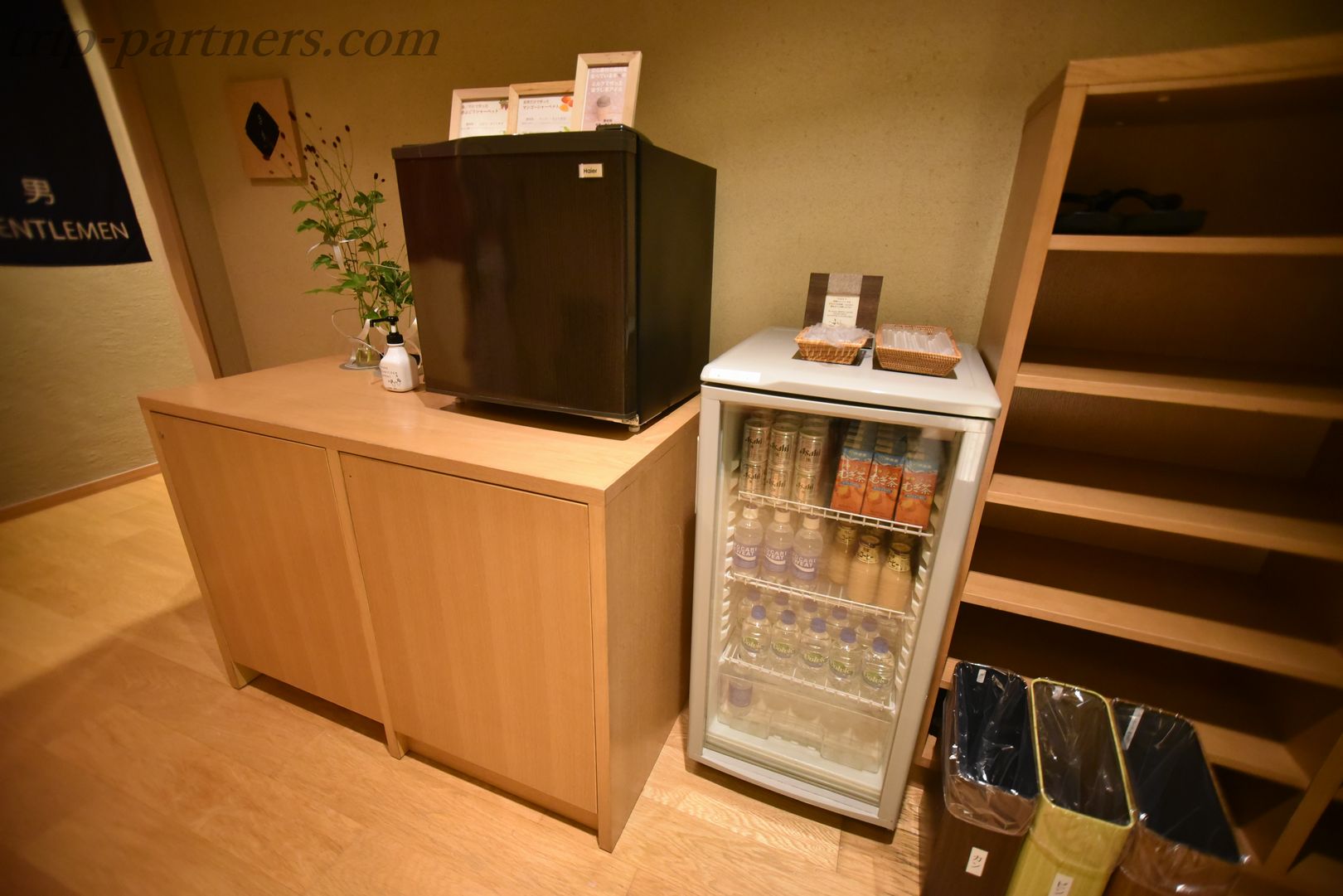 I was surprised。Drinks and sherbet that you can drink for free are prepared just outside the public bath.。There are quite a few inns that have water and barley tea on the water server.、With such cans and bottles, you can take them back to your room and drink slowly.。Moreover, Asahi beer and Tanna coffee milk、Volvic on Pocari Sweat、A lineup of healthy mineral barley tea ... There is a charge at a decent inn, not just an ordinary inn? ??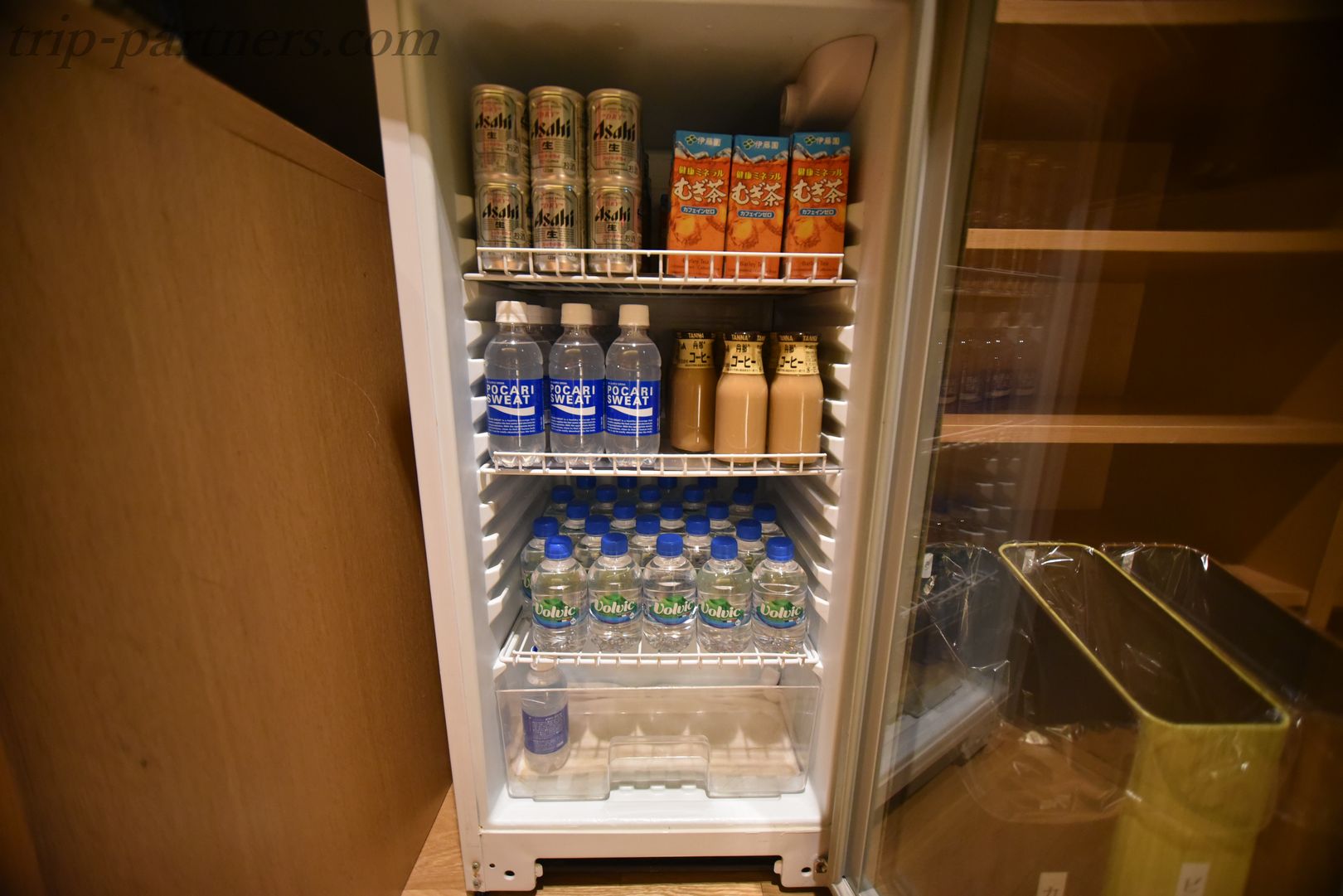 The refrigerator looks like this。As you can see, it is constantly being replenished.。I brought mineral water before the bath、It was fully filled when I came back(Lol)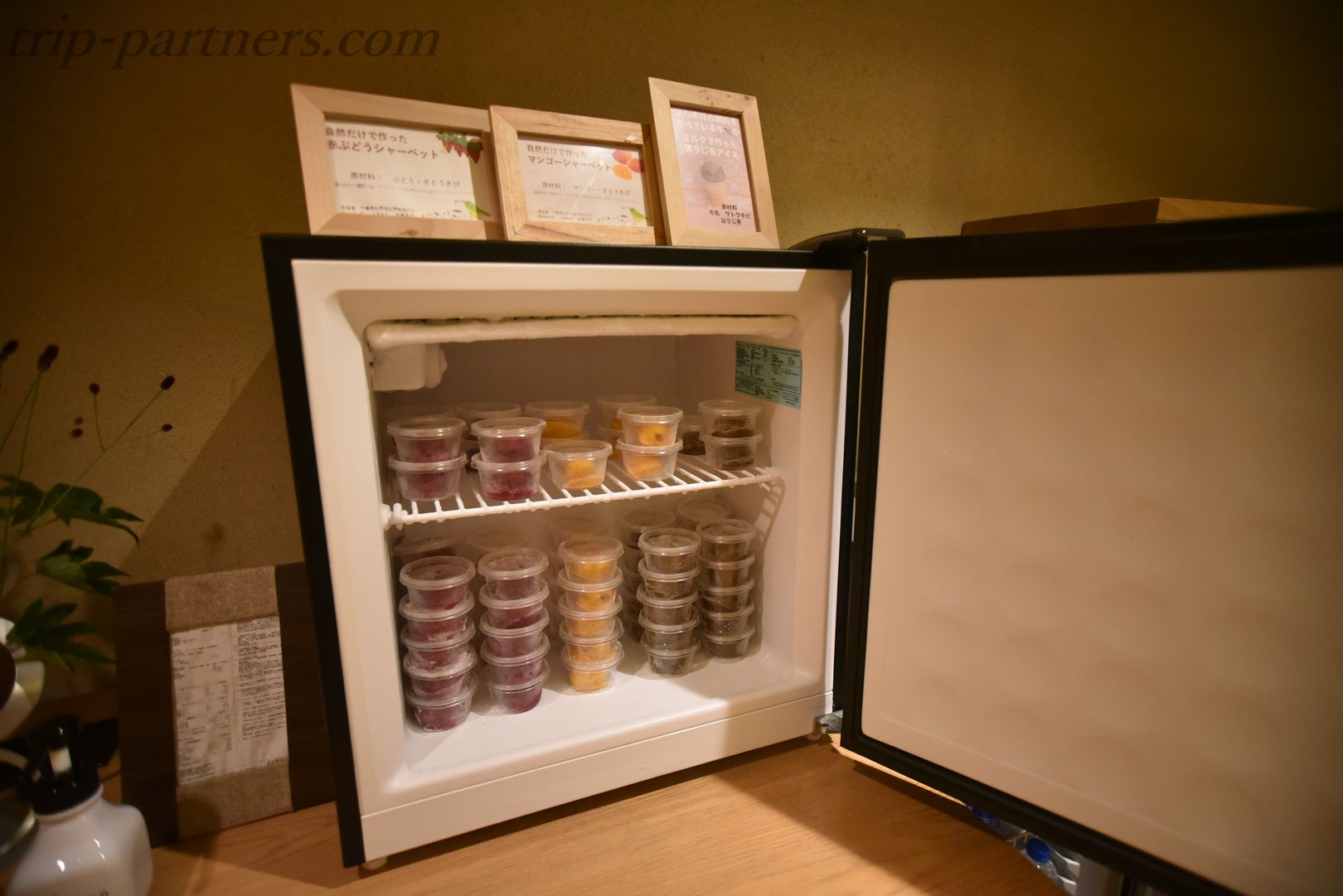 This is the freezer。mango、Grape、Hojicha lineup。When I was hungry, I came here and ate sorbet(Lol)
Now、This is about the facility introduction, and next time I will introduce the room。