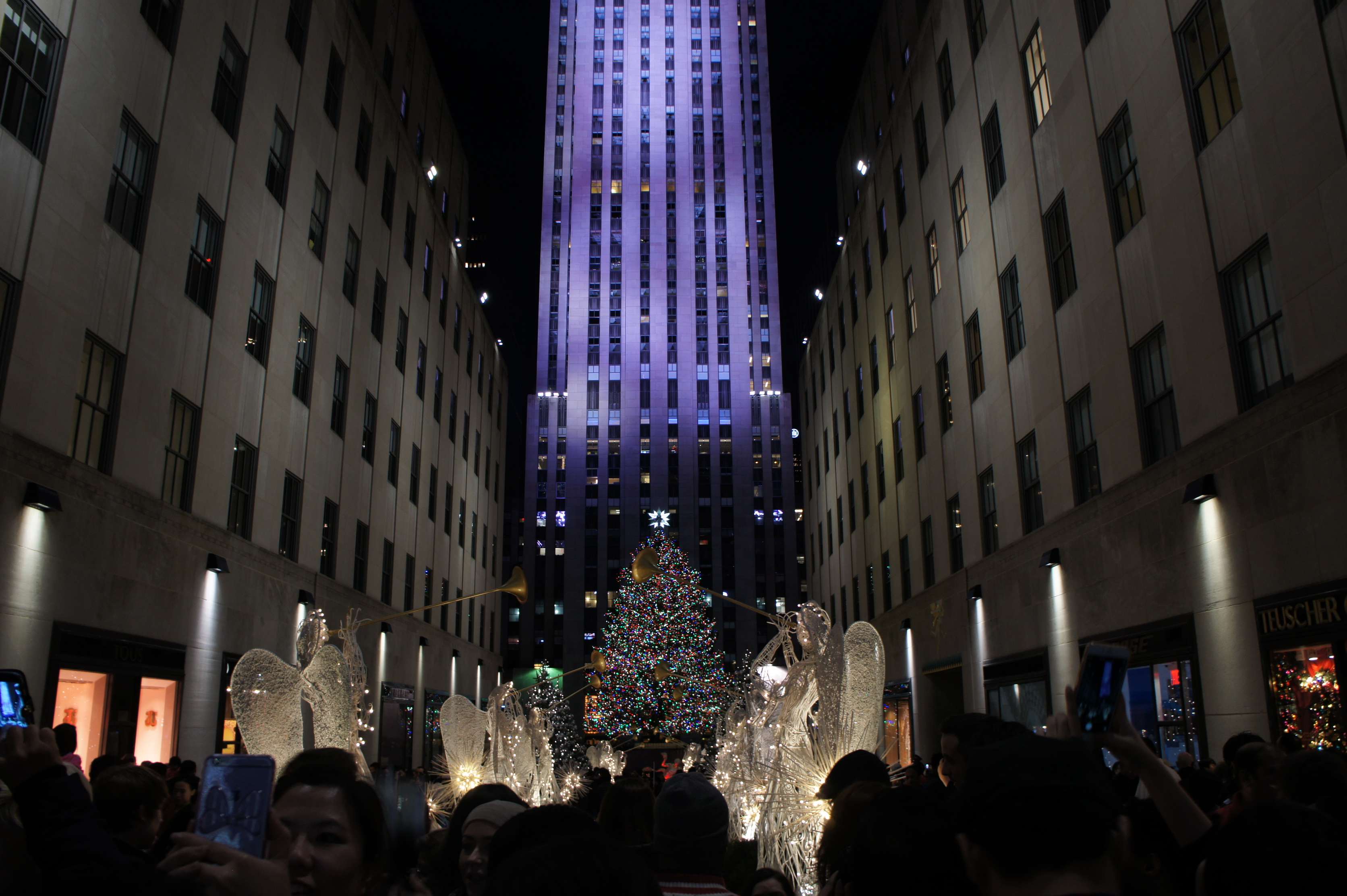 Rockefeller Center headed from Radio City。I've been sightseeing for more than 12 hours since I arrived at the Statue of Liberty。Fatigue is also MAX。That said, I still had some spare capacity 😛 。
"Where is Rockefeller"?When you hear、Told me that it was right there。The road is crowded、If you push through the middle-aged garbage that is difficult to walk、It's getting crowded and eventually it's almost impossible to proceed。Looking ahead, I saw a big Christmas tree。This is the rumored world's largest Christmas tree! and、The most famous skating rink in the world!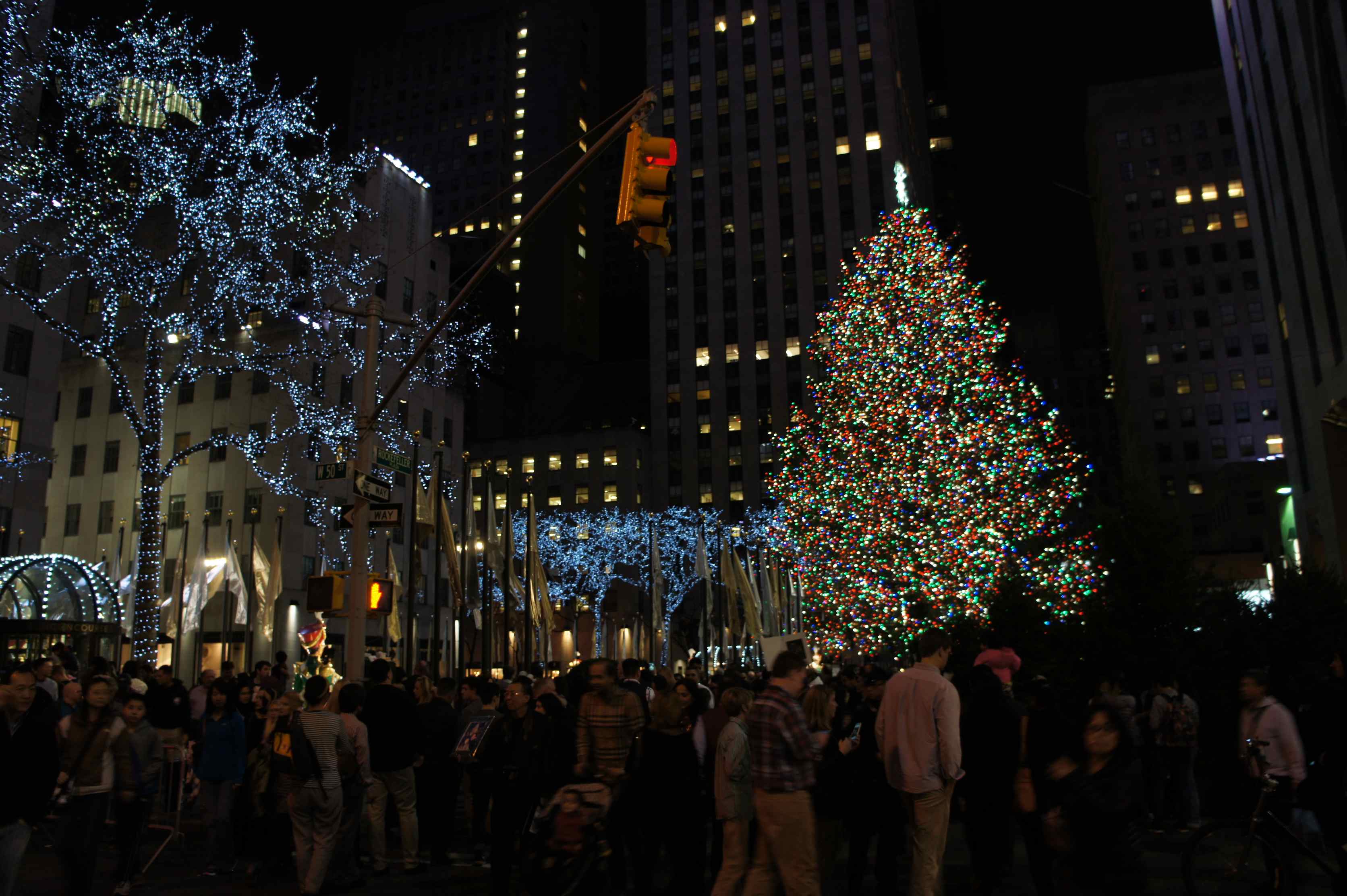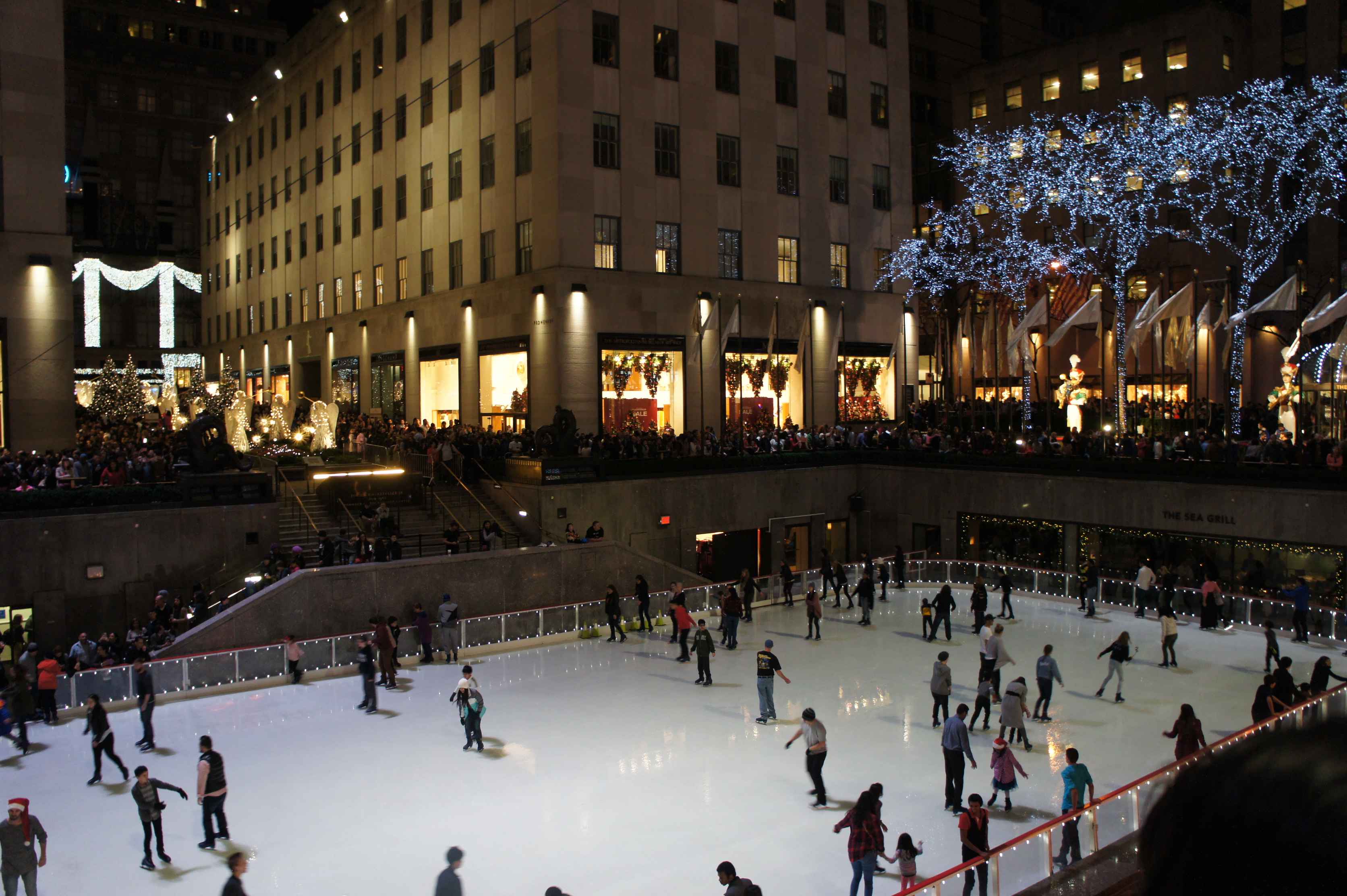 ...... Hmm。Christmas tree is smaller than expected。Some people have collapsed the skating rink、Not very interesting to watch(Lol)。I went through the crowds, but I missed the beat、Having said that, I visited a world-famous spot, so it will be a hot topic, so let's forgive it 🙂
so、When I entered the Rockefeller Center and tried to pick up the ticket ...。Admission is 1 hour and 40 minutes after receiving the ticket。After walking for a long time, I'll wait for a long time ... It can't be helped, so when I wander around the Rockefeller Center, Wells Fargo's ATM? !! Moreover,、There is a step that you can just sit on、The previous customer was already absent。We also piggyback on it。Wells Fargo-sama。
Rest your legs and take a break、10I went to the entrance about a minute ago。First of all, a line to get on the first elevator。Is the elevator on the 3rd floor? Arrived at、From there again the procession。If you go to the back, something like a movie screening is transferred by a projector、I came to understand the history of Rockefeller。There is also a shooting point on the way。
After waiting for a long time、I finally got on the elevator。Like a sky shuttle elevator、Finally to Top of the Rock! When you get on the elevator, it becomes pitch black、Projection on the ceiling、And the sound。Visual sense with a sense of gravity that seems to rise steadily、Arriving in a few minutes while tasting the hearing。When I got off the elevator, there was no longer a line。
There is a small escalator along the road、Finally when you climb there!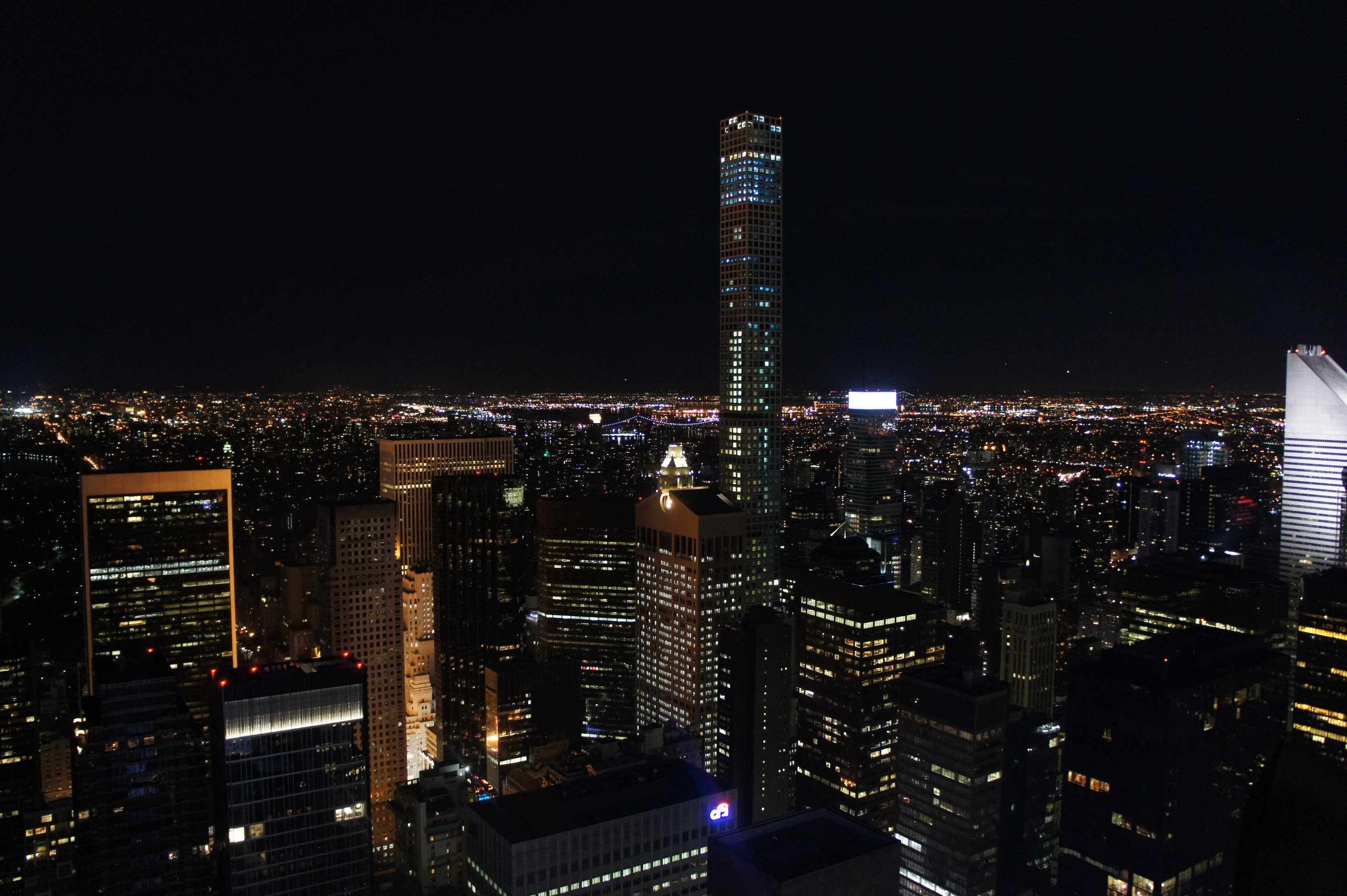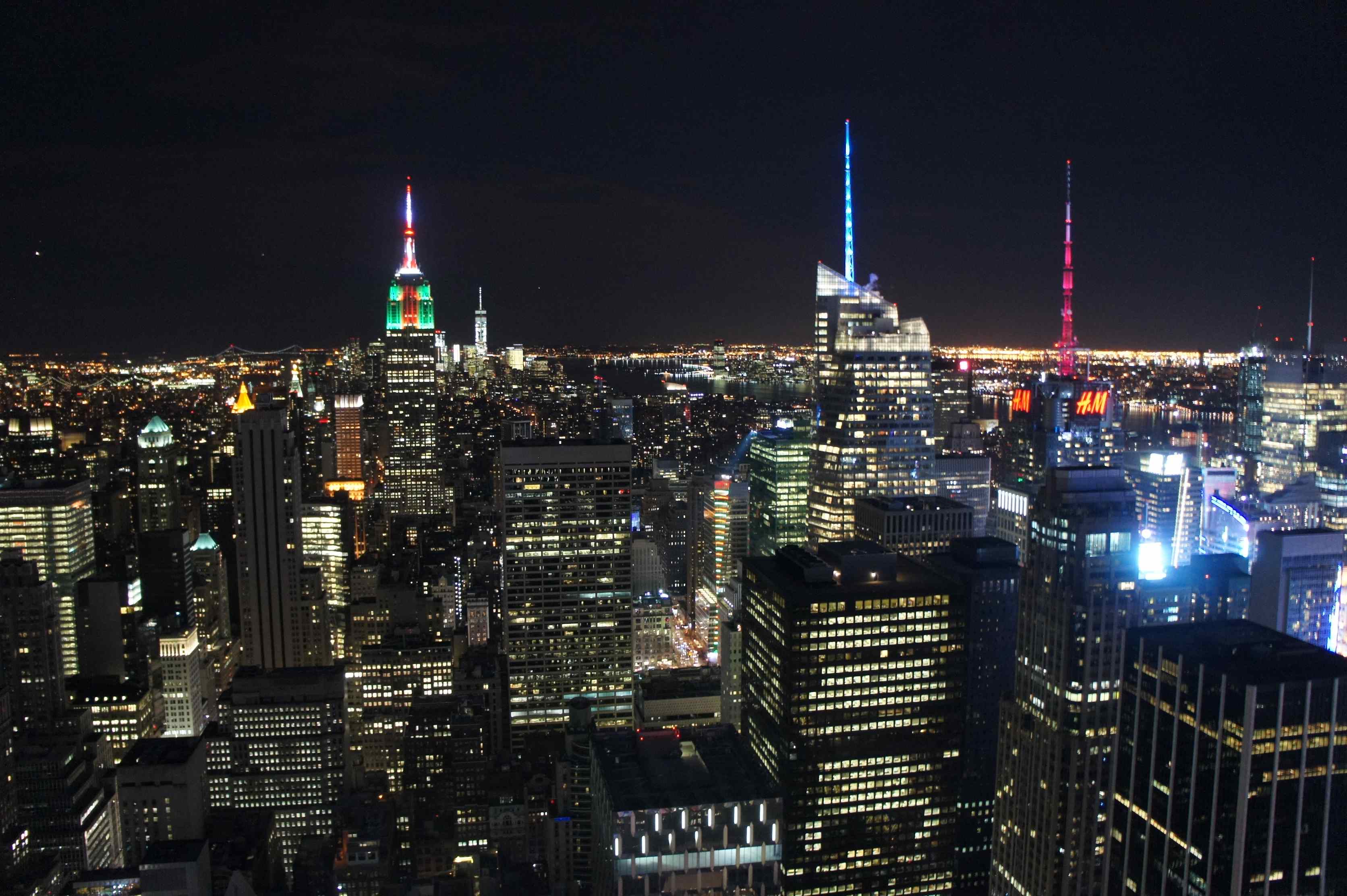 No no no、It 's a wonderful night view.。There are many people、I have plenty of room to take pictures without being disturbed。The Empire State Building turns green or red。I wonder if I'll be looking at this side from there tomorrow (and、I was thinking at this time ...)。
The city of New York seen from nearly 100 meters above the ground is the best、It is recommended to visit once。
After enjoying the night view, get off the elevator again。Return early。I'll be waiting in the elevator、I was able to get on immediately。I tried to go to the Empire State Building today、As expected, give up。I decided to carry it over on the last day。