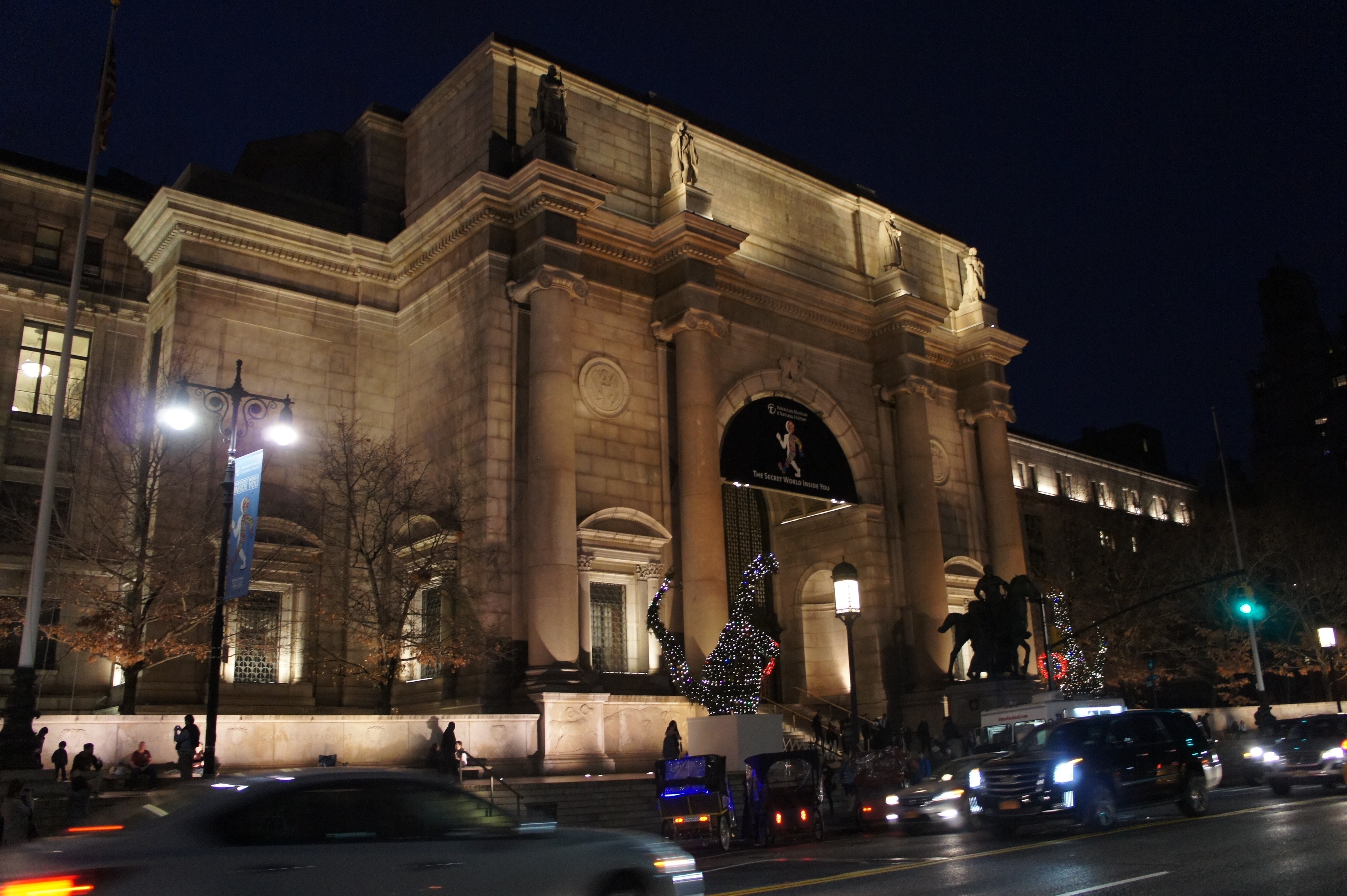 Failure again here。If you want to use a metro card to enter the station and ask the station staff to go to Chelsea Market、After making a slightly embarrassed face、Instructions to take this train and change at the next station。When you actually get on the train、One station is ridiculously long、The train after changing trains is also long。I got off at Christopher Station and walked a considerable distance from there to Chelsea Market。later、I saw the map、Apparently the first train I used was not the subway on Manhattan Island、A national train that goes to New Jersey and then returns to Manhattan? It was discovered that he was using。Moreover, the station to get off is not Christopher station、14I should have got off at Bandori station。
Discover a Google building on the way to Chelsea Market!
Big brown building with big deck and logo。There is a Chelsea market in front of it、I thought I'd eat, but I didn't have time so I bought only juice and left immediately。Enter from the east of the market, exit to the west, and look up to see the high line.。I climbed up and headed north。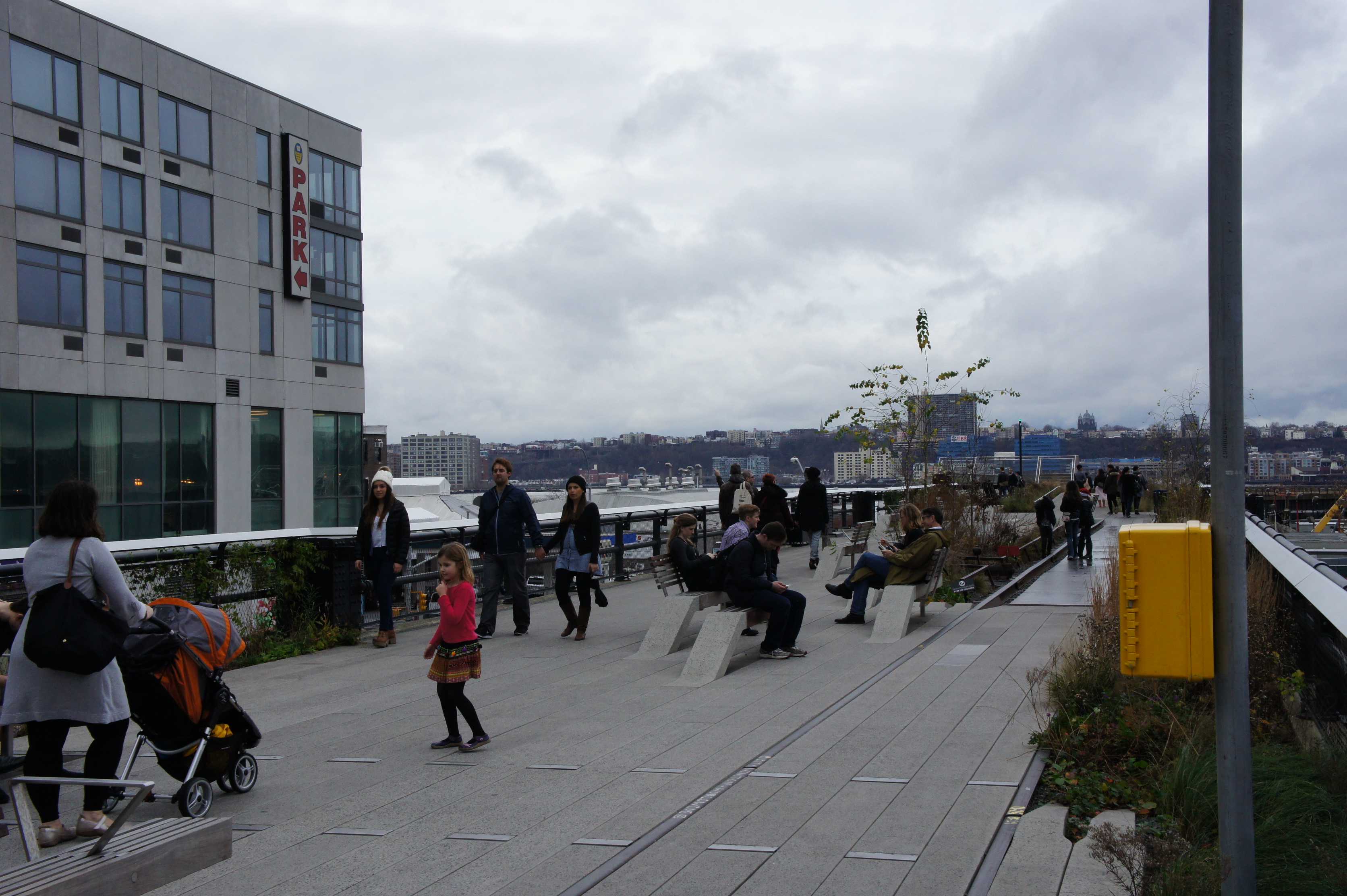 The end point of the high line after about an hour。It was a very long distance、Intrepid coming soon from here。There were many people at the beginning of the high line,、There were few people on the northern edge and it was quiet。
As you walk along the coast, you will see a large battleship in the distance.。That must be Intrepid!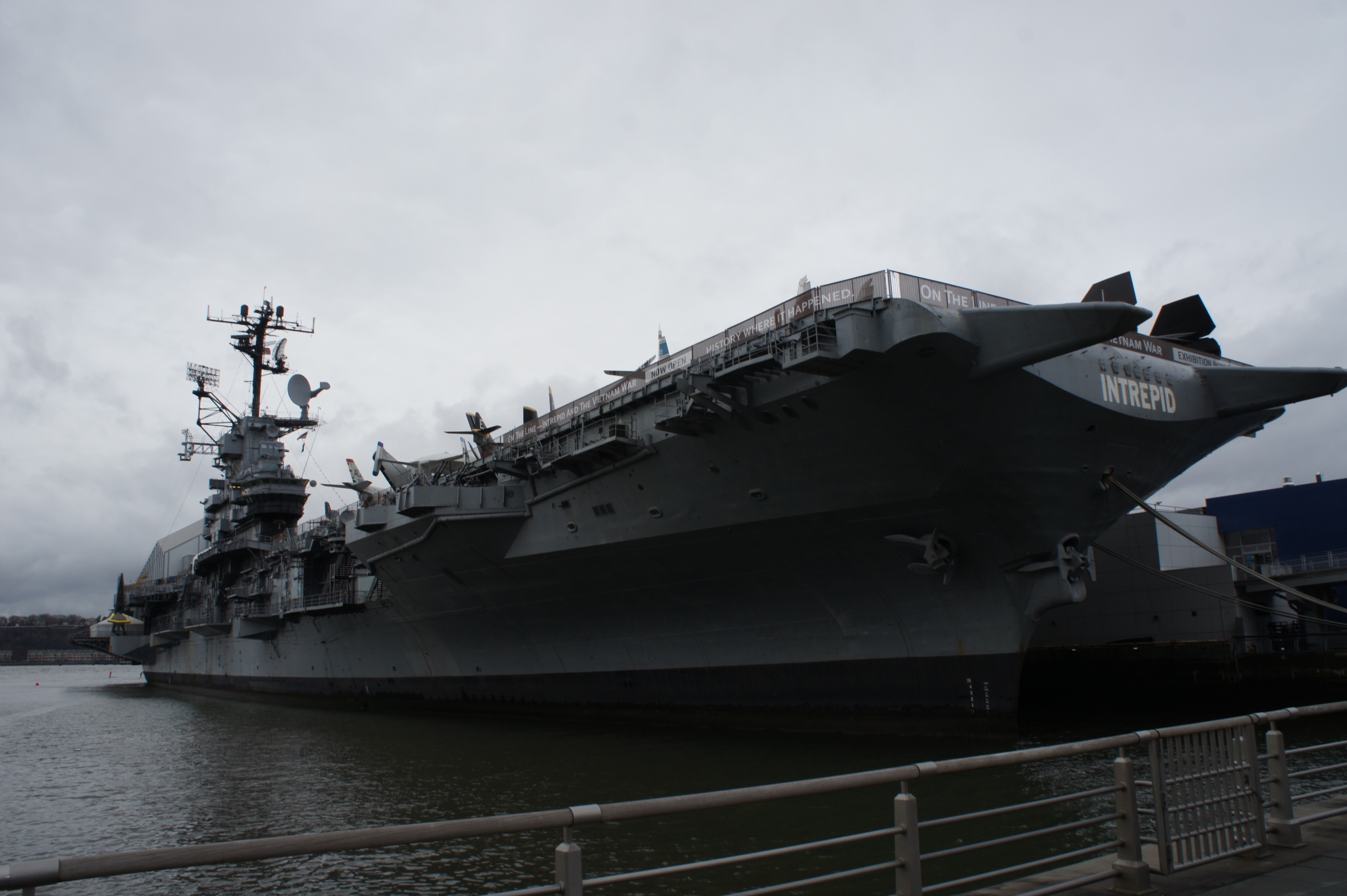 Security gate as usual when heading to the museum entrance。Everywhere in New York there is a security gate。If you buy a ticket with a city pass and head to the audio counter、What a charge。I wasn't so interested in it, so I declined and went to the deck by elevator.。
Since Intrepid is an aircraft battleship, many aircraft were exhibited on the deck.。There were a lot of things、I'm not familiar with fighters so I'm not sure。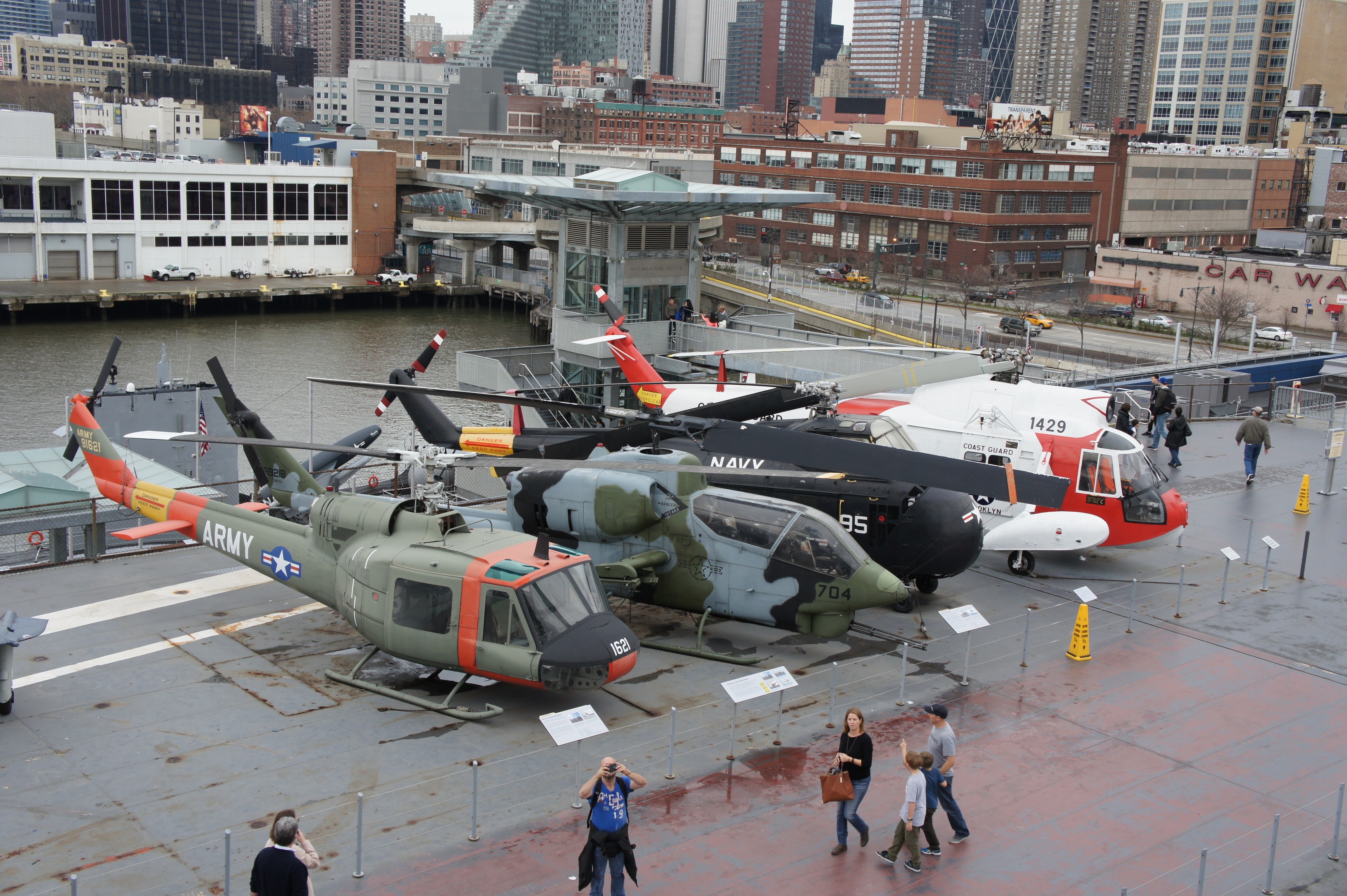 Heading to the stern, the pavilion。When I went inside, I was asked to show my ticket, so I showed the ticket I got at the entrance。And、When you pass through the gate, the Enterprise issue is huge!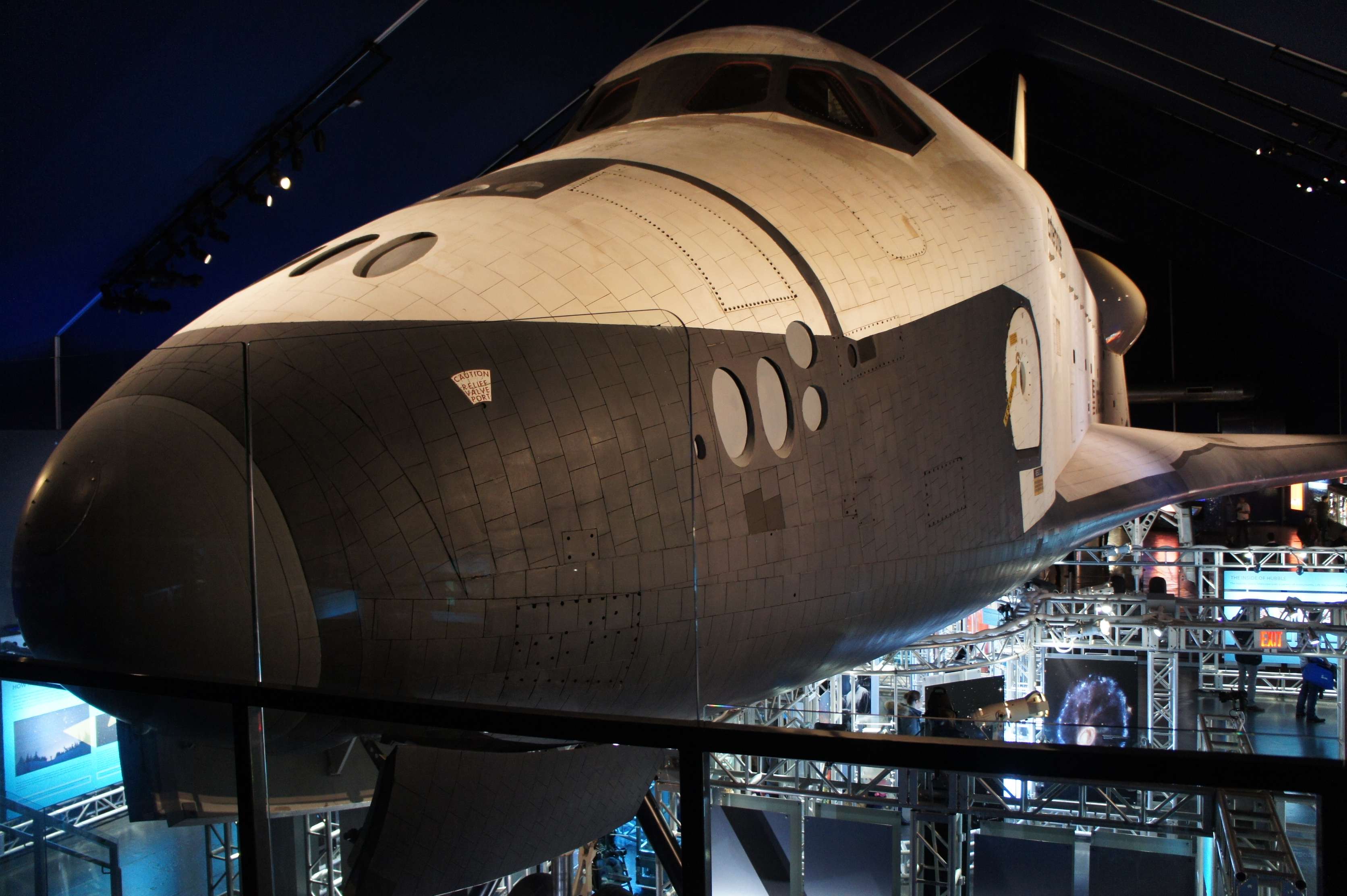 There were various exhibits in the pavilion、I didn't have time so I headed for the exit。Fighters are also on display inside the Intrepid battleship、There is also a restaurant。but、The price is high。
Finally, when I headed to the exit, there was a line, so I thought something and asked, it seems that I can put it in the submarine。You have to wait for about an hour to get in。Well、I went to the next natural history museum to take the next opportunity。
Intrepid is far from the center so I think I should use the bus、Unfortunately I don't have a bus map so I don't know。I had no choice but to walk north from 42nd Street Station on the blue line and soon arrived at 81st Street Station.。Easy to understand because the station name has Museum of Natural History。If you have a city pass, you can enter the museum as it is from the subway, so it's easy。
Show me your ticket、Go through the security gate (again ...)。It's this museum、Apparently, first climb to the top floor by elevator、It seems to be efficient to watch while going down from there。
First of all, the popular dinosaur exhibition。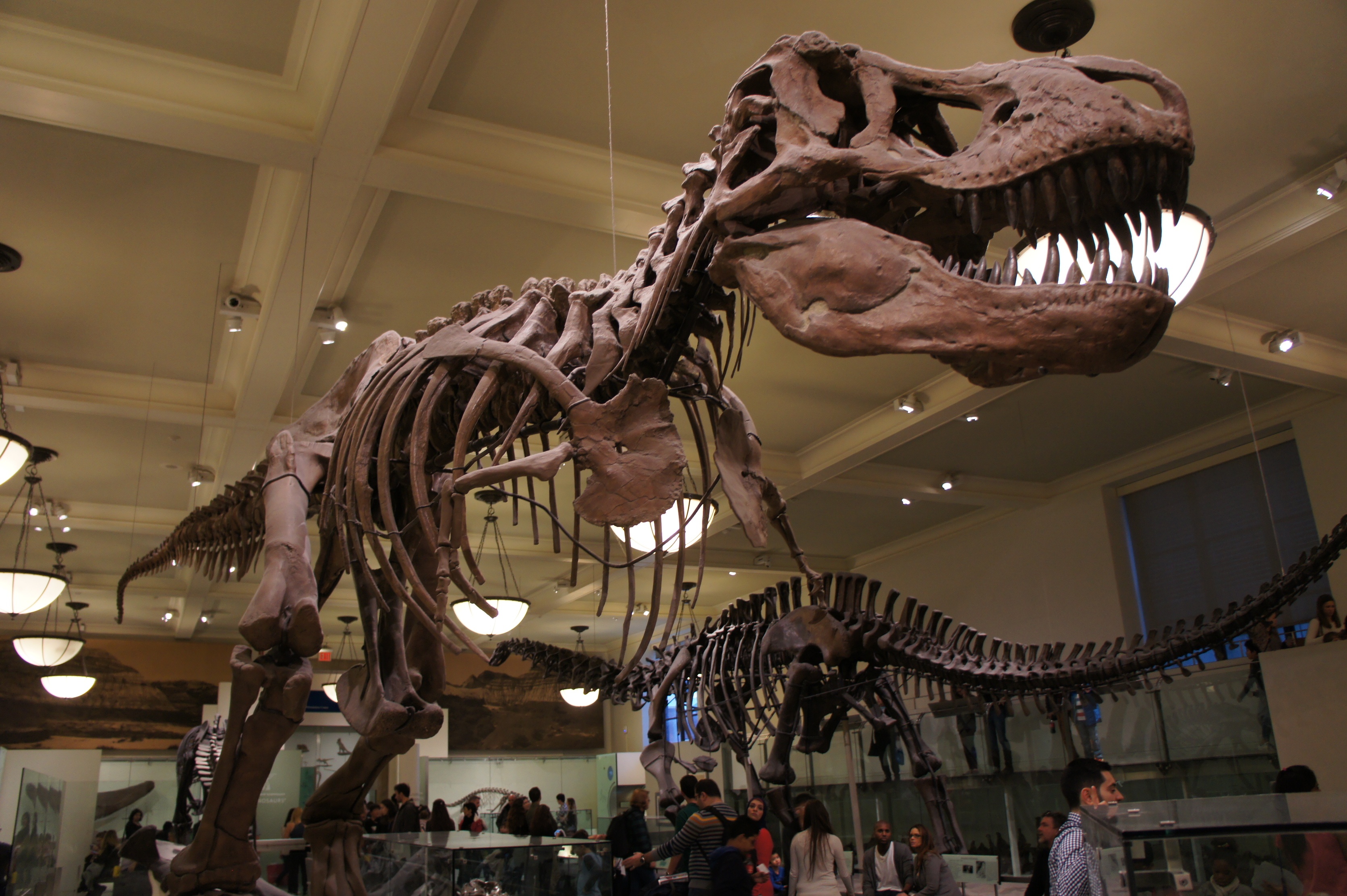 It seems that this was also the shooting stage for the Night Museum、Various dinosaurs are on display。There are models of famous dinosaurs such as Tyrannosaurus and Triceratops, so dinosaur lovers will love it.。
If you go downstairs, the number of people will decrease at once.。Few people are interested in such a facial image.。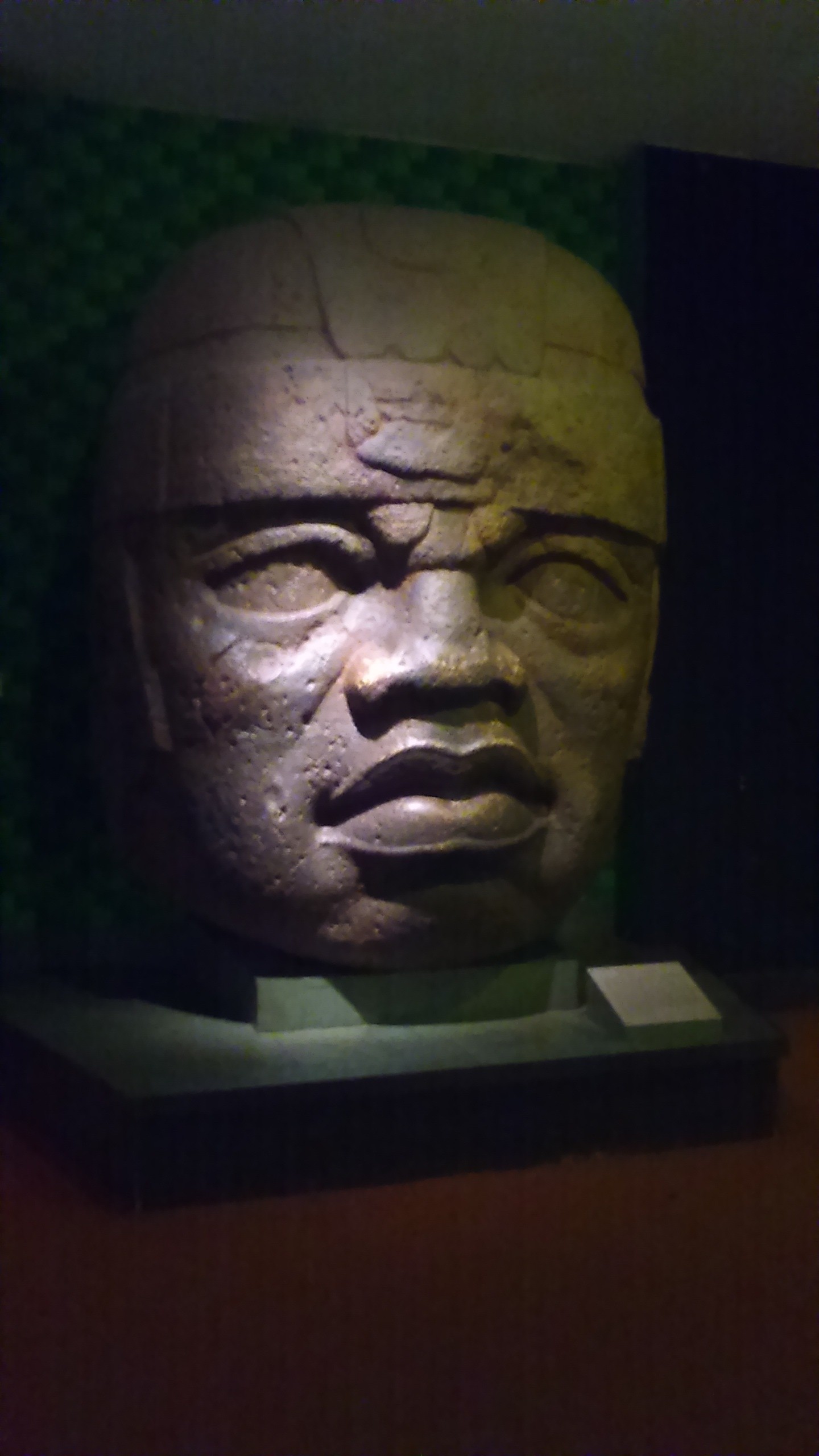 There is a food court in the basement and you have a chance to take a break! How many kilometers did you walk so far?(Lol)。Leave the American Museum of Natural History for a short break with a drink of water。When I went outside, it was already dark and the museum was lit up beautifully.。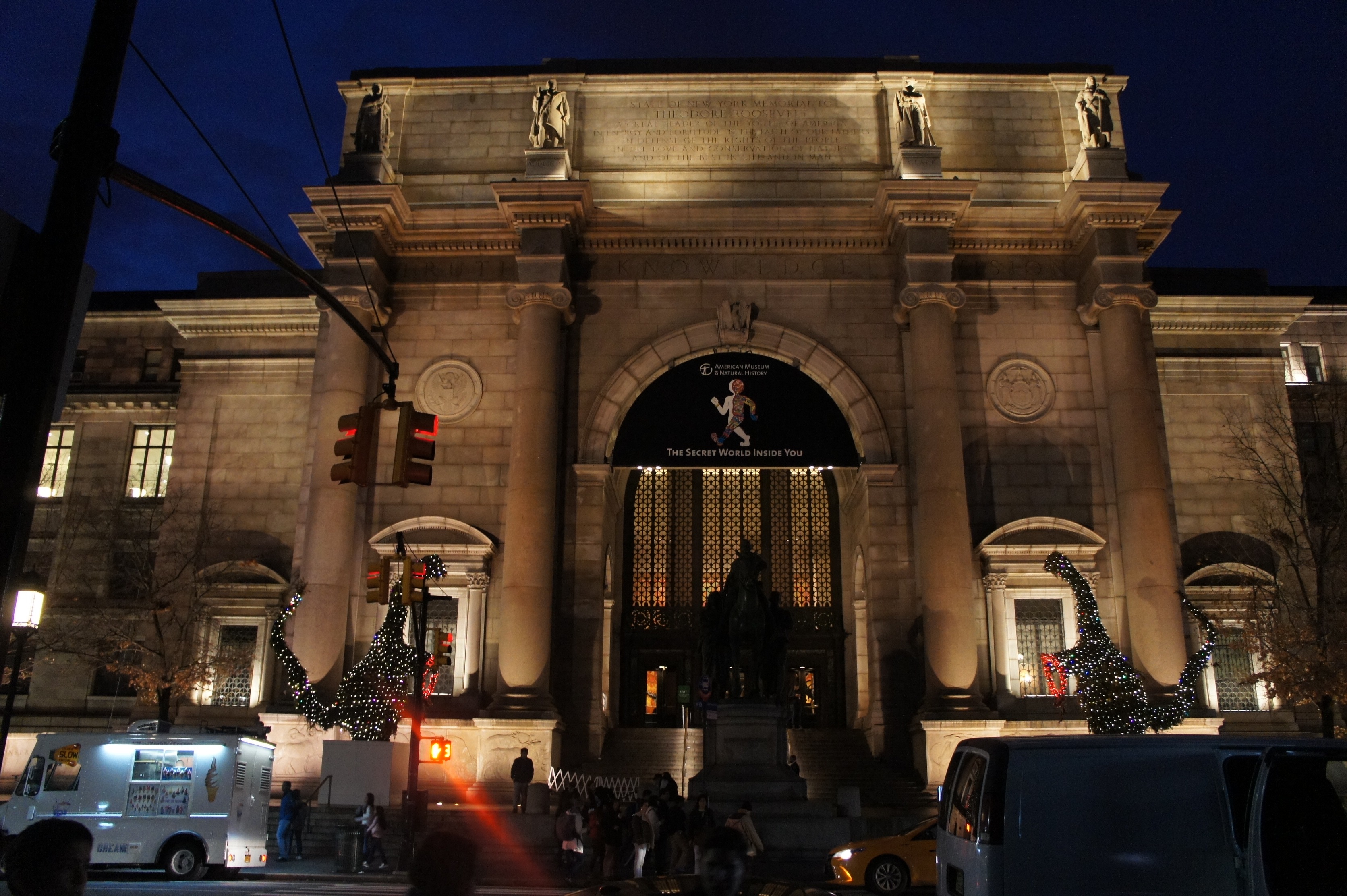 Head to Carnegie Hall along Central Park。Carnegie at Carnegie Hall、Named after Andrew Carnegie, the steel king who built this building (not Dale Carnegie, who moves people!)。The main hall is a large hall that can accommodate a little less than 3,000 people and has a high sound effect.、Because it is located in the center of a big city, you may hear the sound of a car horn.。
It's night, so it's not performed, so just enjoy the appearance and go straight to Fifth Avenue。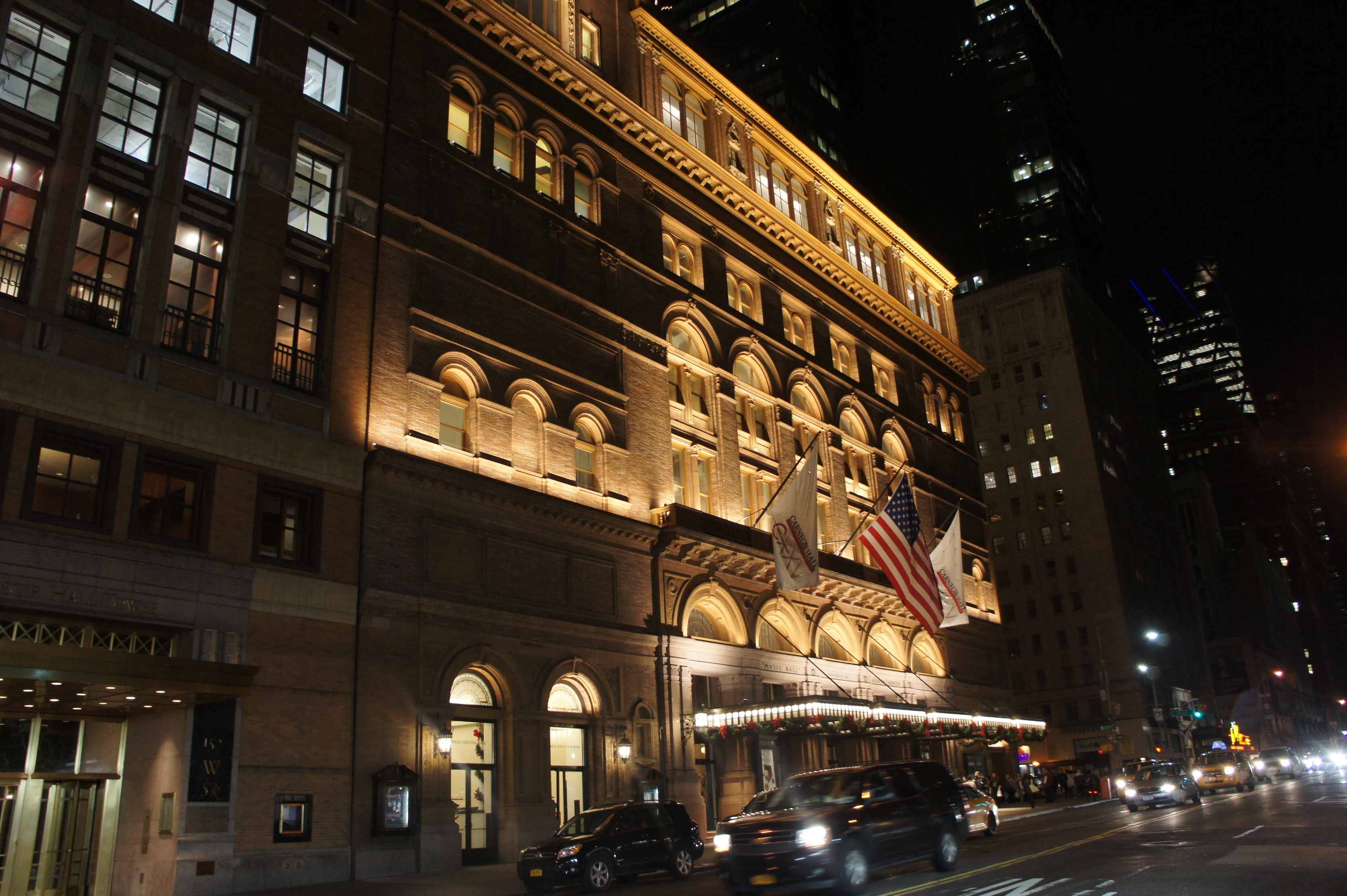 Fifth Avenue is where Central Park on the left hand side is interrupted。This is the most exclusive shopping area in the world, let alone New York。Land prices are also quite high、Luxury brand shops line up。About 7 million yen per square meter。As you can see, Fifth Avenue has the image of a luxury brand shop.、Recently, stores for young people have also opened.、There is also UNIQLO。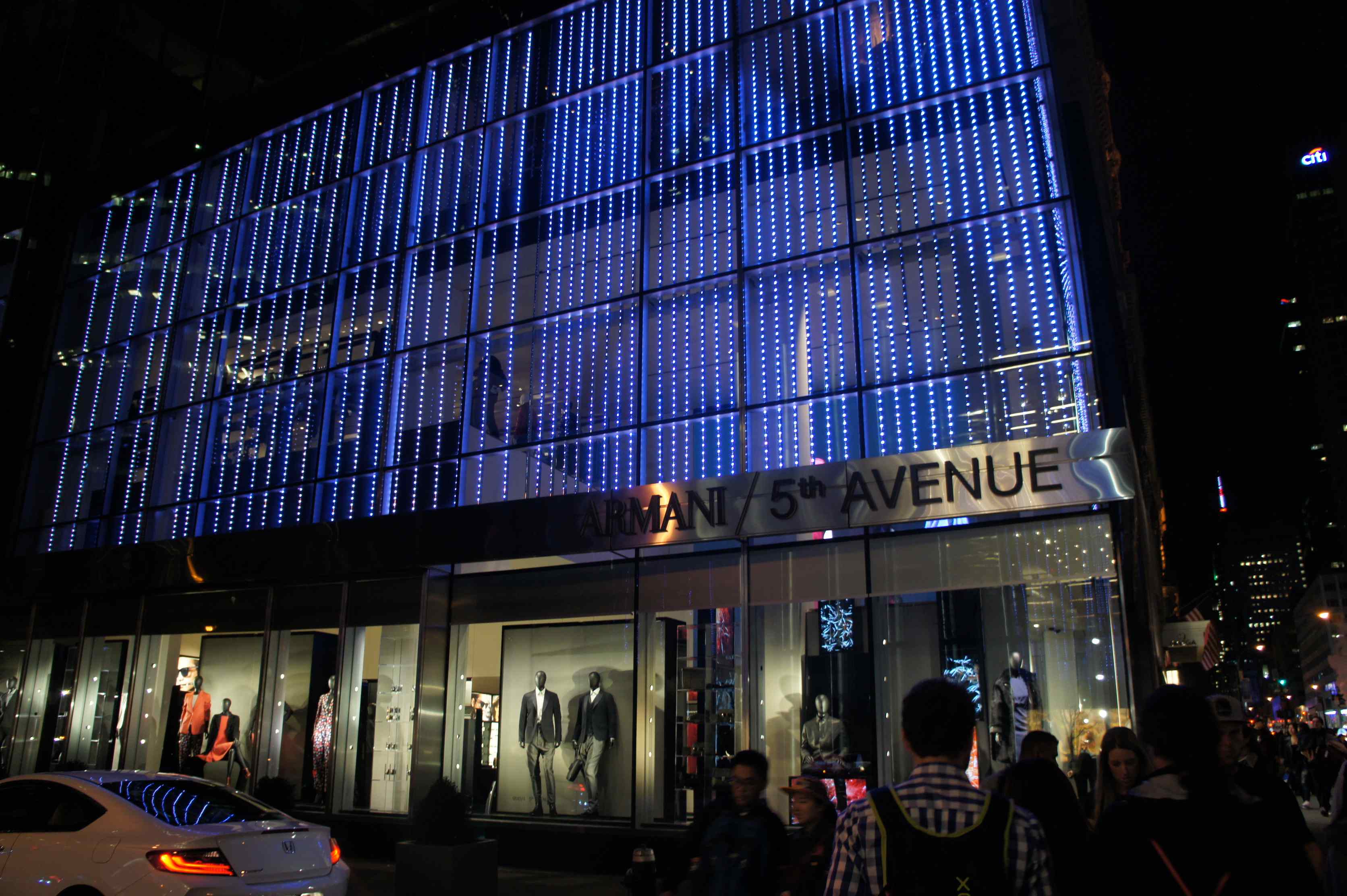 Walk fast to Radio City。Arrive when you go off Fifth Avenue and proceed one block! This is a hall where musicals are held, and the capacity is about twice that of Carnegie Hall, which is a large scale of less than 6,000 people.。It's famous for the Tony Awards ceremony for Broadway productions.。By the way、The Tony Awards are nicknamed Antoinette Perry, co-founder of the American Theater Wing.。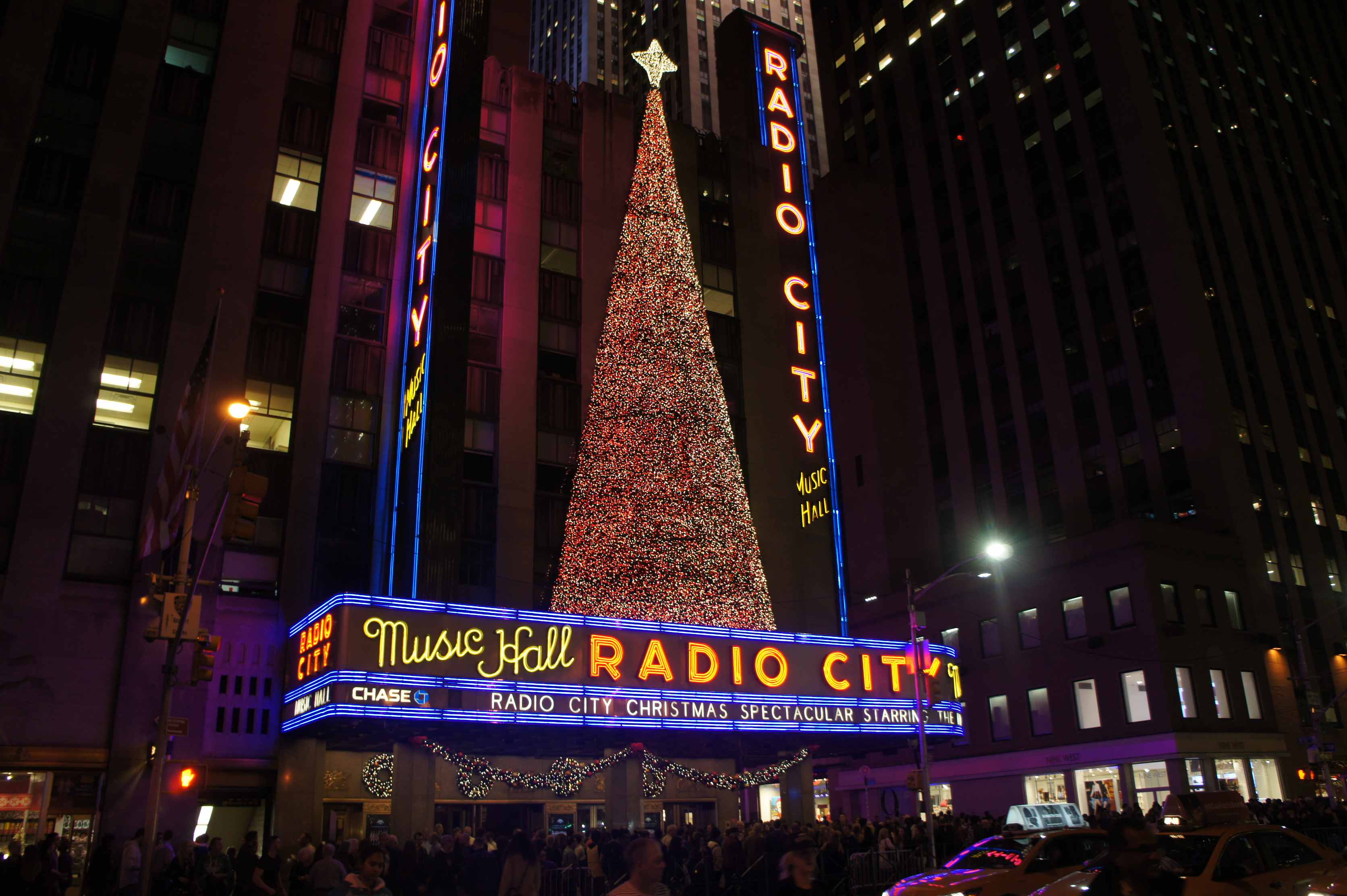 And、The final destination while being exhausted、Head to Rockefeller Center。